The Truth About Skydiving in a City Near You
If you type "tandem skydiving near me" in your google search, you'll find quite a few results claiming to be the skydiving center nearest to you or nearest to a major city. In the Midwest, you'll find Skydive Chicago, Skydive Milwaukee and Chicagoland Skydiving Center…but are any of them actually located where their names suggest?
You might be imagining parachuting between skyscrapers and landing at Navy Pier or North Avenue Beach. Skydiving IN Milwaukee or skydiving IN Chicago sounds awesome but... the truth is, it's just not possible. The good news is, we can help you figure out the next best option.
Buyer beware: you might find yourself disappointed if you choose your skydiving center based on name alone without doing some research.
In the Midwest, skydiving is available at several locations throughout Wisconsin and Illinois, so it's important to do your homework. Lots of skydiving centers market themselves based on proximity to a major city but that doesn't always mean you'll get what you expect.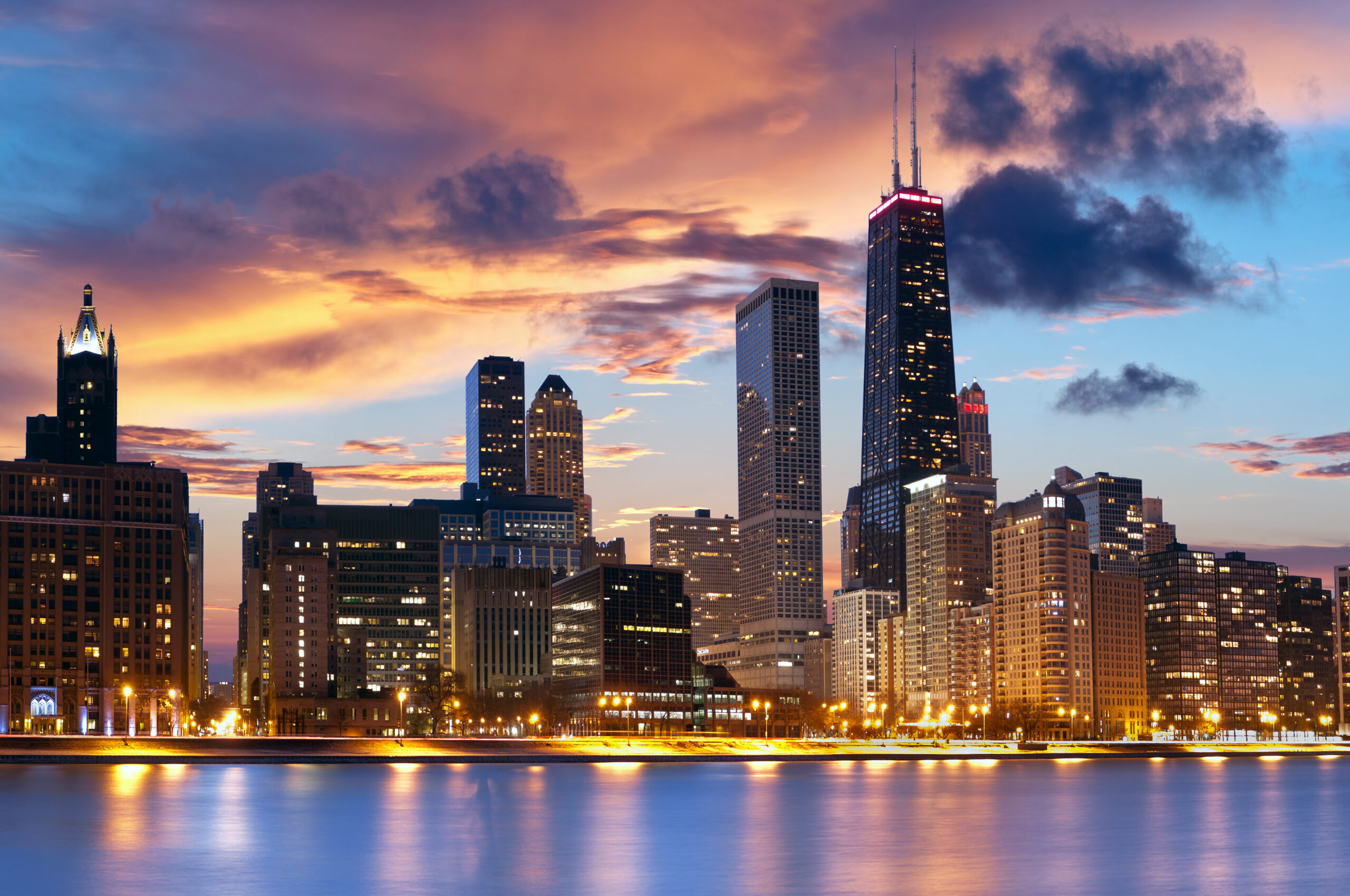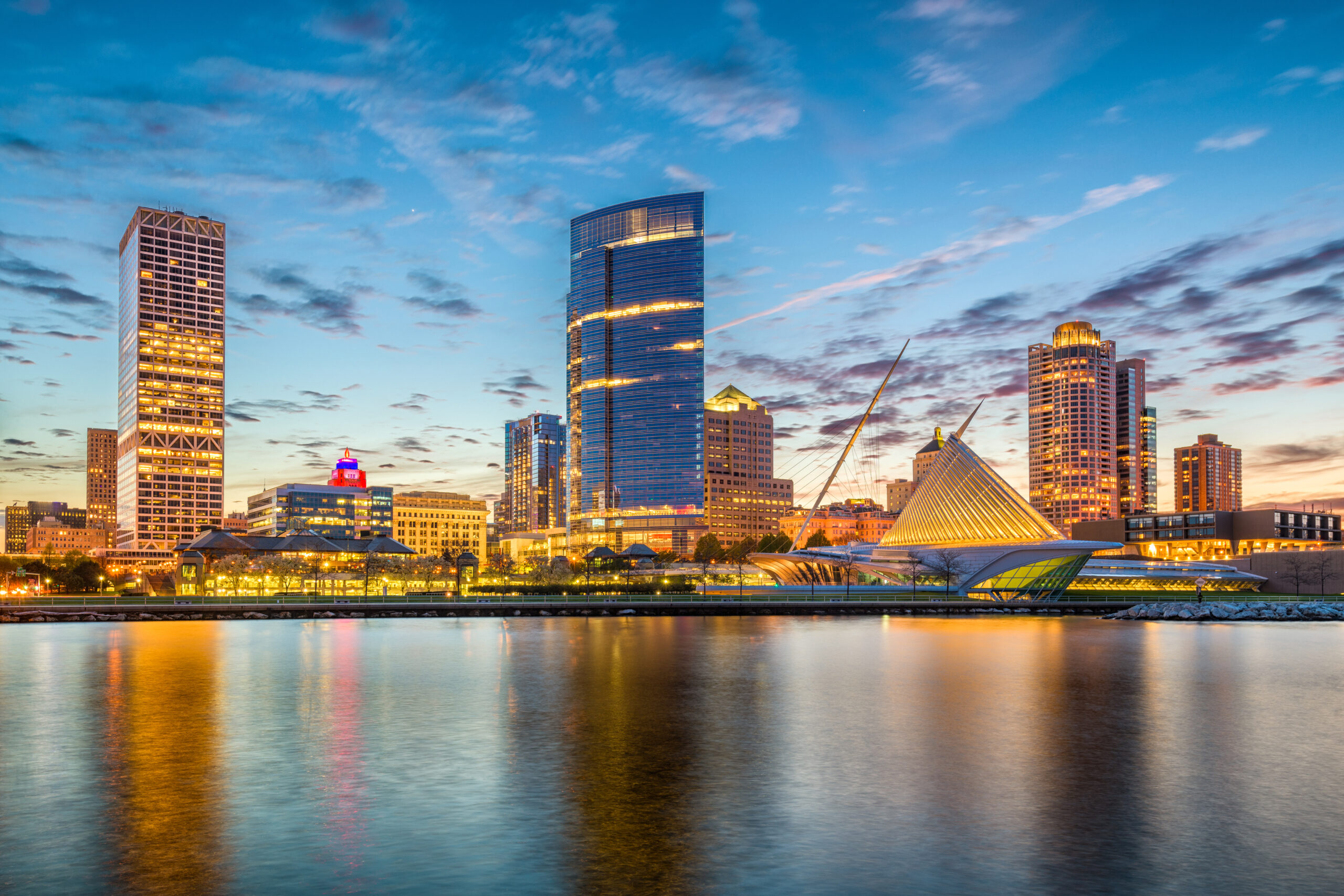 WISCONSIN SKYDIVING - MILWAUKEE SKYDIVING
If you're looking for a Wisconsin skydiving center and you want to jump in Milwaukee with views of the city, the absolute closest you can get is Skydive Midwest. Full disclosure: we are not located in the city of Milwaukee…and neither is anyone else. Same thing applies if you're looking for Green Bay Skydiving, Madison Skydiving or Skydiving Wisconsin Dells. There are no skydiving operations within city limits. Skydiving over populated areas is generally not the best idea. Parachutes need lots of open space to land and some alternatives if conditions prohibit returning to the designated landing area.
Additionally, most major cities come with major airports. Air Traffic Controllers will prioritize commercial airline flights and cargo carriers over skydiving operations and general aviation. In Milwaukee, airspace is controlled by ATC at Milwaukee Mitchell International Airport. Major airports handle a large volume of traffic. Conducting skydives within Milwaukee airspace would come with restrictions so cumbersome it would be almost impossible to operate efficiently.
Skydive Midwest (Racine, WI ) - 25.6 Miles (27 Minute Drive)
Skydive Milwaukee / Sky Knights (East Troy, WI) - 35.2 Miles (45 Minute Drive)
Wisconsin Skydiving Center (Jefferson WI) - 56.1 Miles (1 Hour 4 Minute Drive)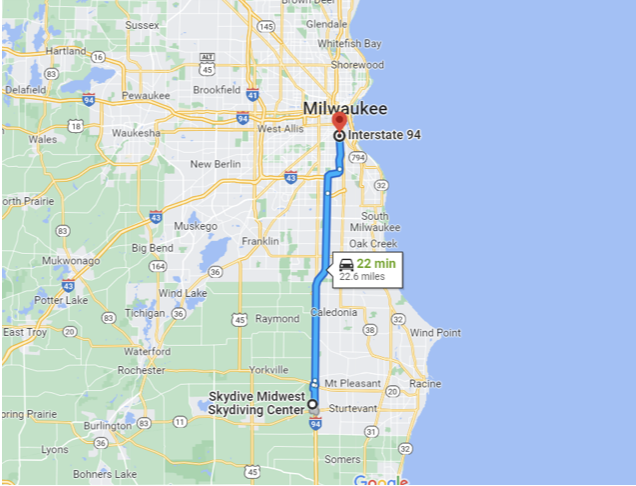 SKYDIVING CENTERS WITH VIEWS OF MILWAUKEE
Skydive Midwest
Skydive Milwaukee / Sky Knights / East Troy Skydiving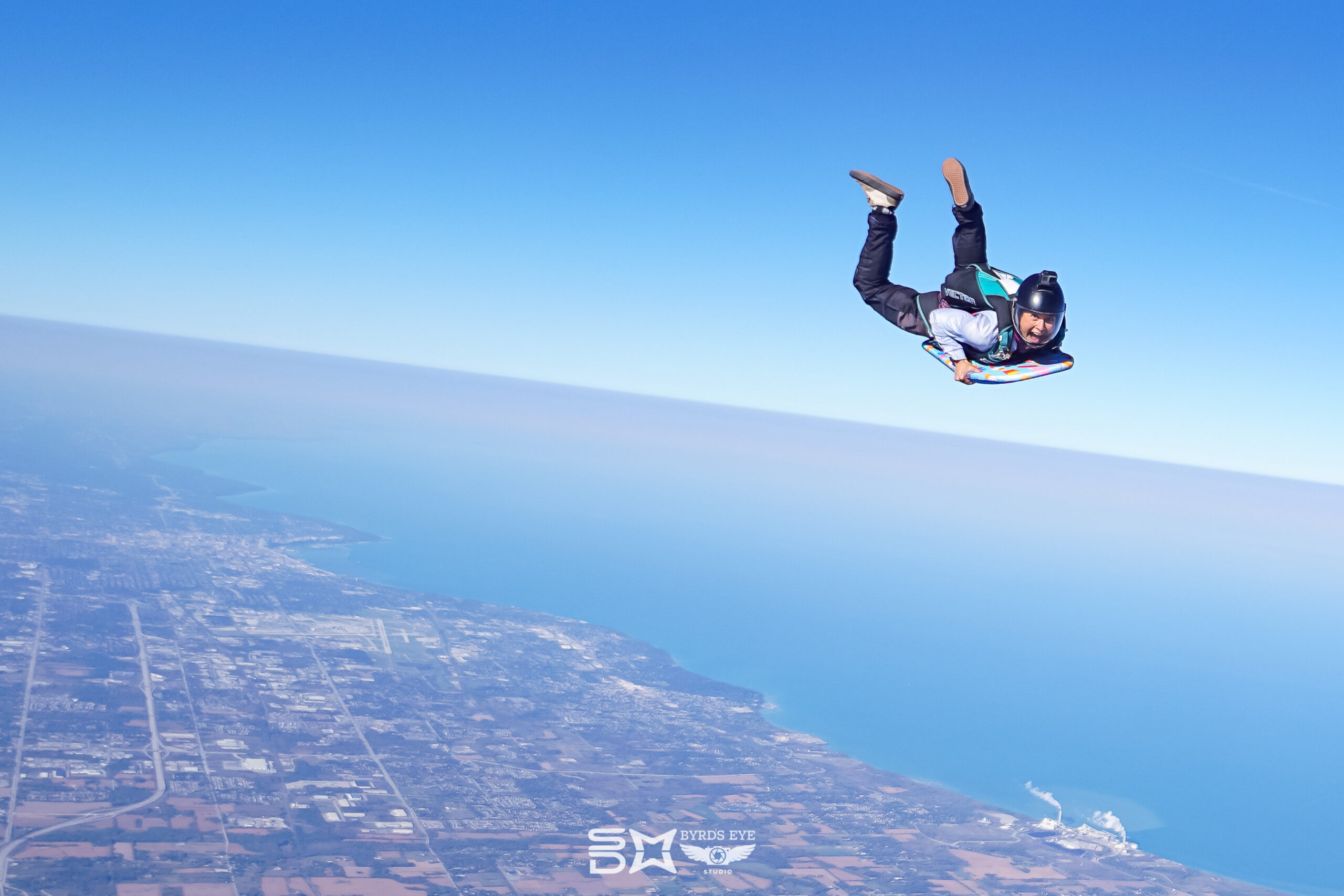 ILLINOIS SKYDIVING - CHICAGO SKYDIVING
If you want to make a true Chicago skydive, over the downtown area or Lake Shore Drive, prepare to be disappointed. Anyone claiming to be conducting skydives in Chicago is pulling your leg. For tandem skydiving, the best view of the Chicago skyline is at Skydive Midwest. The reason there's no skydiving in Chicago is the same as it is for Milwaukee. There's a lack of open space to land and the airspace over the City of Chicago is controlled by ATC at O'Hare International Airport and Midway International Airport.
Most "Chicagoland" skydiving centers are quite far from the city. There are 2 skydiving centers in Northern Illinois and both are about 80 miles away from Chicago. Skydive Midwest is less than 65 miles away and a quick drive up I94; right off the highway! We have an unobstructed view of the city skyline and the topography of the beautiful Lake Michigan shoreline. It's pretty spectacular. Any other skydiving centers near Chicago (or claiming to be) can only boast unobstructed views of farmland.
Skydive Midwest (Racine, WI) - 64.3 Miles (58 Minute Drive)
Chicagoland Skydiving Center (Rochelle, IL) - 79.8 Miles (1 Hour 20 Minute Drive)
Skydive Chicago (Ottawa, IL) - 80.3 Miles (1 Hour 34 Minute Drive)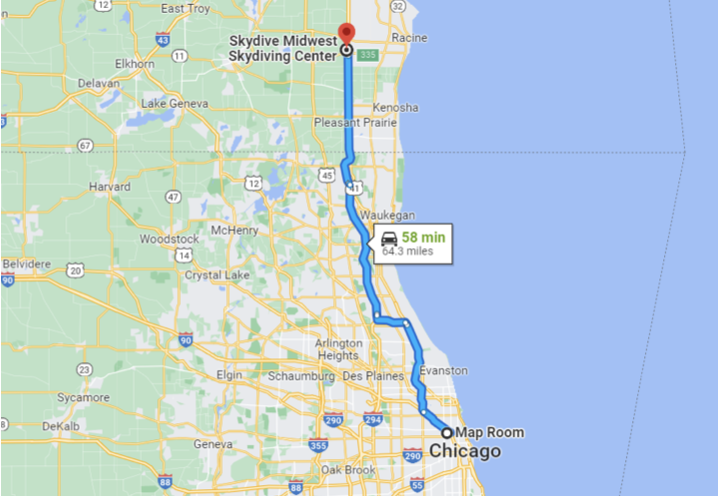 SKYDIVING CENTERS WITH VIEWS OF CHICAGO
Truthfully, there are a lot of questions more important than, "Where can I go skydiving near me?" Here are some other great questions to ask when deciding which local skydiving center to go with.
How safe is tandem skydiving? Are they a member of the United State Parachute Association?
How long has the operation been in business?
What type of aircraft will I be jumping out of?
What altitude will I be skydiving from? Is there a charge for extra altitude?
What amenities do they offer?
Who has the best customer service?
How much does it cost to skydive near me? (compare skydiving prices)
Do they offer skydiving group rates?
Can I get skydiving video and pictures?
For more insight on choosing the right skydiving location for your jump, check out our other blogs:
Which Skydiving Center is the Best?
READY FOR THE THRILL OF A LIFETIME?
Book your ultimate aerial adventure today!