WHAT SHOULD I WEAR TO GO SKYDIVING?
One of the questions we get a lot is, "What should I wear to go skydiving?" We've got a whole list of insider tips that can make your skydive more comfortable when it comes to wardrobe. 
TOPS: What kind of top is good for skydiving?
Depending on the weather, we recommend comfortable t shirts, long sleeves and hoodies. Dressing in layers is a smart move so you can add or subtract based on your instructor's recommendation. Temperatures change throughout the day. Morning and evening jumps can be chilly and mid-day can be hot, depending on the season. Temperatures also drop as we go up in altitude. It is about 20-30 degrees cooler at altitude than it is on the ground. If you're skydiving in early spring or late fall, you might even want to consider wearing a pair of gloves. 120mph winds in freefall can make you cold quickly.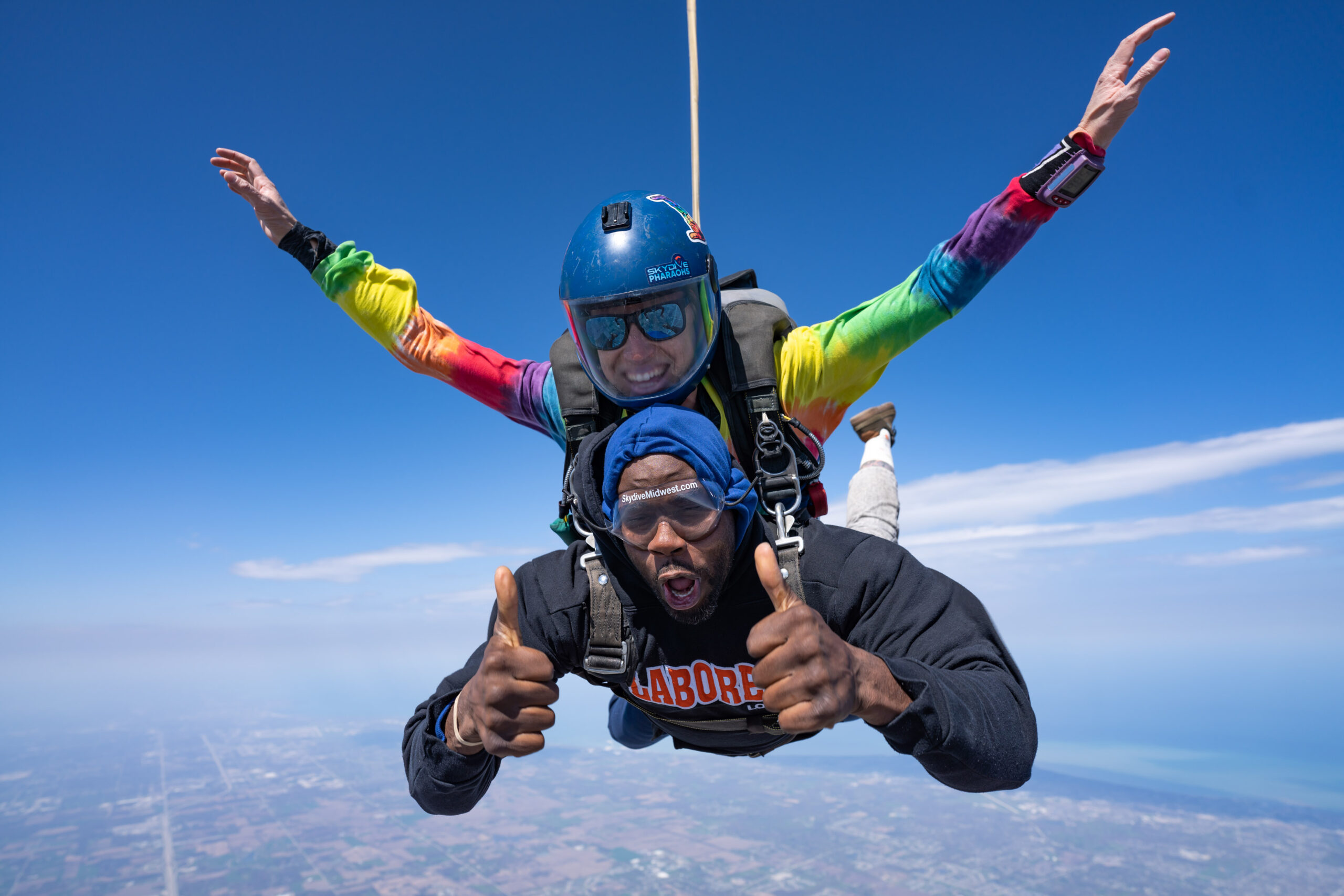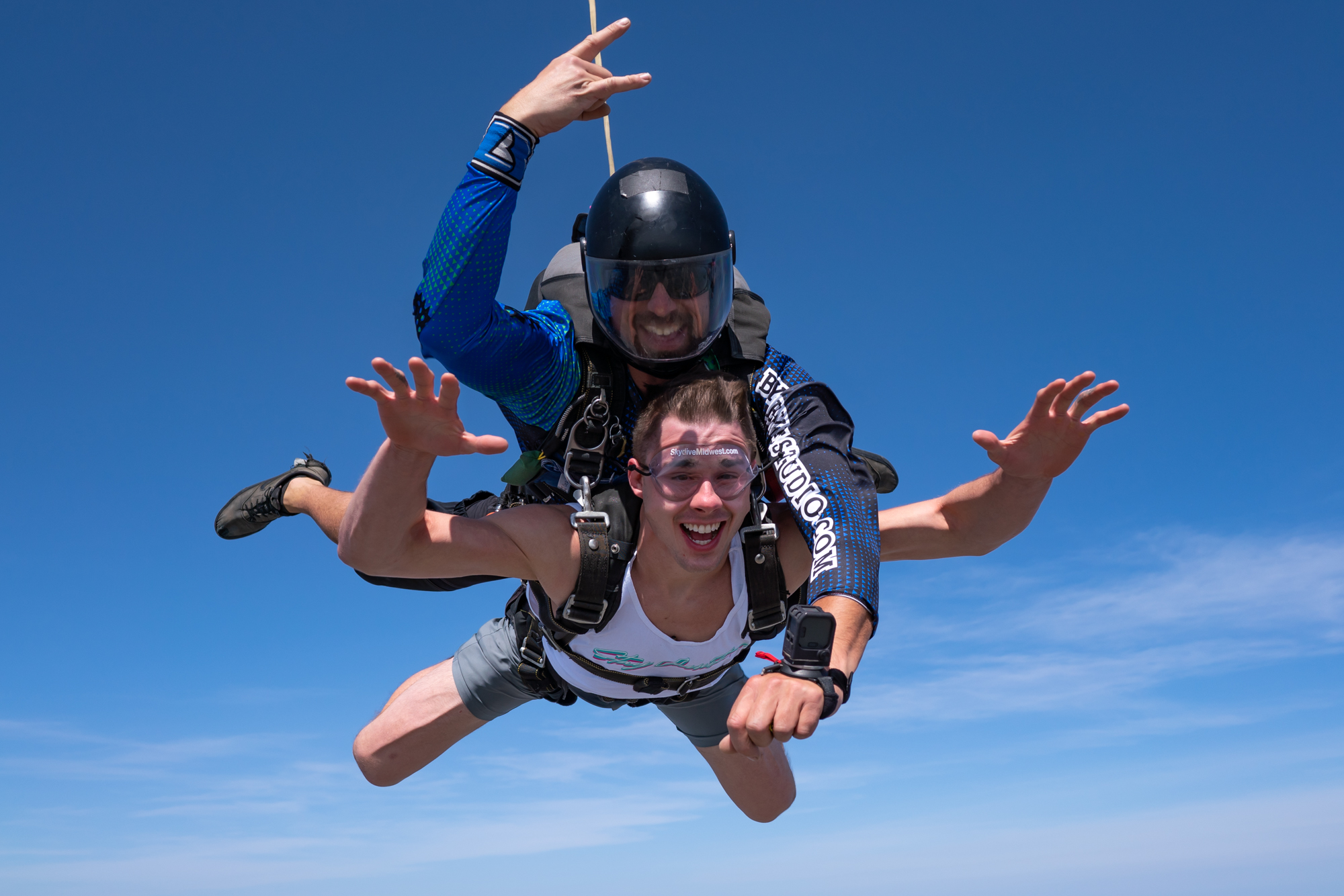 BOTTOMS: What kind of pants should I wear to go skydiving?
Long pants, jeans or athletic wear are good options for your bottom half. Longer, thicker, pants offer more protection for slide-in landings. Because many landings are seated, be sure to wear something durable that you don't mind getting a little dirty. Wear something you feel like you can move around in comfortably. You'll be crouching, bending, sitting, standing and arching your body during freefall.
WARDROBE MALFUNCTIONS AND AESTHETICS
It's worth noting, any exposed skin tends to ripple and flap in the wind regardless of age or fitness. If that's not an aesthetic you want in your video or photos, long sleeves and pants are better options than shorts and tank tops. It's also possible to have a wardrobe malfunction with low-cut tops or shorts that gape open around the legs. Wind speeds are high and can blow clothing out of place. However, we don't judge and we've seen it all, so wear what makes you feel good. The absolute best thing you can wear on a skydive is a big 'ole smile.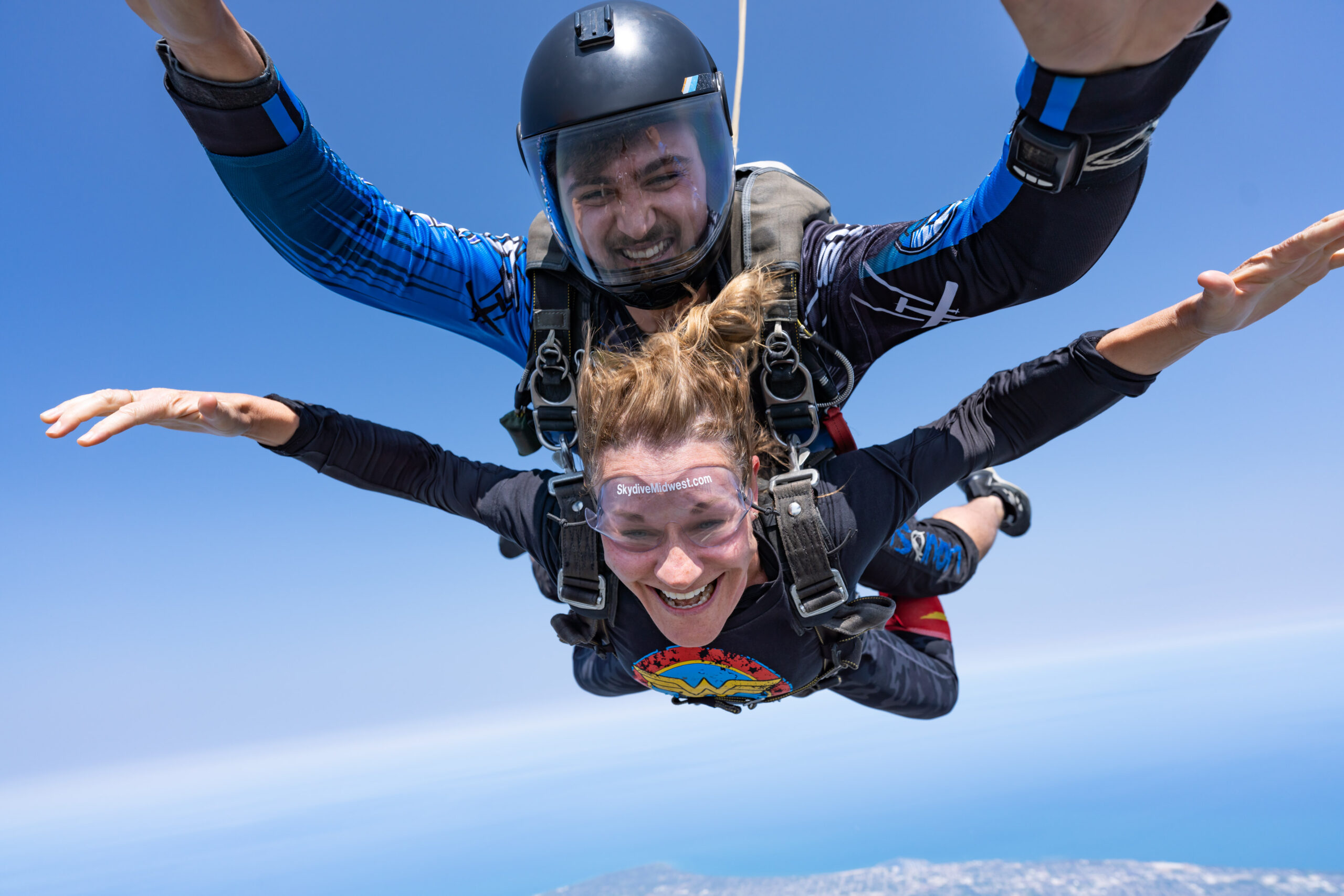 COSTUMES: Can I wear a costume on my skydive?
We have a lot of customers who come out for special occasions and holidays and they are pumped to show their spirit. We've seen tuxedos during prom season, Halloween costumes, onesies, and even the Oscar Meyer Weiner folks dressed up as hotdogs. There have been a ton of great outfits and we absolutely love seeing people skydiving dressed up. The only restrictions on what you can wear to go skydiving come down to safety. Everything you wear must be securely attached and pose no risk of falling off. We will disallow anything that has long, draping fabric or strings that could get tangled on the equipment. Any costumes large enough to impede the instructor's ability to maintain stability or access all parts of the skydiving equipment will be prohibited. Other than that, have fun and let your freak flag fly.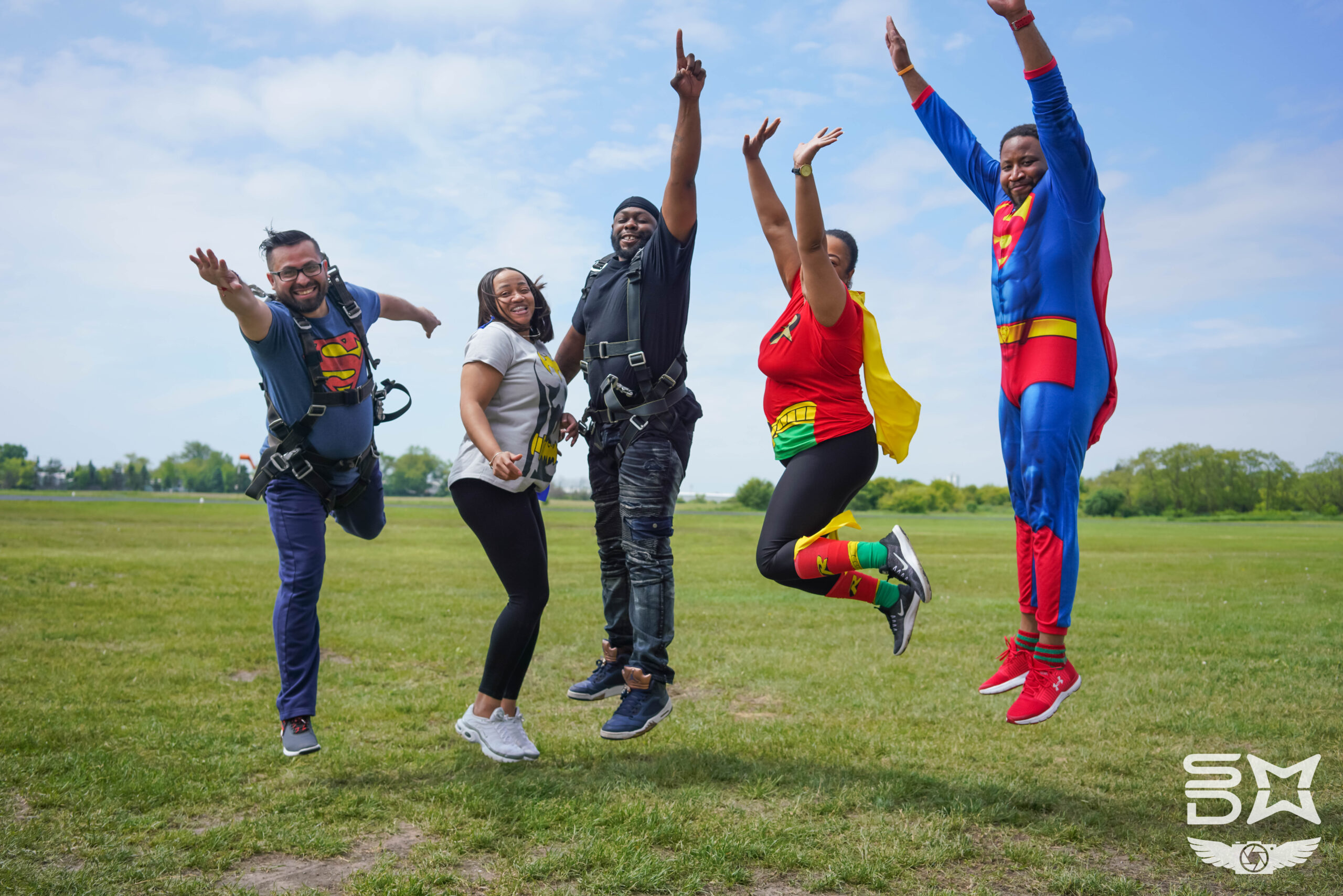 SHOES: What kinds of shoes should I wear to go skydiving?
The most important thing is to wear shoes that won't fall off. Tennis, gym or skateboard shoes that lace up are best. Flip flops and slip-on shoes will not be permitted as they present a risk to people on the ground if they fall off. Wearing heels is also not permitted as it could cause additional risk when landing. Same with going barefoot; you need to wear shoes so your feet are protected from rough ground on a slide-in landing.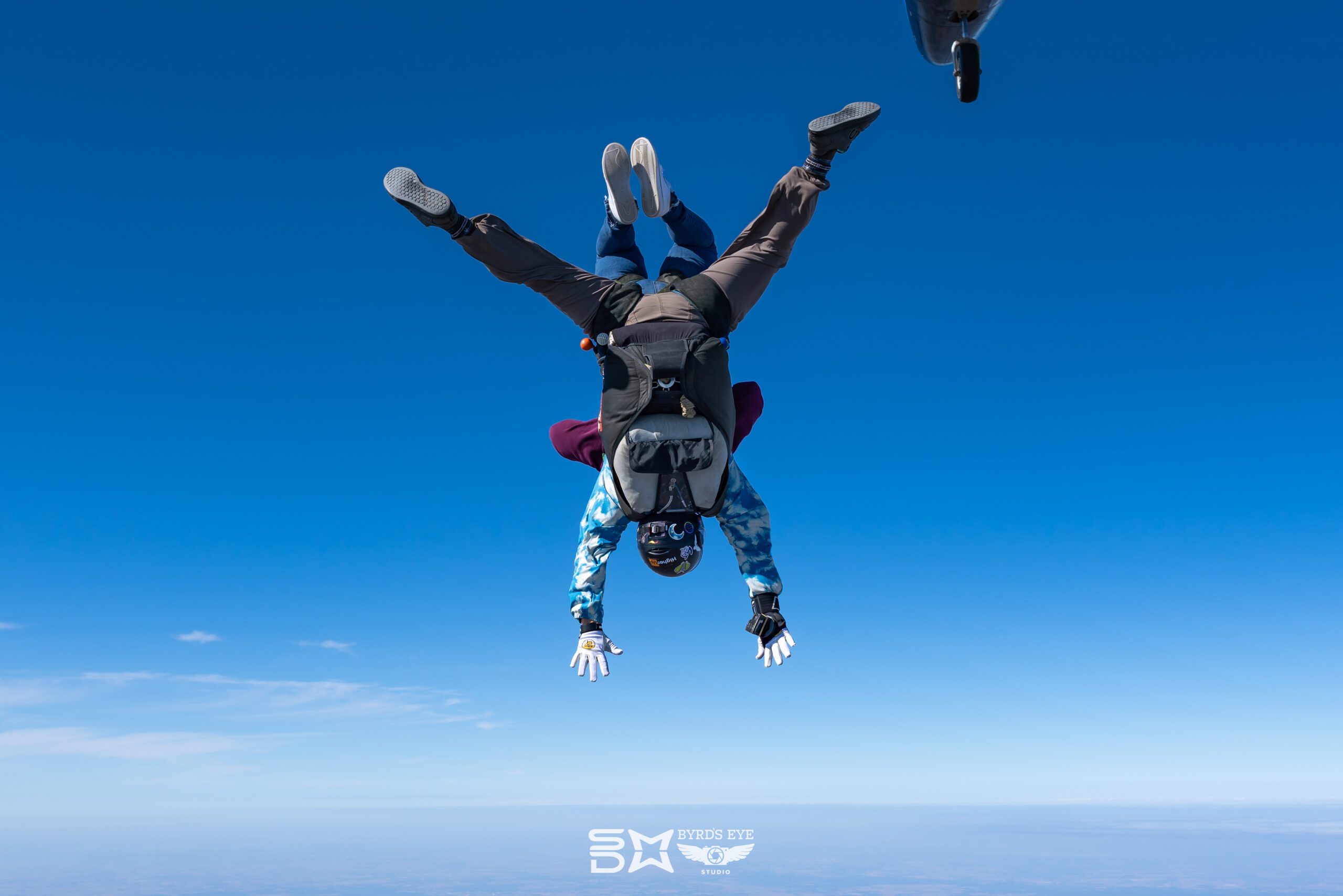 HELMETS: Do you have to wear a helmet to go skydiving?
Helmets are not permitted for students on tandem skydives. They pose a potential risk to the instructor. Helmets turn your head into a bigger, harder, weapon than it already is. We want to minimize any risk of a large, helmeted, head hitting an instructor in the teeth or chin for obvious reasons. Helmets also make it more difficult for you to hear important instructions from your tandem instructor. So, ironically, tandem students don't wear helmets, for safety.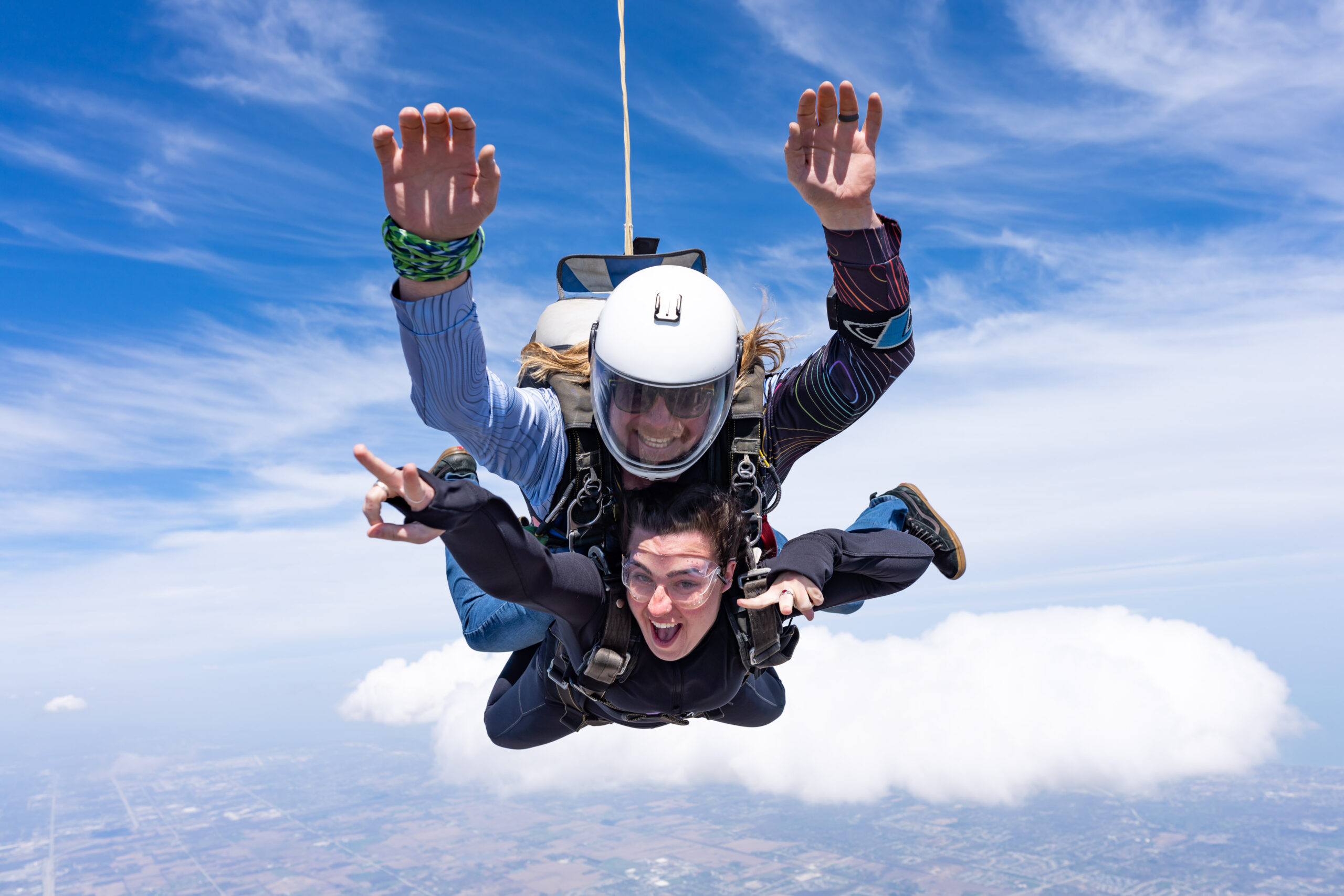 HAIR: What should I do with my hair on a skydive?
The best way to manage long hair is to braid it. Any braid will work but if you can French braid, even better. You can go with a tight bun or ponytail but any hair exposed to the wind is likely to get tangled. If you're not concerned with a long brushing session after you skydive, you can leave it down as long as your instructor can still see and it's not so long that it could get caught on any equipment.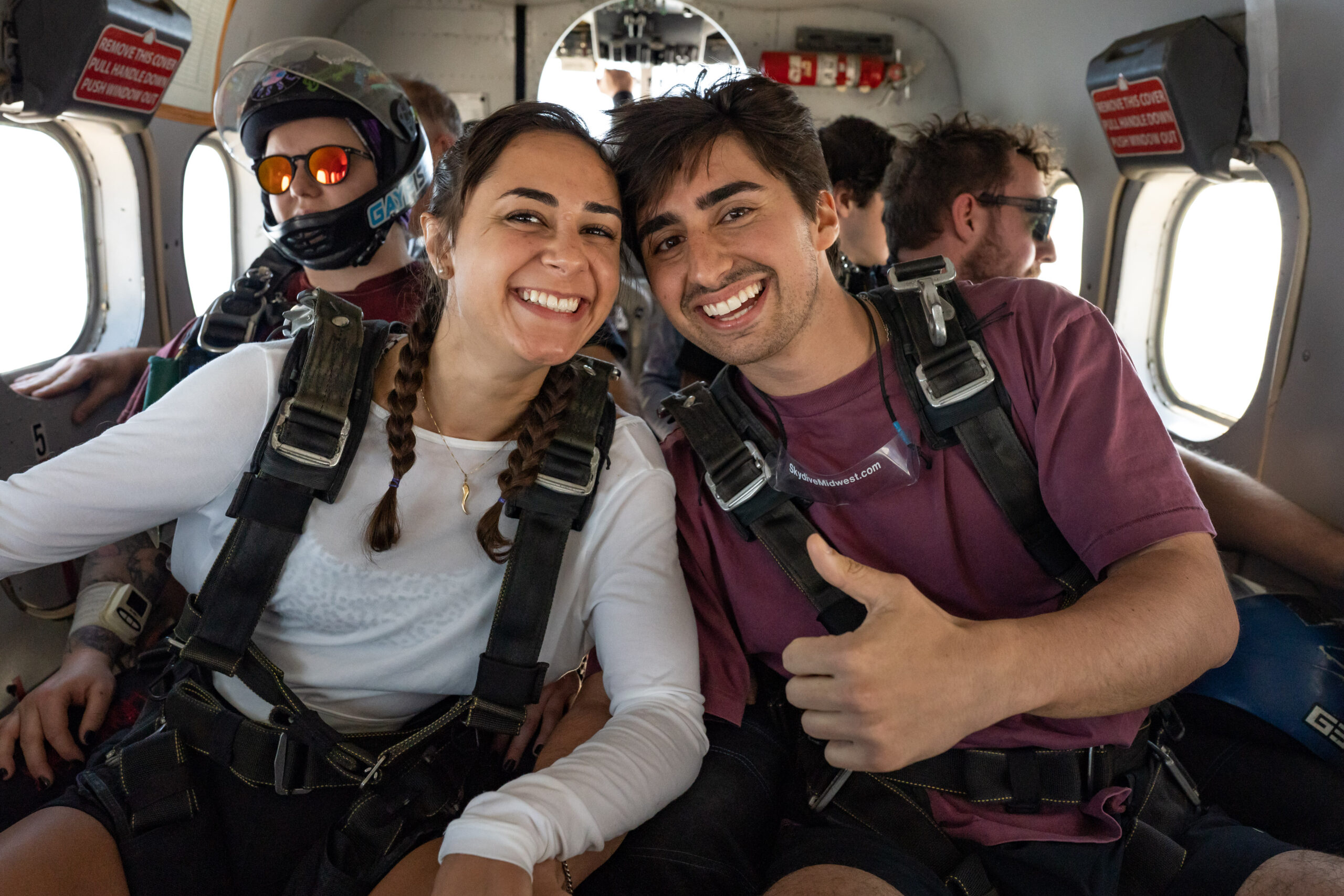 GLASSES/CONTACTS: Can I wear glasses or contacts on a skydive?
Every tandem student will be given a pair of goggles. If the goggles are securely fitted to your face, contacts should not be a problem. If you wear glasses, we have over-the-glasses goggles that are designed to be large enough to fit over most glasses. Either way, we've got you covered.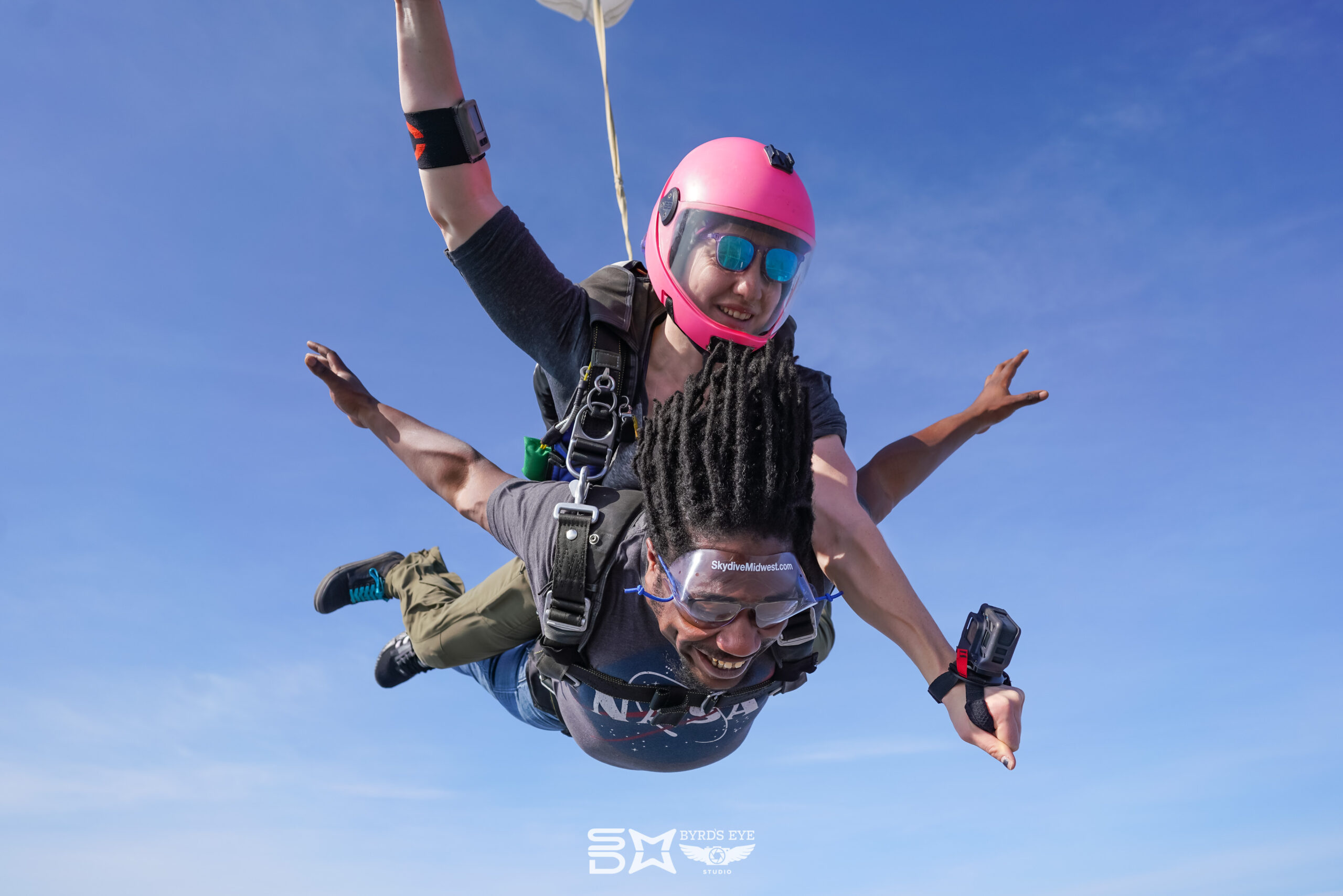 READY FOR THE THRILL OF A LIFETIME?
Book your ultimate aerial adventure today!