What is Tandem Skydiving?
Somehow your day dreaming and internet surfing has led you here. You're thinking about skydiving! Perhaps you have some questions like, "What is a tandem skydive?" "Can I skydive solo?" "Who can make a tandem skydive?" or a multitude of other things. We're here to give you the basics on skydiving tandem and what will hopefully be your first skydive!
Tandem skydiving has made the sport accessible to almost everyone. Prior to 1983, the only way to experience it was to learn to jump solo or jump for the military. Thanks to the innovation of the tandem harness and container system, more people can feel what it's like to fly with a relatively small amount of training and commitment. Millions of skydives are conducted nationwide annually.
What Does Tandem Skydiving MEan?
The word "tandem" refers to an arrangement in which a team of machines, animals or people are lined up one behind the other facing the same direction. Just as you'd see two people riding on a tandem bicycle; this is the configuration used for a tandem skydive. A tandem skydive involves a pair of jumpers attached together, sharing a single parachute system for their entire skydive and canopy ride.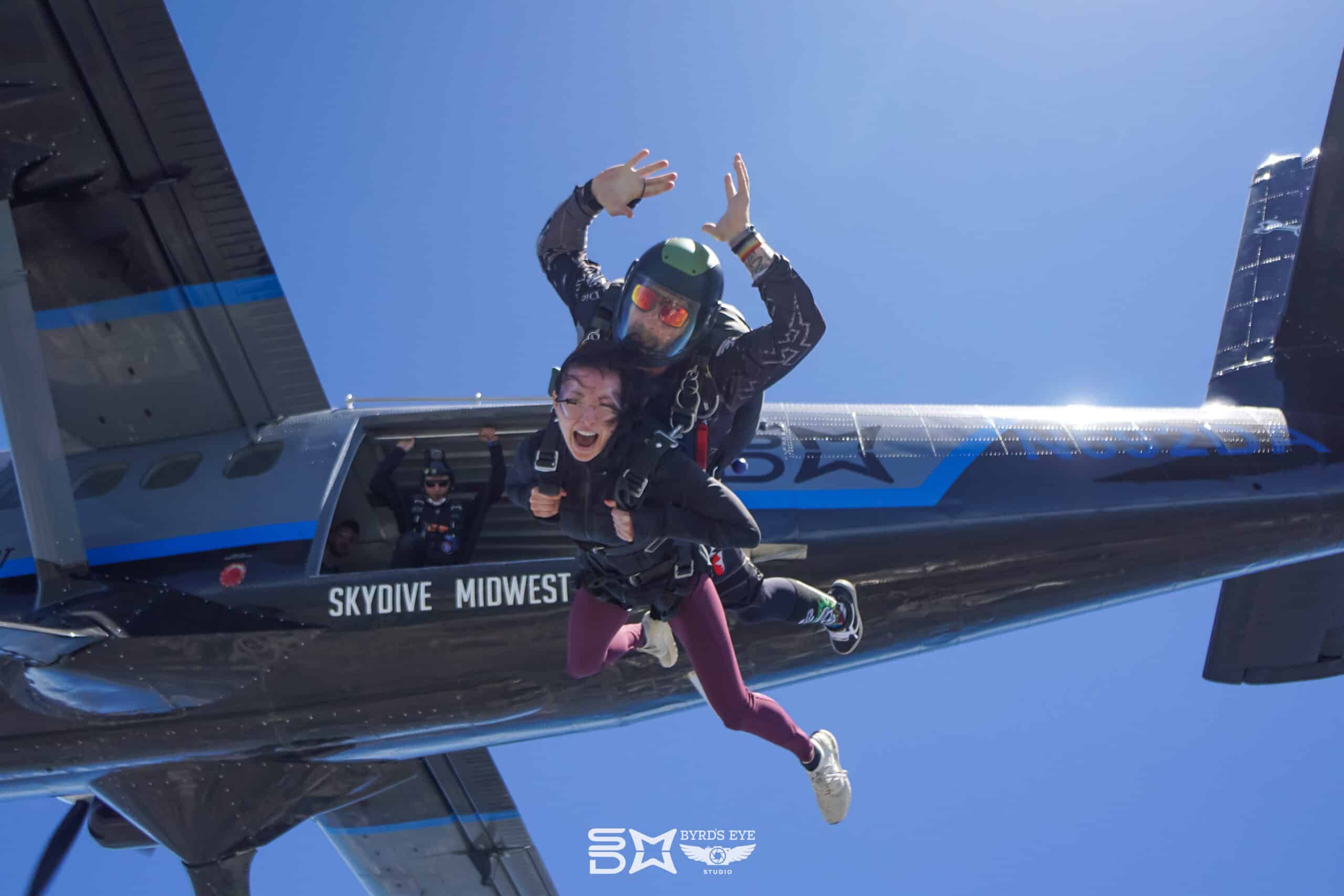 Configuration
All tandem skydives consist of an instructor and a student. The United States Parachute Association requires all tandem jumps be conducted with a certified instructor as the "pilot in command". Unfortunately, this means your dreams of strapping yourself to your best friend and jumping together will have to be paused until one of you earns an instructor rating. (More on that later.)
The Set Up
The instructor wears the parachute container system on their back. It's essentially a harness with a backpack containing 2 large parachutes. The student wears a harnessing system that attaches to the front of the instructor's parachute system harness. There are 4 attachment points between the pair, two on the shoulders and two on the hips. The two are connected with the student in front of the instructor, facing away from them, like big spoon and little spoon. 
Responsibilities
The instructor takes care of most of the duties on the skydive but the student has a few important jobs as well. Before the jump, each student receives instruction on exiting the aircraft, proper body position during freefall and landing procedures.
Instructor Austin Lankford Demonstrates the harnessing procedure
Who Can Be A Tandem Instructor?
If you're still thinking you want to take your best friend on a tandem skydive, it's not impossible, but it's a lot of work and training. Being a instructor is a big deal and needs to be taken seriously. There are some rigorous requirements to become a tandem skydiving instructor. For example:
You must be at least 18 years old. Although, most instructors are much older
You must become a licensed skydiver and have achieved the highest license in skydiving (D-License).
You must have a minimum of 500 jumps (required for a D-License).
You must hold a United States Parachute Association Instructional Rating.
You must have at least 3 years in the sport (meaning 3 years must have elapsed since your first skydive).
You must obtain a Class 3 Medical Certificate from the Federal Aviation Administration.
You must have performed 50 jumps in the last 12 months. We call this being "current" in your skydiving skills.
You must complete a Tandem Instructor Rating Course.
IS Tandem Skydiving Safe?
Skydiving is an extreme sport and is not without risk. However, tandem skydiving is the most regulated and commonly practiced form of the sport. Thousands of people jump tandem every year without incident, thanks to vigilant safety practices, proper training and education and new technology. For a deep dive into safety in skydiving, check out our blog, "Is skydiving Safe".
You can absolutely learn to jump solo. There is a structured training program to take you from tandem to solo in as few as 2 jumps. You will need to sit through a longer (4-6 hour) ground school for the Accelerated Tandem Progression program to learn the basic skills needed for jumping solo. You will also have a few more responsibilities during your tandem jumps including:
Monitoring your altitude.
Freefall maneuvers, like turns and forward movement.
Deploying the parachute.
Learning/assisting with flying the landing pattern.
After your tandem training jumps, you will move on to "solo" jumps. For these, you will be wearing your own equipment but you will be accompanied by an unattached instructor in freefall. Your instructor will give you hand signals to coach you in freefall and you will be required to deploy the parachute and land it yourself (with some radio assistance).
It is possible to skip the tandem progression and move on to a solo training program called Accelerated Freefall. However, this is not recommended for most people. Most students find quicker success in the Tandem Progression Program as they get more hands-on, real-time instruction in a lower-pressure environment. To read more about jumping solo check out our blog on becoming a licensed skydiver.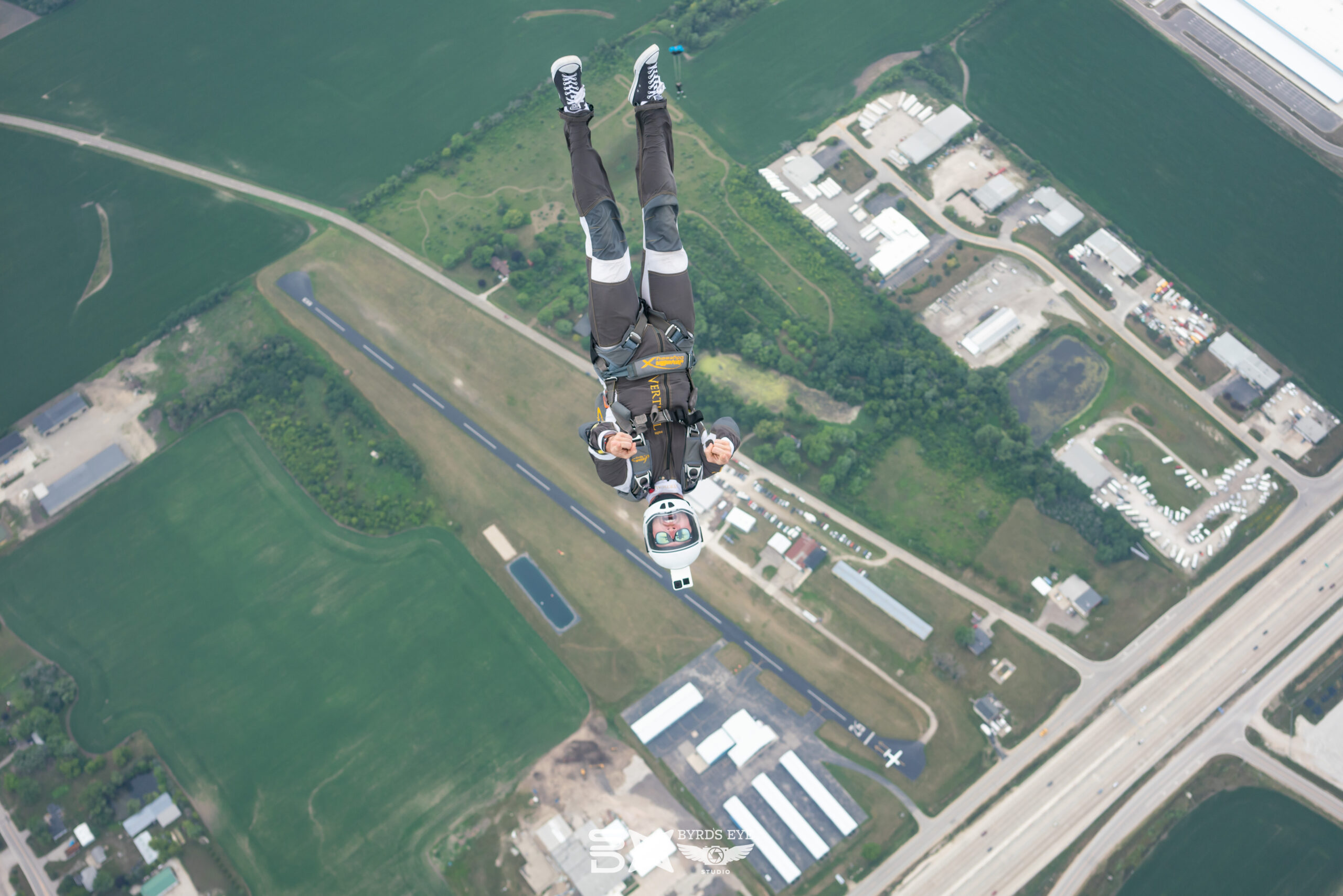 Is it better to tandem skydive or skydive solo?
Tandem is king when it comes to your FIRST skydive. We always recommend doing a tandem jump before pursuing a solo program jump. It's the best way to acclimate to skydiving in a more controlled environment. You can see how you'll respond to a high-stress situation while still having an experienced instructor to back you up every step of the way.
Can I skydive tandem with my friends?
Many people ask if they will be jumping out with their friends on a tandem skydive. You will be able to spend time with your friends in the plane on the ride to altitude, but when it comes to jumping out, you'll be exiting one pair at a time. Unfortunately, jumping out together or meeting up in freefall is not permitted. The USPA regulations require vertical and horizontal separation between tandem pairs. It's important to have separation between groups of skydivers to avoid collisions in freefall, deployment and canopy flight. Safety is our number one priority.
READY FOR THE THRILL OF A LIFETIME?
Book your ultimate aerial adventure today!