HOW MUCH DOES SKYDIVING COST?
(And how to get the best value for your money)
This is a great question but an even better question would be: How much SHOULD skydiving cost. The average cost of a skydive should range between $250-300. If you've found a skydive cheaper than that, there are some buyer-beware facts you should know. They'll help you to get the best value for your money without being taken advantage of when you skydive.
GROUPON:
The most widely known example of a "3rd party booking" is Groupon. Groupon is one of the more reputable companies out there, however, there are some setbacks. Often discounts listed on these sites have a lot of fine print. Make sure you read carefully. There could be restrictions on when you can book, limiting you to weekdays or specific times. They may also require you to make reservations up to 2 weeks in advance making it more difficult to schedule. Check for expiration dates and refund policies. 
INSIDER TIP:
CALL the skydiving center directly and see if they will just match the 3rd party vendor's rate. Then you get the best price, without all the restrictions!
ALTITUDE:
They want you to pay MORE for more altitude. Some dropzones start their jumps at 10,000ft and want you to pay MORE to jump from 12,000ft and even MORE for jumps from 14,000ft. At Skydive Midwest, we try to conduct all jumps from 14,500ft as long as safety and weather permit. We never upcharge for more altitude. We want you to get the full experience with the maximum freefall time available. 
ADD-ONS:
Some skydiving centers will tell you upon arrival that you must also purchase your own pair of goggles, rent a locker, or a jumpsuit to wear. Watch out for the "Spirit Airlines" model in skydiving -where you get nickel and dimed for every amenity. 
The old "up-sell" scam. Some skydiving centers list a SUPER low price that looks awesome at first glance. Look a little closer and you may find some hidden costs they don't tell you about until you get in the door.
All skydiving centers have a weight limit. The equipment being used has a Technical Standard Order (TSO), approving it for up to a certain amount of suspended weight. Exceeding this weight can be dangerous and the opening shock can become painful. 250lbs is the industry standard weight limit. However, some skydiving centers will list a lower weight limits and charge an extra fee for each 10lb increment over that limit, claiming extra wear and tear on the gear, extra fuel consumption or more work for the instructor. We don't support these additional fees. We believe the difference in wear and tear, fuel and workload is negligibly different. Our weight limit is 250lb, period. No fees or hidden charges.
SMALL:
Most skydiving centers are small operations and they use an airplane called a Cessna 182. These baby birds hold no more than 4 passengers and they fly no higher than 10,000 ft. 
MIDSIZE:
Mid-size skydiving centers often fly Kingairs, Kodiaks or Caravans. These planes generally hold no more than 13 passengers.
LARGE:
Large skydiving planes fly Dehavilland Twin Otters. This is the luxury, Cadillac of the skydiving world. These big birds hold up to 23 passengers!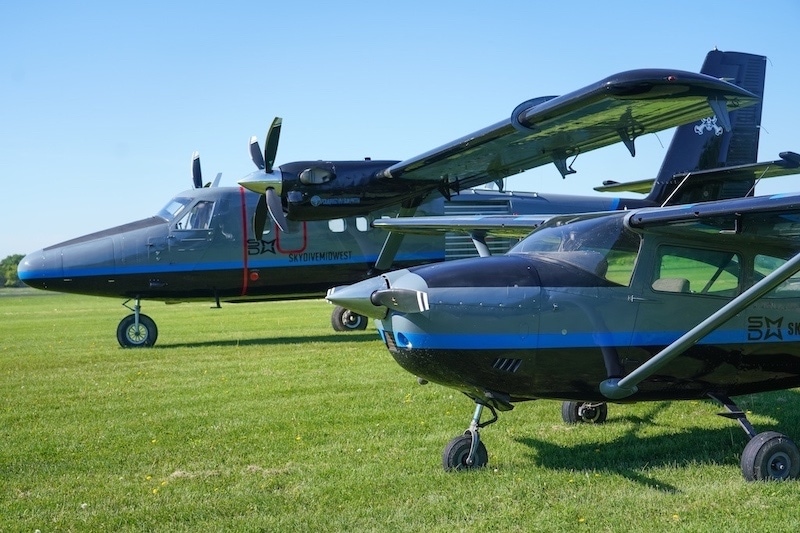 Bigger isn't always better but if you're trying to jump with a group of friends you may want to choose a skydiving center that has a plane with a larger capacity. Remember, half the available slots on the plane will be filled by instructors. So, on a 4 person plane, only 2 will be tandem passengers. This leaves no extra room for a videographer or more friend. Smaller planes can also mean they are restricted to doing jumps from lower altitudes, meaning you get less freefall time along with the lower price. Cessna 182s can only conduct skydiving operations from 10,000ft versus a Twin Otter operation that can conduct jumps from 14,500ft!
Most people look for the skydiving center nearest to them. Sometimes the choice is obvious. There might be only one skydiving center within 200miles of you. However, the closer you live to a major city, the more options you will find. One thing to consider is what you want to see during freefall and in your pictures/videos. Lots of skydiving centers represent themselves as being IN a major city or even use the name of a major city in the company name. Skydiving centers are almost NEVER actually located in a metropolitan area, due to flight restrictions. Usually, they're in the middle of farmland with nothing to see but brown and green fields of crops. So, look for a skydiving center next to a lake, an ocean, a mountain, a city skyline or other visually appealing backdrop. Skydive Midwest is the closest skydiving center to the city of Chicago. It is located perfectly between Milwaukee and Chicago, on the edge of Lake Michigan. This offers spectacular views that can't be found at other Chicago or Milwaukee area locations.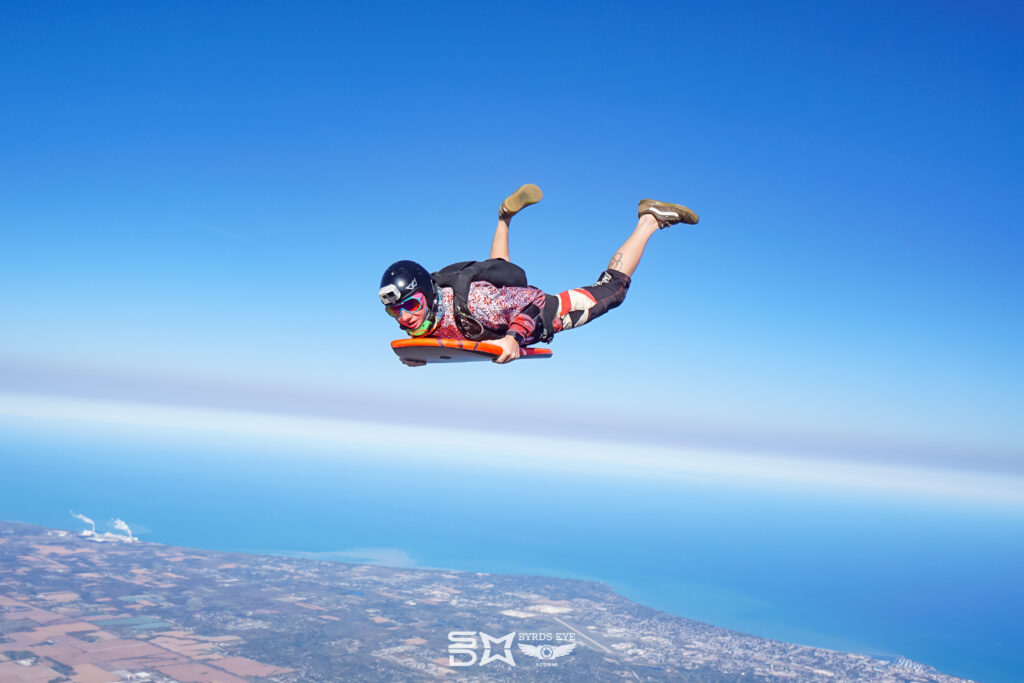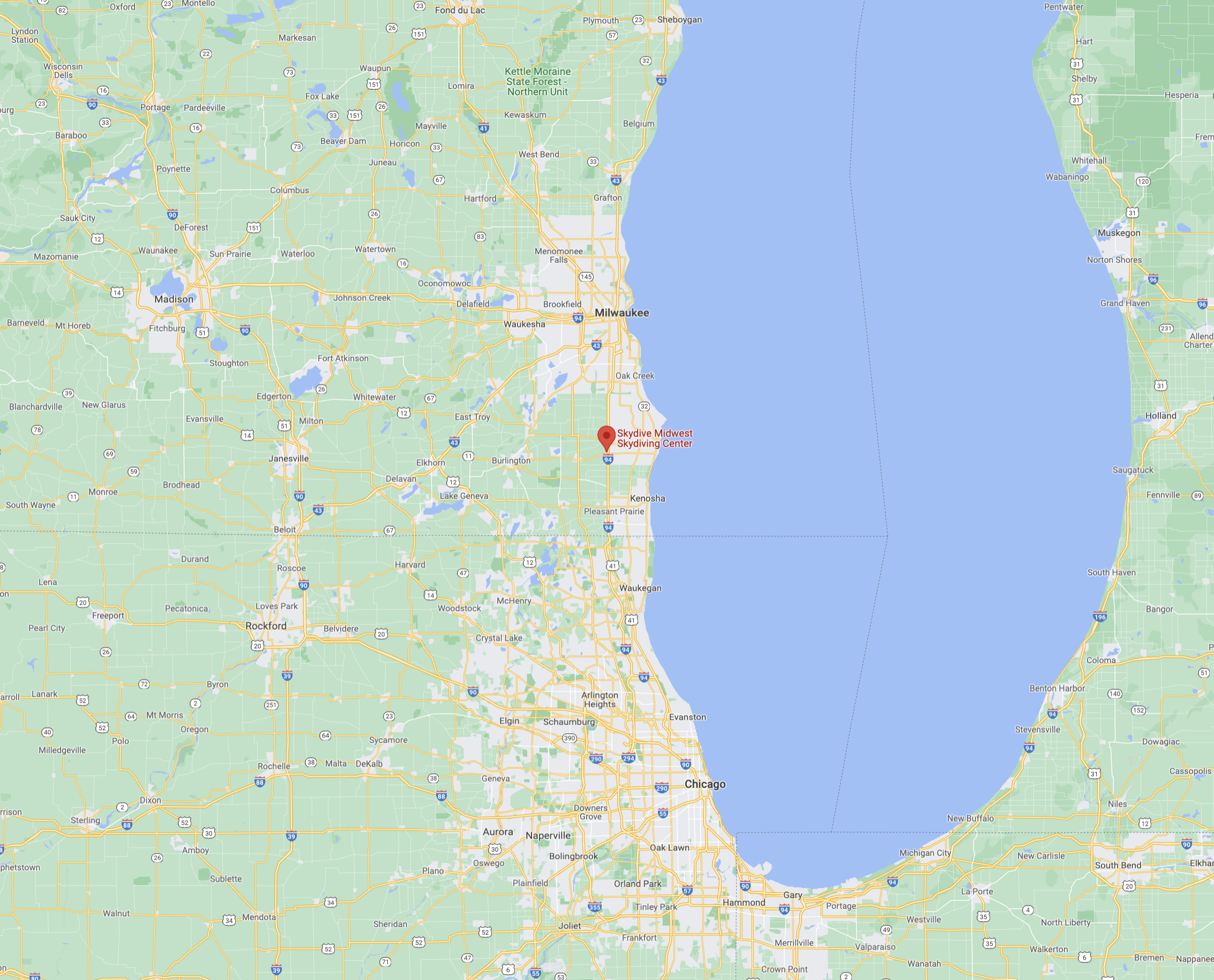 Skydiving at first glance can appear to be pretty expensive. Especially if you compare it to a day at 6 Flags. But let's be honest, jumping out of a plane from 14,500ft with views of Chicago and Milwaukee skylines is NOTHING like a roller coaster ride. It is a breathtaking, life-changing experience like no other. We can pretty much guarantee after you land, you'll think it was worth every penny and more. Still, some people have asked, why is skydiving so expensive?
First and probably most obviously, airplanes are expensive. They're expensive to purchase and they're expensive to lease. Some jump planes can cost upwards of 3 million dollars! They are also expensive to fly. Not only for fuel and oil consumption but for the maintenance costs associated with each flight.
Airplanes can only be serviced by specialized aircraft mechanics. Because we do so many more takeoffs and landings than normal aviation operations (sometimes 20-30 per day!) the landing gear, flaps and flap motors need a lot more service. All parts, even something as minor as a bolt has to be approved by the FAA, making it carry up to 10x the cost of any normal automobile part.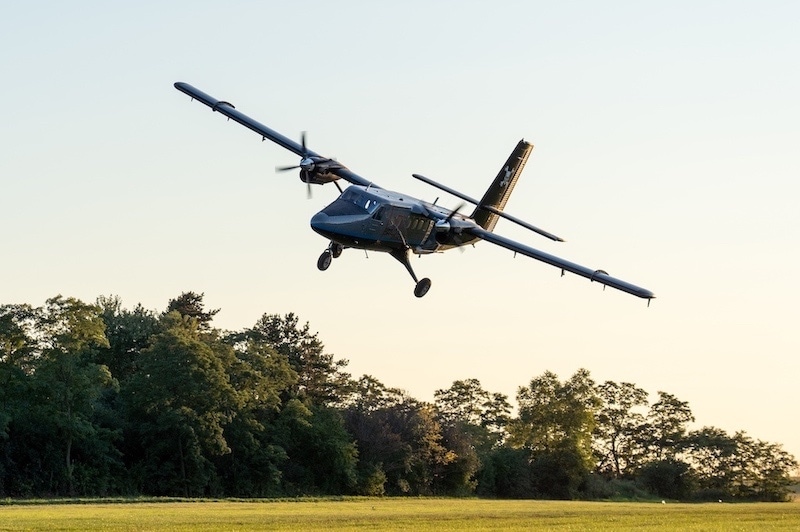 The Tandem Parachute Container Systems, Main and Reserve Parachutes and Automatic Activation Devices also carry a high price tag. It's life-saving equipment, after all. The design, engineering, research and development and production of these products isn't cheap. Let's be real, would you want it to be?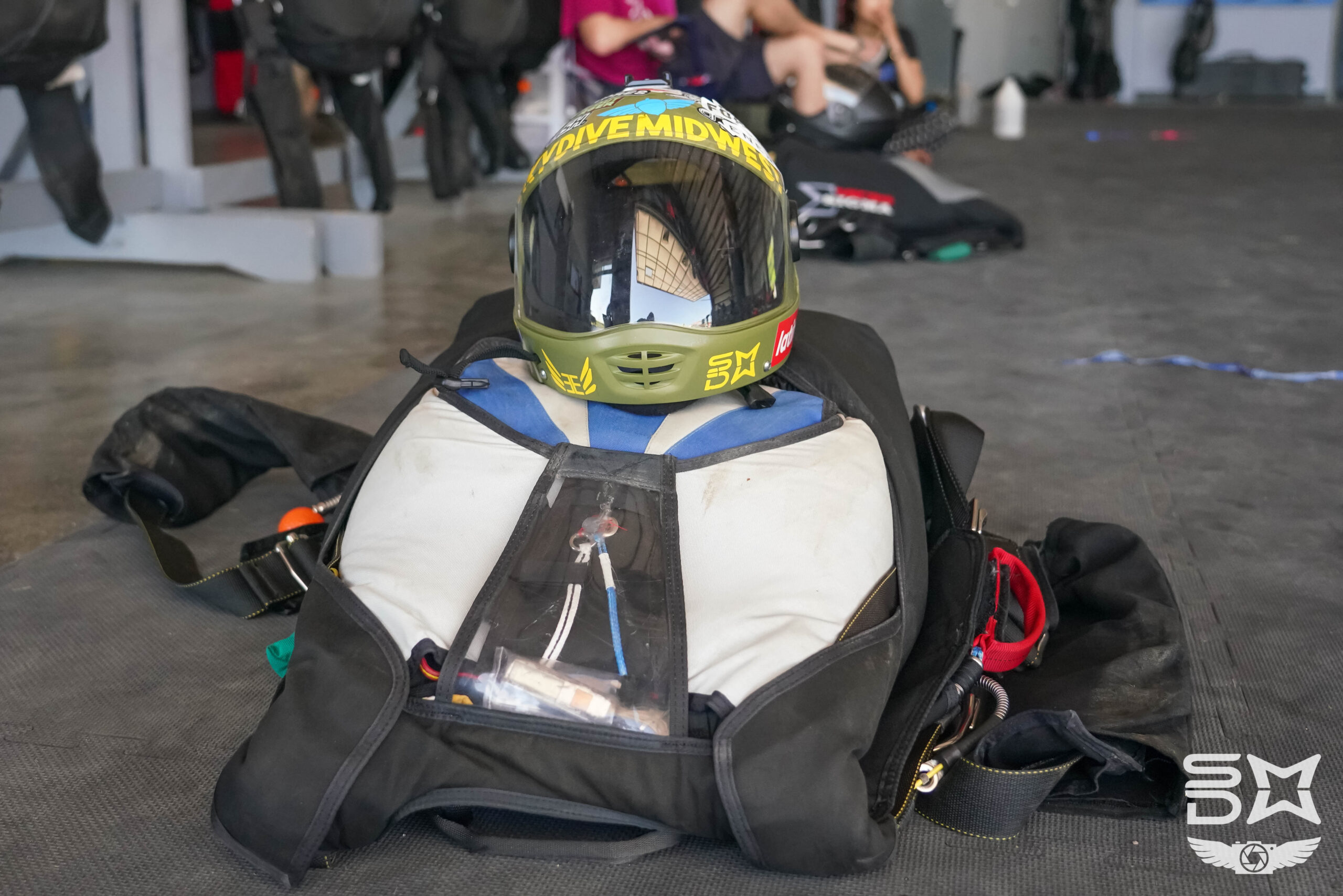 The fuel costs associated with your seat and your instructor's seat on the airplane
The use and maintenance of the tandem equipment
The use and maintenance cost of the aircraft
Everyday business expenses/overhead – utilities, office staff payroll, pilot pay, advertising, training, building/hangar rents, supplies and more.)
Truth be told, it doesn't leave a terribly large profit margin for skydiving operations. It's a labor of love. Though there are lots of skydiving deals out there that may advertise a cheaper skydive, just remember to read the fine print and know exactly what you'll be getting for that price. You tend to get what you pay for.
These tips apply not just to Skydive Midwest but most skydiving centers. Do your homework and you'll find a fair price. Start by following us on Facebook and Instagram! You'll be the first to know anytime we run a special deal or promotion. Check out our Deals page. We usually offer several package options where you get a discount for prepaying for a skydive in full or prepaying for a skydive plus a video/photo option upfront. Shop for a skydive around Christmas time. We always offer Black Friday, Cyber Monday and Holiday Deals. If you're flexible with your schedule you can often get a better price for jumping on a weekday rather than a weekend. Look for group rates. Most skydiving centers offer a better price, the more people you can get to come jump with you. We even have a large group rate where the organizer can jump for FREE! If you really love skydiving and want to keep jumping, the cheapest route is to become licensed. Once you complete your training and have your own gear, you can jump for as little as $25! For more information on becoming licensed, click here.
Learn more about our skydiving licensing programs -- pricing, jump schedules, FAQ and more.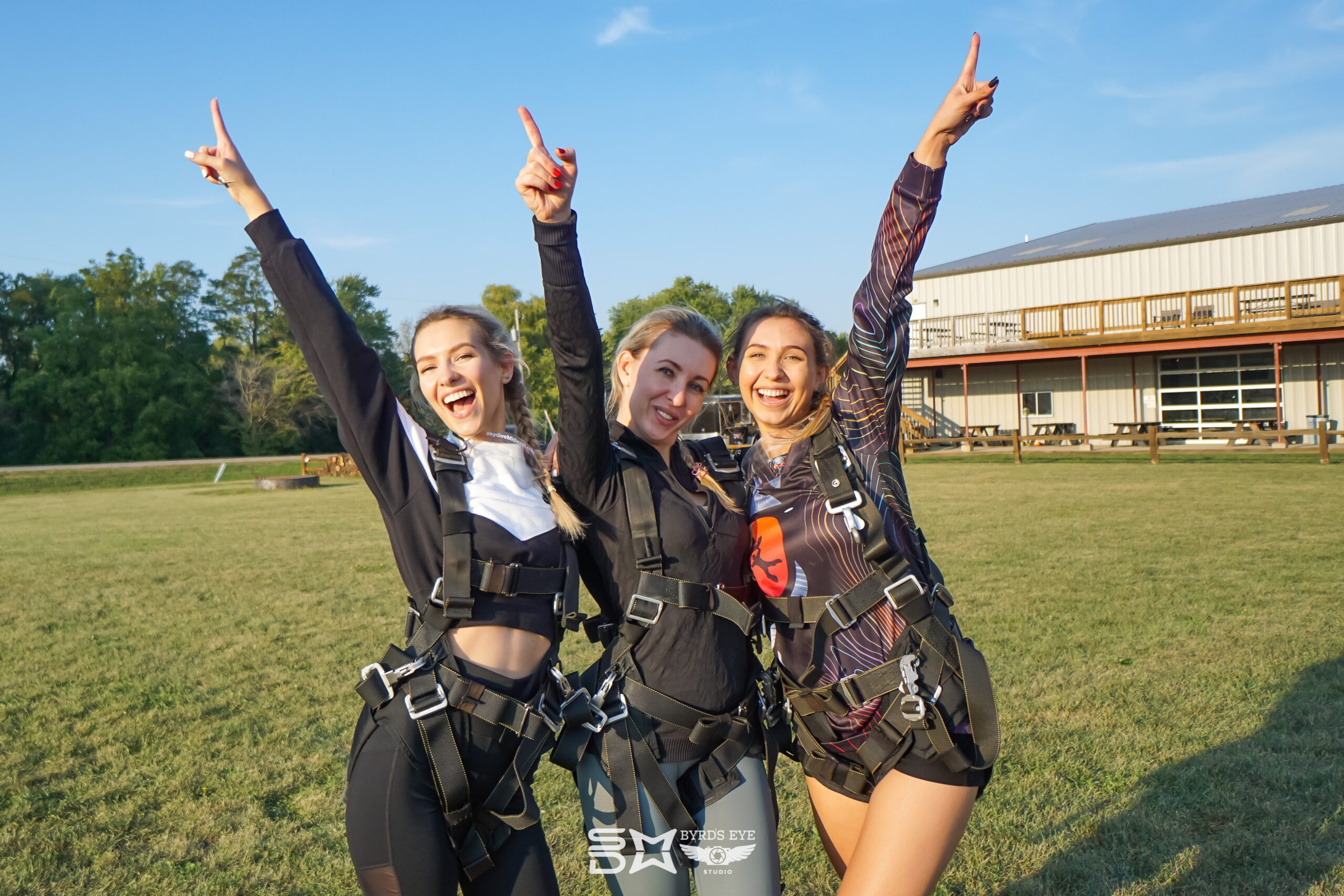 READY FOR THE THRILL OF A LIFETIME?
Book your ultimate aerial adventure today!