the independent route to your skydiving license
ACCELERATED FREE FALL (AFF)
Accelerated Free Fall is a training program developed by the USPA to allow a person to become a licensed skydiver in a structured but slightly more aggressive method. You are not required to do a tandem jump prior to beginning the AFF program, however we recommend experiencing a tandem first or the ATP Program for most people. 
A 4-6 hour ground school and a high level of demonstrated aptitude are required prior to being approved for your first supervised solo. 2 AFF instructors will accompany you on your first solo skydive. They will provide in-air instruction with learned hand signals during freefall. You will be wearing your own rig and jump unattached to an instructor, deploying and landing the canopy yourself!
This program is designed so you have the option to pay as you go (per jump) OR prepay and save.
General Info

AFF is a skills-based assessment program: You must exhibit the skill to progress to the next level.
AFF is a self-paced program: The more you jump, the faster you will progress. Your instructor will work with you as to what that skill is and how to accomplish it.
Tunnel Training

This program requires Indoor Wind Tunnel Training.
10 minutes of training at IFly Rosemont must be completed with one of our approved AFF Instructors.
Cost

These prices include all rental equipment (parachute, goggles, jumpsuit, altimeter, training materials).
Parachute repacking is not included for any jumps. You must pay the packer cash directly. $7/Jump.
You can PREPAY for Groundschool and Jump 1 and SAVE $10

You can

PREPAY for the FULL Program

and SAVE 10%

Tunnel Training must paid for separately, directly to the instructor.

Prepay Total: $2980.80.
Be sure to ask about our Military Discount!
No Refunds. No Expiration.
Timeline

Student skydivers must jump every 30 days to remain current.
If you have not jumped in the last 30 days, you will be required to do a refresher course for $65.
The Jumps

There are NO tandem skydives in this program. All training jumps are considered "solo" assisted by one or more non-attached instructor(s).
Jumps 9 – 25: May be completed in any order.
The USPA A License: Requires a minimum of 25 jumps.
USPA Membership

All students are required to join the USPA
1 year membership: $78
2 CLASSES + 25 JUMPS = unlimited adrenaline RUSHES
Choose a program based on your payment needs
You choose how you want to pay! Whether it's with installment payments or pay upfront, we've got you covered.
Have questions? Please give us a call!
(Average based on total cost of $3,325*)
When you enroll in the Pay-As-You-Go Program, students are required to make payments at the time of jump or training class.
These prices include all rental equipment (parachute, goggles, jumpsuit, altimeter, training materials).
*Price does not include USPA Membership, parachute packing or indoor wind tunnel training.
(Average based on total cost of $2,783*)
When you enroll in the Prepay & Save Program, students will save 10% on the overall program cost.
These prices include all rental equipment (parachute, goggles, jumpsuit, altimeter, training materials).
*Price does not include USPA Membership, parachute packing or indoor wind tunnel training.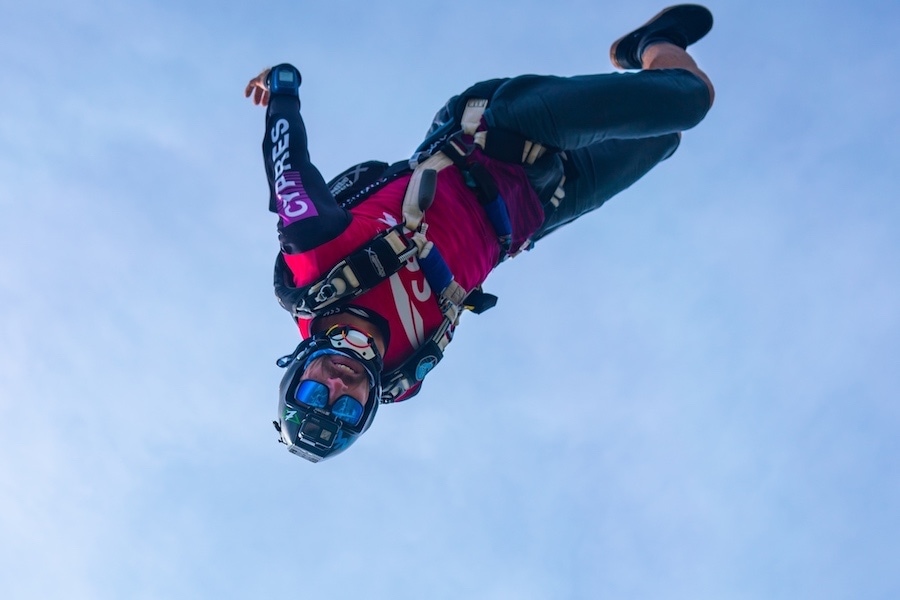 Skydive Midwest takes your health and safety seriously during these unprecedented times.
Please review our policies below concerning operational changes during the COVID19 crisis.
Doing so will help us to minimize risks!
No, you do not. However, for most students a tandem skydive or Tandem Progression jump is strongly recommended. Tandem skydives are a great way to get acclimated to the overwhelming thrill of skydiving.  You can schedule your ground school for our AFF or AFP programs and start skydiving solo any time!
There are 2 big differences between AFF and ATP:
ATP- The first 2 jumps in the ATP program are tandems. The 3rd jump in ATP is a solo jump assisted by an AFF Instructor. The ATP program includes training in an indoor wind tunnel.
AFF- The first 3 jumps in the AFF program are solo jumps assisted by 2 AFF Instructors. The AFF program includes training in an indoor wind tunnel.
For most students the ATP program is the way to go. Both programs include excellent instruction but the advantages of ATP over AFF are many.
ATP- You progress faster and will likely become licensed faster. All jumps in the ATP program are "Single-Instructor" jumps. This means we can get you manifested and in the air faster, with fewer staff members required for your training jumps.
ATP- You get coaching at an indoor wind tunnel. The 10 minutes spent in the wind tunnel are equivalent to 10-12 skydives worth of freefall experience. Receiving indoor coaching will make you more likely to pass all of your levels without having to repeat any.
ATP- You will receive valuable under canopy instruction with your tandem instructor making the canopy flight and landing easier to understand more completely.
AFF- You don't have to do any tandems. Your 1st jump is technically a solo skydive assisted by 2 AFF Instructors during freefall.
AFF- AFF is slightly less expensive but does not include any tunnel time and holds a higher potential for repeating levels.
Tandem Progression jumps are different from regular tandem skydives. First, you must attend a full AFF/ATP ground school prior to doing an ATP tandem skydive. You would be thoroughly briefed by your ATP instructor prior to each jump, expected to perform certain tasks in freefall and under canopy as well as be debriefed after the jump.  ATP tandems are more than just a thrill ride, they're part of your formal skydiving education. That being said, 25 jumps are required to obtain a skydiving license. Up to 2 regular tandems outside of the ATP/AFF program DO count towards your total jump number required for licensing.
The AFF Ground School is much more in depth training than what is received during a tandem training class. Your course instructor will cover equipment, aircraft emergencies, exit, freefall body position, deployment, emergency procedures, canopy flight, landing pattern and more. The class takes approximately 4-8 hours depending on the class size and aptitude of the student. You will be expected to demonstrate understanding of the material taught in order to perform a solo skydive.
Sometimes it is necessary to repeat a skydive. Mastering body position, turns and stability can take time- All students are different and learn at their own pace. Don't get discouraged, many great skydivers have had to repeat a level of AFF. We want you to be safe and successful and our instructors will do everything they can to help you move forward in the program. The best way to ensure passing all levels in the program on the first try is to consider doing ATP. The tandem progression program includes 10 minutes of coached time in an indoor wind tunnel. This valuable time really makes passing the levels a breeze.
Yes, you can! However, it's important to know that safety and the student's education takes priority. Your videographer is trained to capture the experience from a vantage point that does not hinder learning and allows the student to complete the tasks assigned for that level/skydive. They will only come in for that close up shot after the goals of that training jump have been met. All footage will be edited to music and delivered via thumb drive. Purchase Video & Pictures for an ATP or AFF jump here.
READY FOR THE THRILL OF A LIFETIME?