SAFETY REGULATIONS IN SKYDIVING
How is skydiving regulated and how does Skydive Midwest work toward safer skydiving?
Skydiving is a highly regulated activity and efforts to make the sport safer have grown exponentially since it began. There are currently 2 governing bodies which regulate most skydiving operations: The Federal Aviation Administration (FAA) and the United States Parachute Association (USPA. Though risks cannot be eliminated completely, let's dive into the efforts to make skydiving as safe as it can be. 
The Federal Aviation Administration (FAA)
Every skydiving operation is under the scrutiny of the FAA. The local Flight Standards District Office (FSDO) pays semi-regular visits to skydiving centers to audit operations and inspect the aircraft and equipment.
 Through the standards set in the Federal Aviation Regulations, they oversee:
Proper Maintenance and Operation of the Aircraft
Pilot Certification and Training
Proper Maintenance of the Parachute Systems
Piloting of Parachutes According to Visual Flight Rules

 
The United States Parachute Association (USPA)
Being a member of the USPA is voluntary, however, most reputable skydiving centers choose to be a part of this organization. The USPA has developed standards for safety in skydiving referred to as the Basic Safety Requirements (BSRs). The FAA encourages skydivers to use facilities that operate in accordance with the BSRs. The USPA also issues required licenses and ratings within the sport. 
 They regulate tandem, licensed, and student skydiving operations in the following aspects:
Equipment
Minimum Deployment Altitudes
Student Training Specifications
Student Wind Limits
Age Requirements
Instructor Certification and Training
Medical Requirements for Tandem Instructors
Prohibition of Alcohol and Drug Use for All Skydivers
Compliance with Federal Regulations
Extraordinary Skydives (I.E. Night Jumps, Demonstration Jumps, Wingsuit Jumps and More).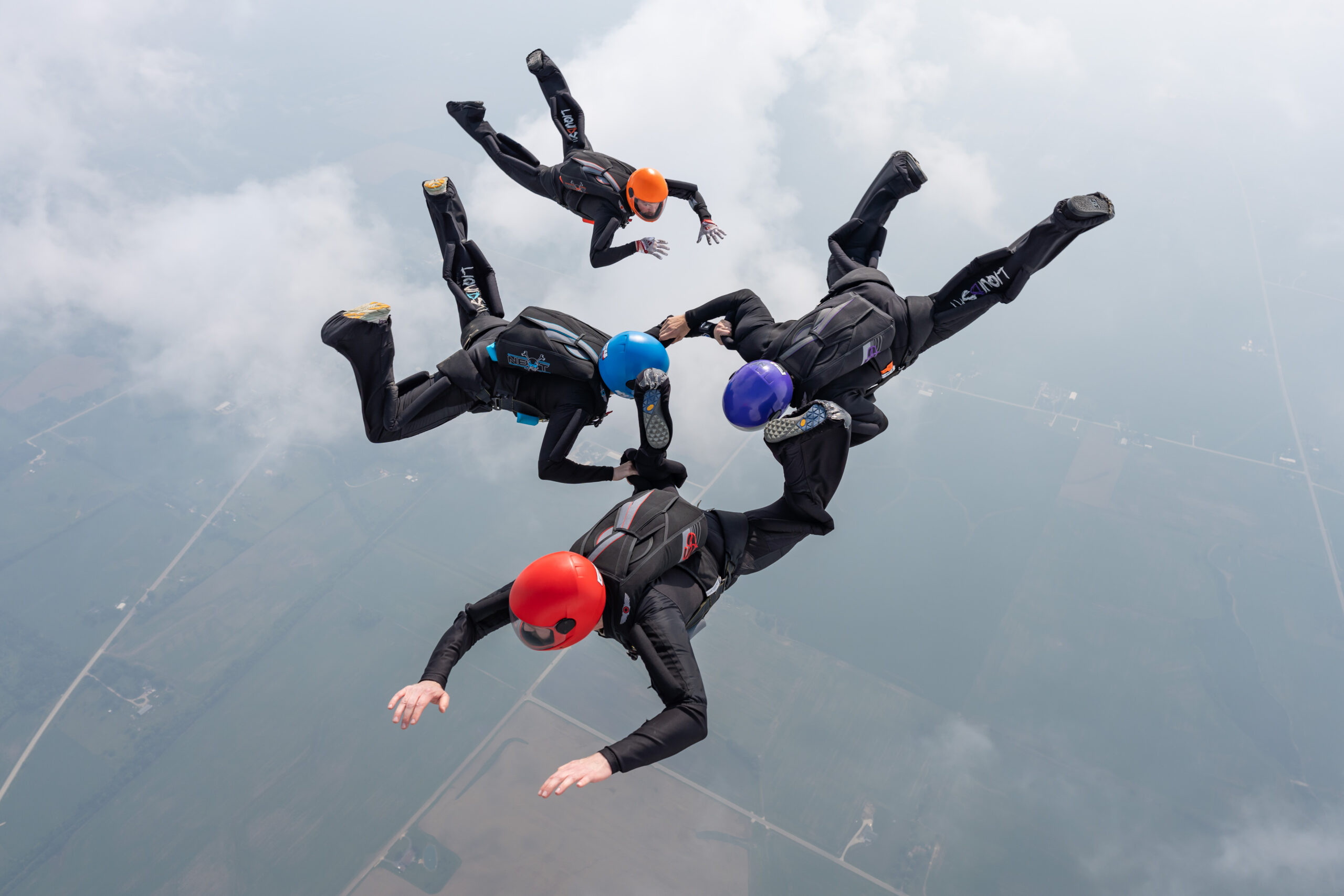 Safety and Training Advisors
The USPA ensures daily oversight of skydiving operations by requiring each drop zone to designate a Safety and Training Advisor. This person is appointed by the Regional Director for the USPA as an on-sight representative. The S&TA can oversee the operation, give guidance, and report any incidents or safety violations to the USPA. 
Skydive Midwest voluntarily designates more than the minimum number of required Safety and Training Advisors to oversee its operation.
As private businesses, skydiving centers have the authority to implement additional rules or practices in order to optimize safety. SDMW has developed supplemental safety standards which go above and beyond the minimum requirements set by the FAA and the USPA. Skydive Midwest is a family-owned and operated business. As a result, the owners, their children and/or their friends are likely to be skydiving with you on any given day. We prioritize safety not only as a requirement but as an act of love for the people we care about.
SDMW prides itself on building a community that truly believes in prioritizing safety and mentorship of others. SDMW offers top-tier resources for continuing education through expert coaching, safety seminars, one-on-one counseling, and retraining for both new and experienced jumpers. We also believe in rewarding and enforcing good safety practices. 
In 2023 Skydive Midwest's S&TA, Kazu Oyama, was awarded the Chelsea H. Judy Award for promoting safety in a substantive way through example, deeds, training, and innovation. 
The USPA recommends all drop zones host an annual Safety Day. This event provides an opportunity for the local skydiving community to come together to review important safety regulations and protocols. At SDMW, knowledgeable educators give presentations on topics such as aircraft safety, aircraft emergencies, canopy safety, landing patterns, proper gear checks and maintenance, malfunctions, emergency procedures and more.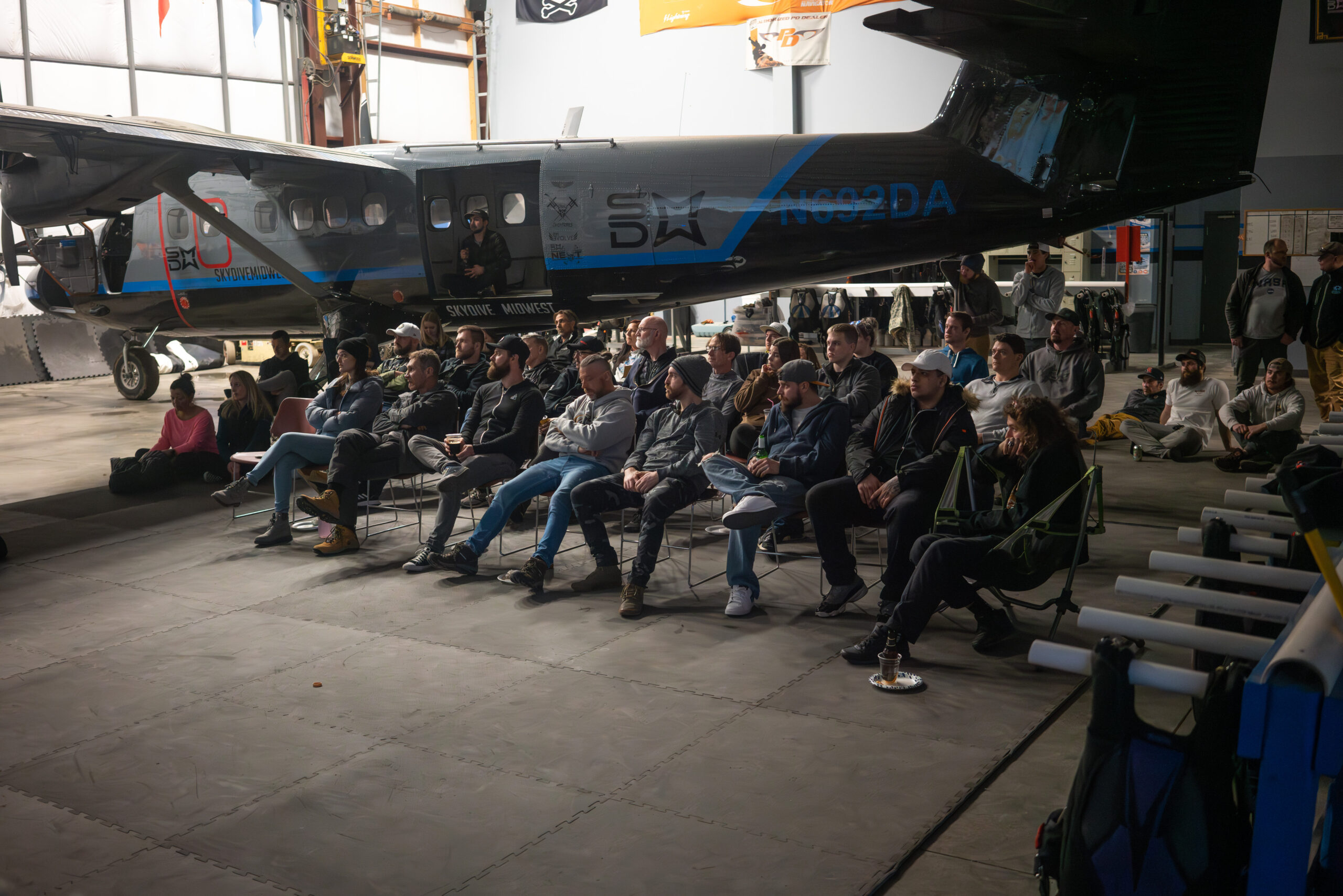 Skydive Midwest Safety Facts:
SDMW is a member of the USPA.
SDMW follows The Basic Safety Requirements set by the USPA.
SDMW follows all Regulations set by the Federal Aviation Administration.
SDMW is under the jurisdiction of the FAA via the Milwaukee Flight Standards District Offices.
SDMW has appointed more than the minimum required number of Safety & Training Advisors.

 

SDMW has implemented safety practices supplementary to the minimum Basic Safety Requirements set by the USPA.
SDMW has implemented enforcement protocols supplementary to those determined by the USPA.
SDMW hosts an annual Safety Day and offers mid-season safety seminars and training.
SDMW provides annual retraining for instructors even though it is not required by the USPA or FAA.

 

Click HERE for a report from the Tandem Program Director of United Parachute Technologies with findings from the 2023 audit of SDMW.
READY FOR THE THRILL OF A LIFETIME?
Book your ultimate aerial adventure today!