10 SKYDIVING INSIDER TIPS (Everything You Need to Know Before You Buy a Ticket)
Skydiving is one of the most exhilarating experiences a human can have. The skydive itself is unlike anything else. But when you're new to an extreme sport like skydiving - you want to know what to expect. So we've come up with 10 skydiving insider tips to help you make the most out of your experience.
SCAMS
Be leery of skydives priced below $160. If you find a skydive that cheap, there's probably a reason. Read the fine print, you might not be getting quite the deal, you think. Call and ask about any booking restrictions. Also, make sure they can accommodate large groups if you plan to jump with friends. Make sure you ask what altitude you get to jump from. Some operations jump from 10,000ft instead of 14,500ft. Or charge you for each 1,00ft over 10,000ft. And find out about policies regarding weight limits. Some skydiving centers list a low weight limit and charge for each 10lbs over the limit.
PROTIPS ON DEALS
If you find a Groupon or other 3rd party discount, try calling the skydiving center directly to ask if they'll offer the same discount without all the restrictions usually associated with 3rd party vouchers. They almost always will. Be sure to ask about group rates, birthday discounts, military discounts, college student discounts or 2nd jump discounts!
Check out our Deals and Discounts
We recommend jumping at skydiving centers that are members of the United States Parachute Association (USPA). The USPA sets safety standards for skydiving operations and enforces them. Skydiving is an extreme sport and no one can guarantee safety, but jumping at a USPA member skydiving center is the safest option.
It's true, on a tandem skydive, your instructor is going to do most of the work. However, you have a few responsibilities like maintaining proper body position during freefall and landing properly. The most common injury in tandem skydiving is a sprained ankle because of improper landing procedures by the tandem student.
If you live near a major metropolis, you probably have more than one choice on where to jump. Don't just choose the nearest skydiving center, consider the view or activities you can do after your jump in the area. Choose something near a lake, the mountains, a city skyline, something scenic - bonus? Epic videos and photos!!! Skydive Midwest is perfectly situated next to beautiful Lake Michigan, right between the Milwaukee and Chicago Skylines! It's a spectacular view offered by no other skydiving center out there.
If you're on the fence about video and pictures, GET THEM. We cannot stress this enough. We can't tell you how many people tell us after they jump they regret not getting pictures. Some people even end up jumping again just so they can get the pictures they missed out on the first time around. For most people, skydiving is a once in a lifetime experience. Make sure it's recorded, so you can show your friends, family, grandkids that you REALLY jumped.
Browse our Photo and Video Packages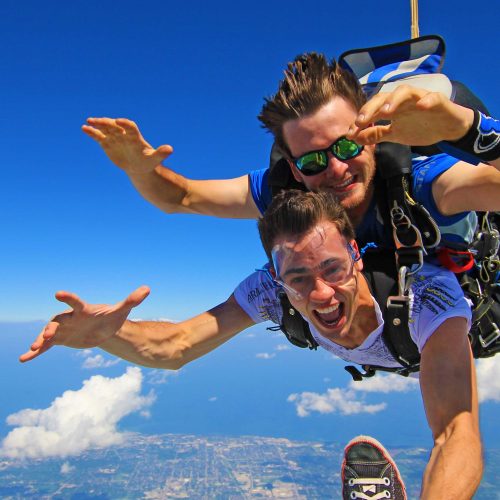 First, consider the weather. The temperature at altitude and during freefall can be up to 30 degrees cooler than on the ground. If it's chilly out, dress warmly and bring gloves. If you're a little cold in a tank top on the ground when it's 65 degrees out, you might freeze when it's 35 degrees at altitude.
Check out our blog on how to Dress for Success
PROTIPS ON WHAT TO WEAR
Wear clothes you don't mind getting dirty.
Wear comfortable/athletic shoes that lace up. We don't want your shoes flying off in freefall.
Wear your contacts. We provide goggles for you to wear, which work perfectly fine with contacts. We have over-the-glasses goggles that are larger so they can fit over glasses, but they are not as comfortable as goggles over contacts.
Wear your hair tied up or braided.
Also, beware of low-cut tops or loose/short shorts. It's extremely windy, and we have had wardrobe malfunctions on skydives.
When you come out to jump, plan to make a day of it! Pack snacks, games or a book. Skydiving is at the mercy of weather. Strong winds or low, dense cloud layers can cause a delay in your jump for safety reasons. We always tell people to be prepared to spend the day with us. We have a volleyball court, games, vending machines and a community grill for you to use while you're hanging out.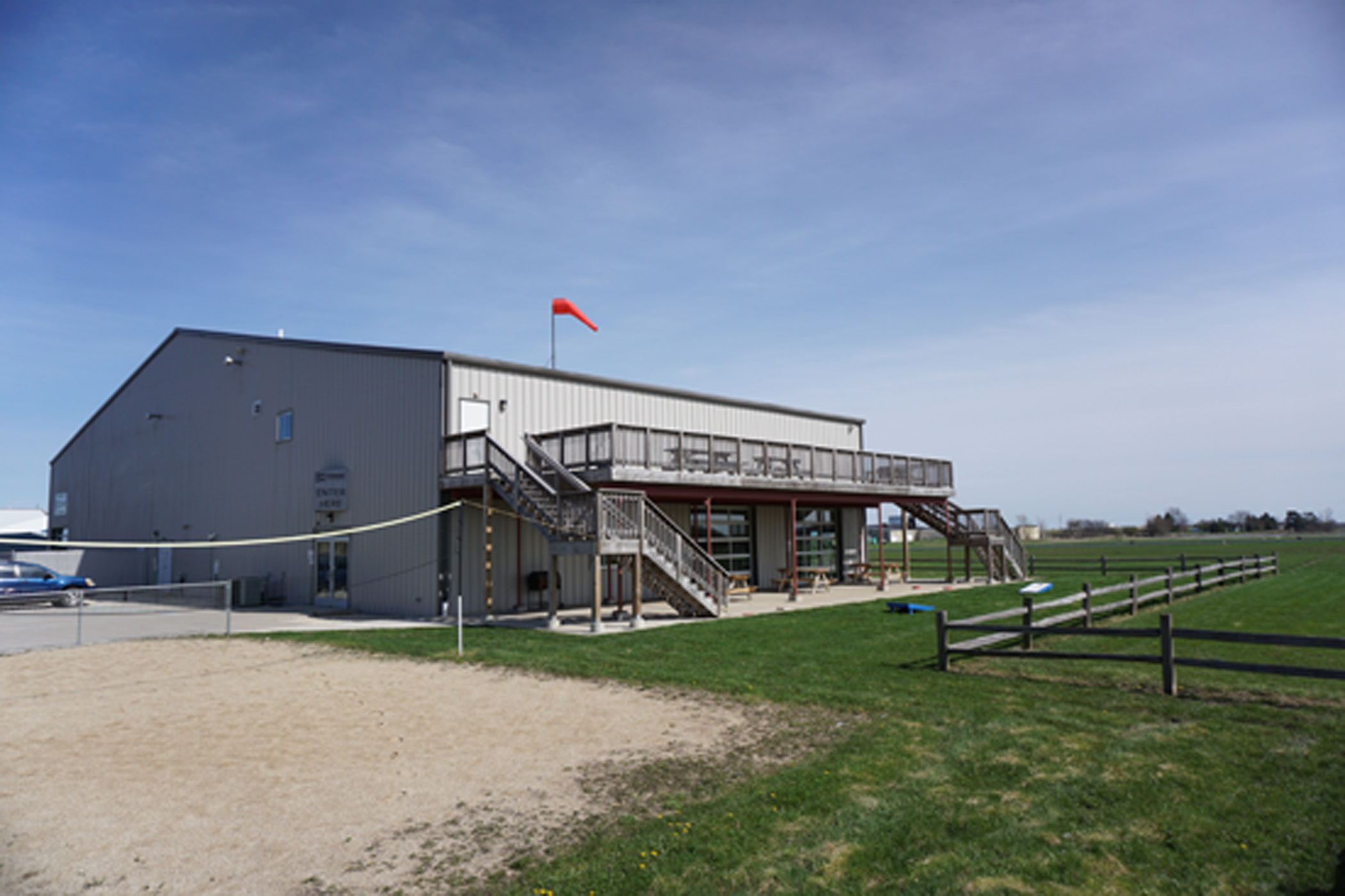 Booking the earliest time slot available is an excellent strategy if you want shorter wait times. If there are weather delays, once the operation jumps again, the earliest check-in time will get to jump first! Booking during the week is also a great idea. Wait times are always shorter during the week, since it's not as busy. You can often find a better deal on price if you're willing to jump during the week.
Check out our awesome weekday tandem special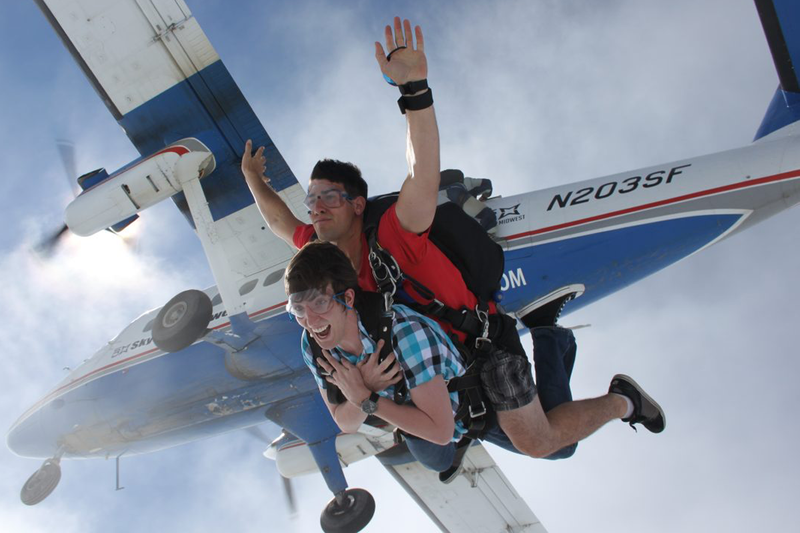 Some people are afraid they might throw up. This is highly unlikely, but you can do yourself a favor by drinking and eating the right things prior to jumping. Jumping on a completely empty stomach is a bad idea. Eat a sandwich or something light before you come.
NO ALCOHOL BEFORE JUMPING
Do NOT consume alcohol prior to your jump or come out after a night of drinking. Jumping after drinking is not permitted. If your instructor suspects you've been drinking or are extremely hungover, they may refuse to take you on a jump. They prefer not to be vomited on.
After you skydive, WHEN you LOVE it, ask the office how to get a deal on another jump. SDMW offers a 2nd tandem skydive for $139 if you purchase it within 48 hours of your 1st jump! If you love it even more and want to learn about becoming licensed, ask about our AFF or ATP licensing programs!
We're happy to share these insider tips to help you have a better skydiving experience. If you follow our tips on these important topics, you will have the best experience possible at the best price.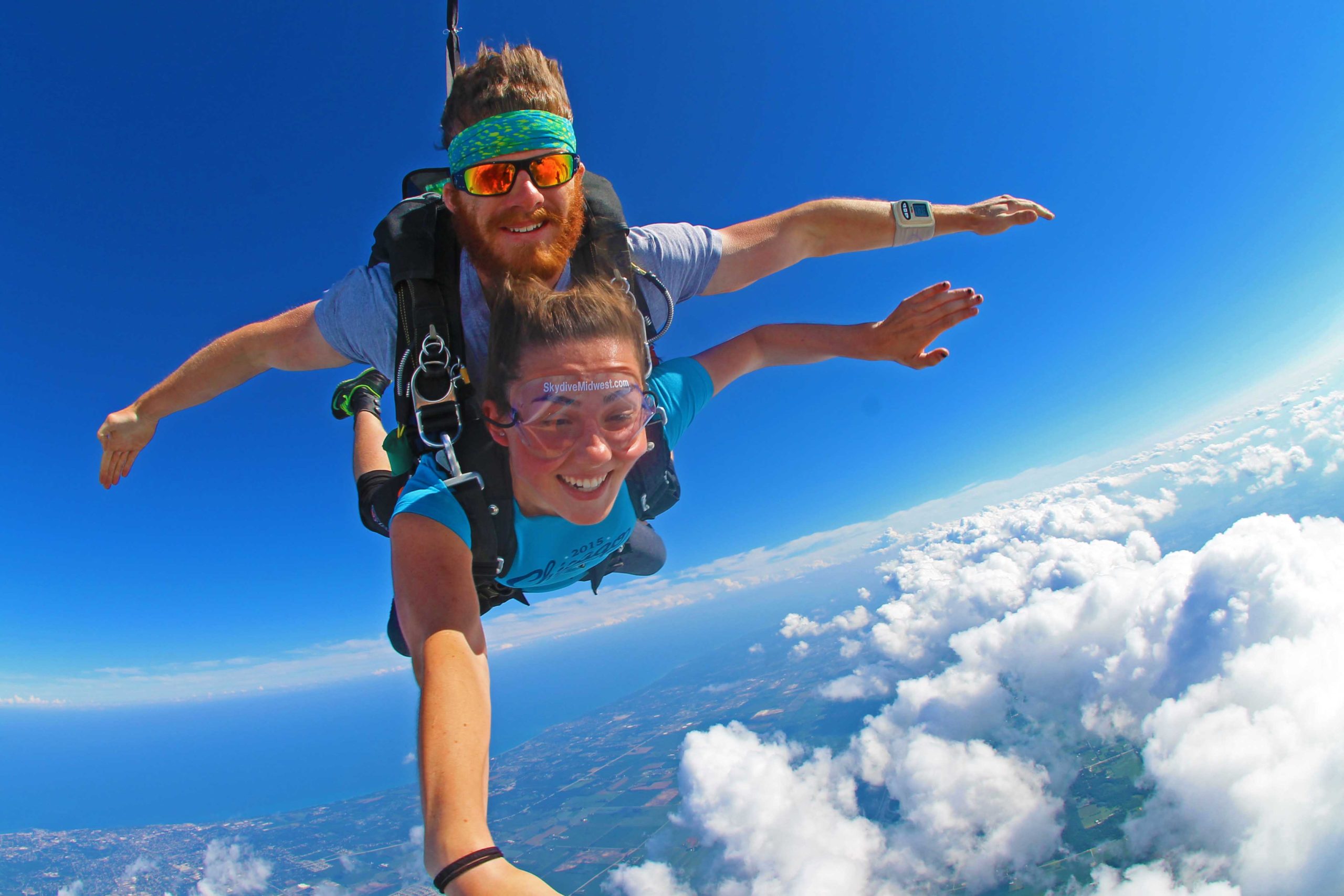 READY FOR THE THRILL OF A LIFETIME?
Book your ultimate aerial adventure today!