Staff Spotlight: Elliot Byrd
Perhaps one of the most accomplished skydivers to call SDMW home is Mr. Elliot Byrd. You might know him from the absolutely incredible photos he takes as Byrd's Eye Studio. Or the killer edits he does for major skydiving events across the nation. Pretty much every photo posted to our website, Facebook and Instagram in the last 2 years was taken by THE one and only, Elliot Byrd. For him, the end product of every project is more than just a memento for the memory book, it's about capturing an experience in which people are genuinely having a good time and sharing that energy with the world. As an aerial photographer, his work really does speak for itself.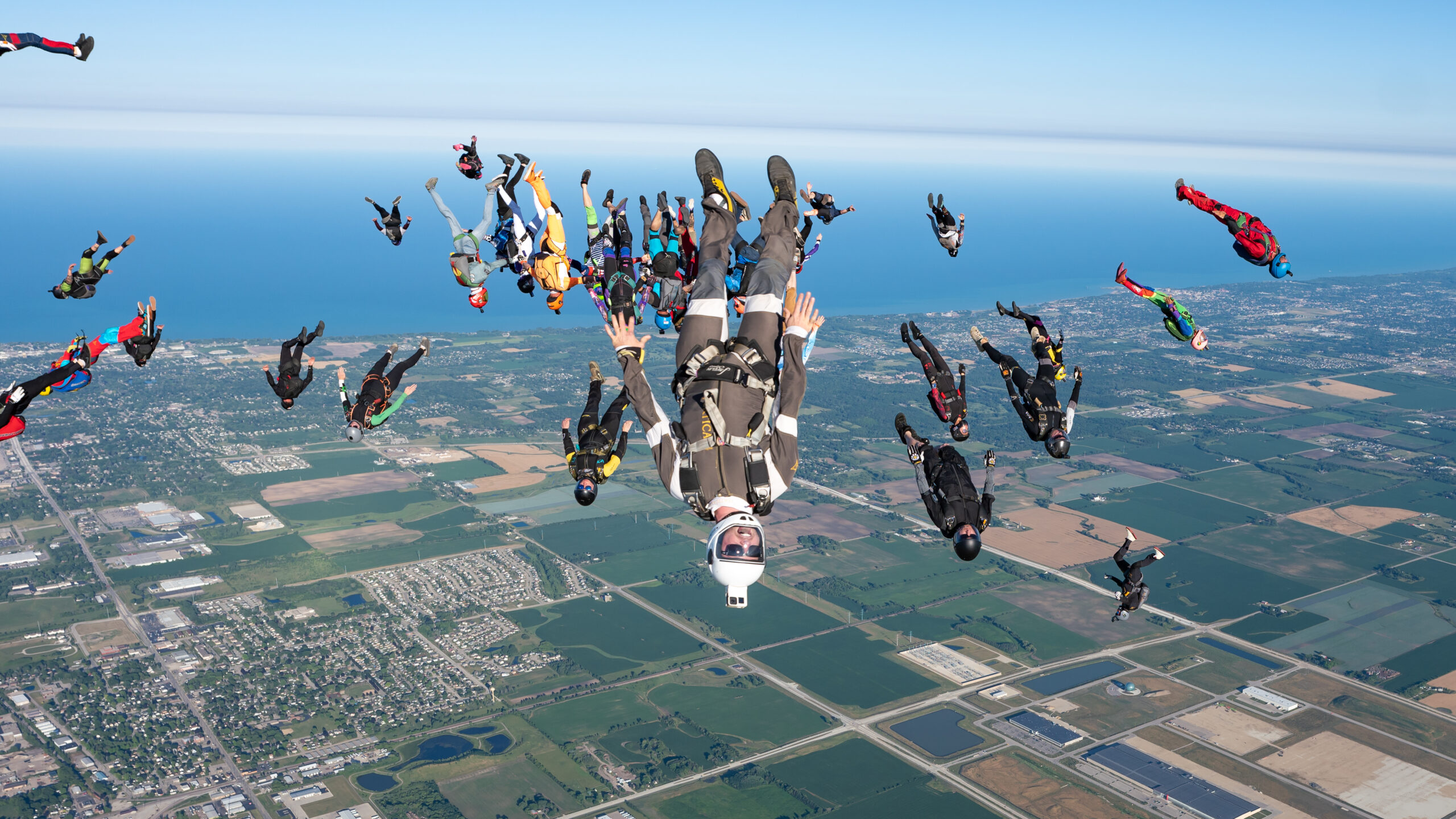 Elliot's accomplishments and talents don't stop there. He also has more medals from National and World Championships than most people could ever dream of having. To list them all would take up a lot of space, so let's just summarize by saying the man has brought home gold medals in 4Way, 8Way, 10Way and 16Way FS from multiple USPA Skydiving National Championships. Elliot has also qualified multiple times to represent the US Parachute Team for 8Way FS with XP8, bringing home 2 gold and 1 bronze medal. He also represented the US Parachute Team for 4Way FS in the Women's category while flying video for his rockstar wife's team, Phoenix XP, bringing home a bronze medal.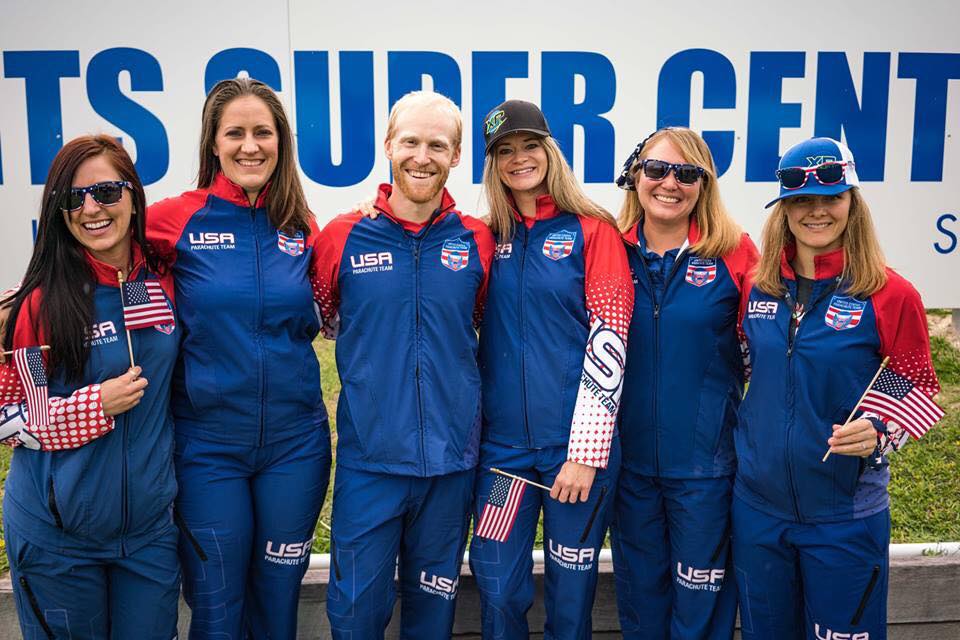 With his many years of competing and working in skydiving, flying with some of the best teams and skydivers in the world, Elliot is a wealth of knowledge and experience. And just a cool guy to boot. He is the definition of a self-made skydiver who throws himself 100% into the things he wants to learn and accomplish. 
Years in the sport: 13
# of Jumps: 6,500+
# of Cutaways: More than I would like to admit. Lets just say I am super current on emergency procedures.
Ratings: Coach & Accelerated Free Fall Instructor
Gear: Javelin Odyssey RSK1, PD VK84 Hybrid, PD OP 126, CYPRES, LiquidSky, LB ARES II, PROTRACK II, Cookie Fuel & G4
Sponsors: SunPath Products, Performance Designs, LiquidSky Sports, Cookie Composites, LB Altimeters, CYPRES, SSK inc.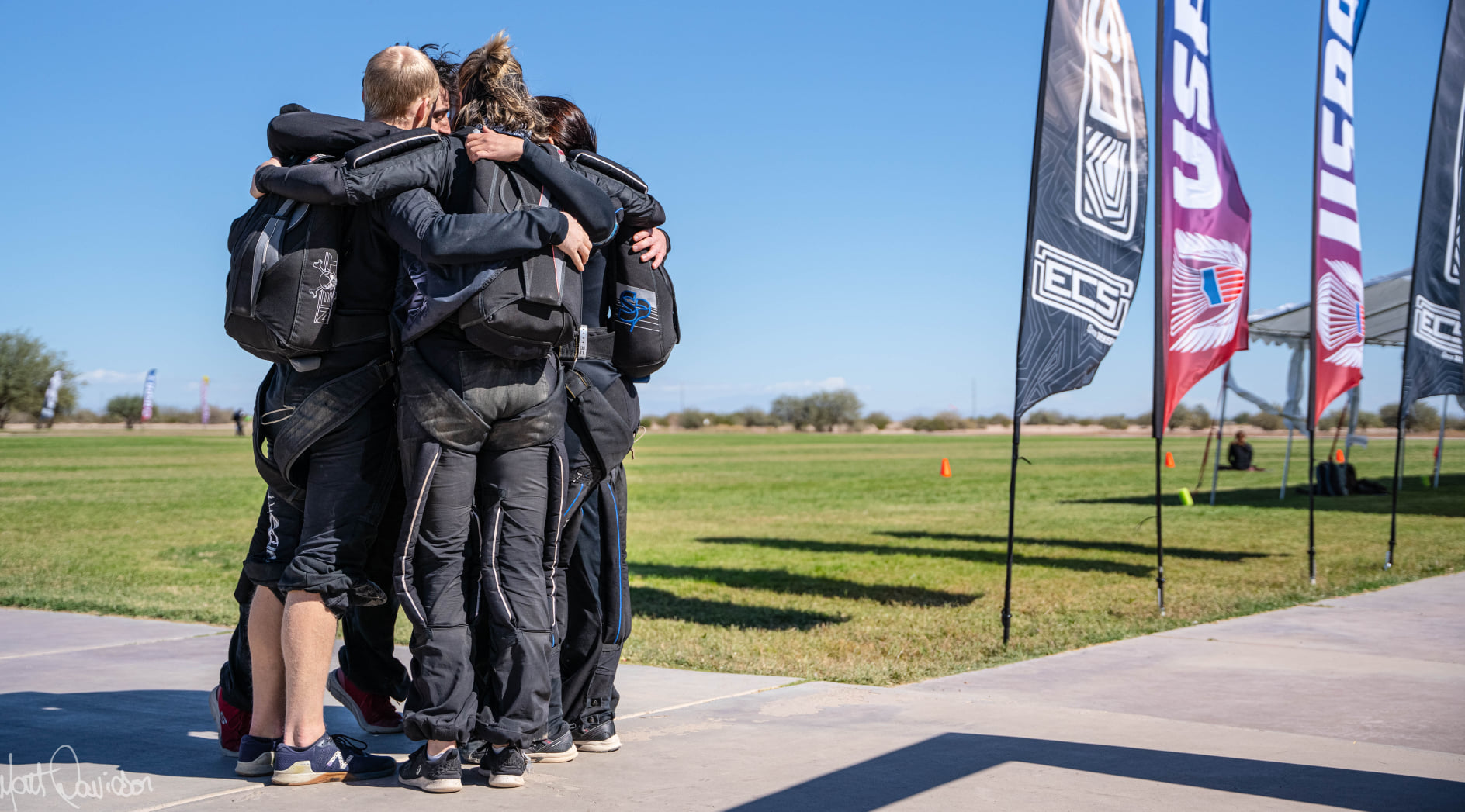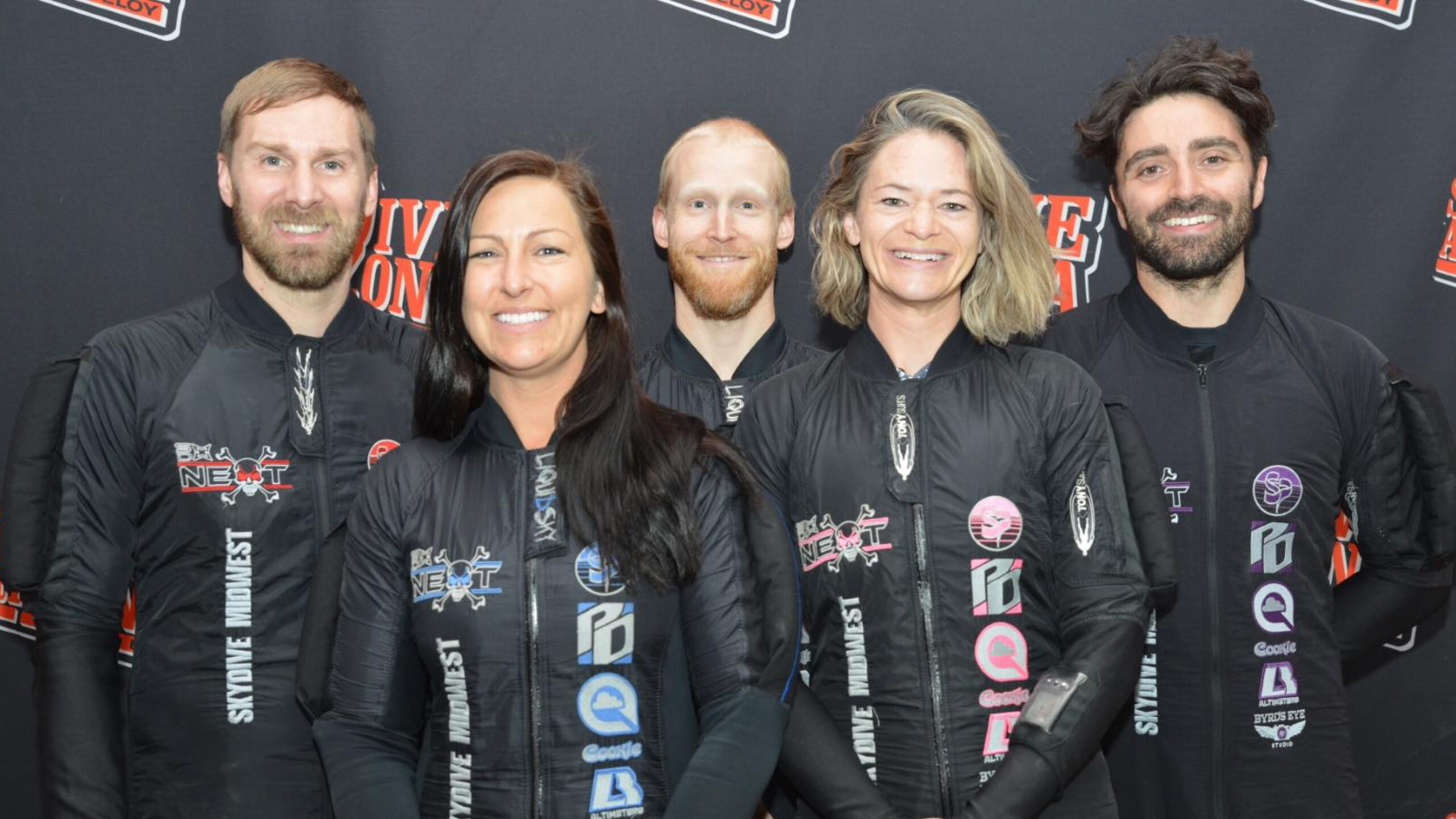 Q: What do you love about being on a team?
A: The time spent with friends doing something we all care about together.
Q: What's your favorite competition you've been to?
A: The 2018 World Meet in Australia with Phoenix XP and 2021 Nationals in AZ with NEXT. Really any competition where I get to compete with my Wife Lauren is my favorite.
Q: What advice would you give other teams or jumpers looking to build a team?
A: Don't pick teammates based on current skill level, that can be developed and improved through training. Build a team based on the people you actually want to spend time with.
Q: What's the "secret" to being successful in competitive skydiving?
A: Good communication with everyone on the team. Enjoying the company of the people you are on a team with. But most importantly Supper Club!
Q: What's something the team/you struggled with and how did you overcome it?
A: Team training/life balance. I struggled with being at the DZ because we scheduled team training but couldn't jump due to weather. It was frustrating when I had things to do and we were just sitting on the ground. Communicating about my frustration with the team openly and honestly helped.
Q: What's a favorite memory or skydive with your team?
A: Every time I got to fly down and get on level with the team and be part of the skydive was always the most enjoyable part of jumping with NEXT. The surprise and excitement on their faces was so heartwarming.
Q: What is something your team enjoys doing together outside of skydiving?
A: Super Club
Q: What are your personal goals as a competitor?
A: To enjoy the time I spend with the team I am on. To me that is way more important than how we finish at Nationals.
Q: What are some benefits of being on a team? Why would you recommend it to other jumpers?
A: It is great to have goals in skydiving. Something to focus on and continually push you past your current abilities.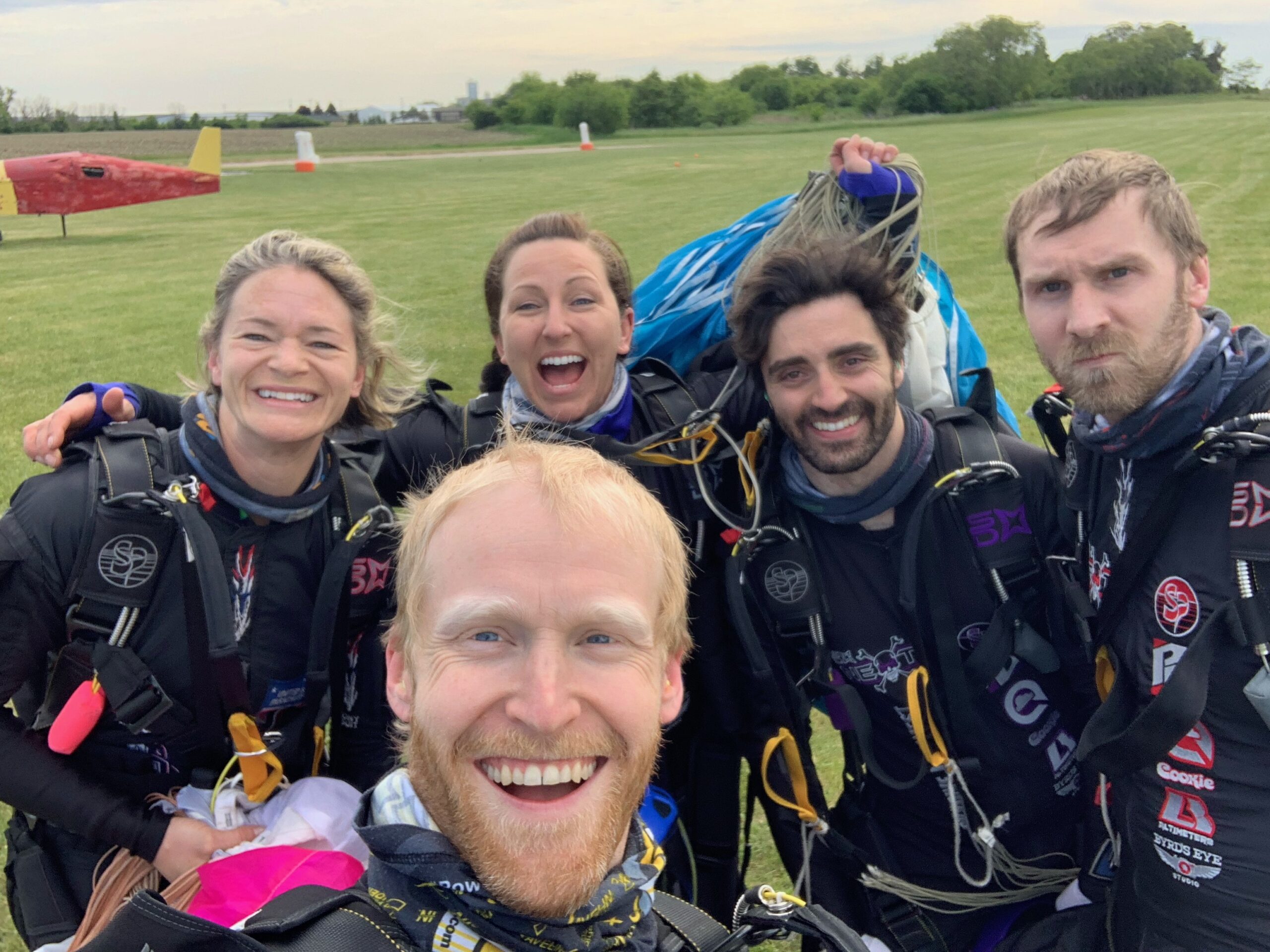 READY FOR THE THRILL OF A LIFETIME?
Book your ultimate aerial adventure today!