Staff Spotlight: Austin Lankford
We're pretty proud of our team. Not just for the hard work they do but for the people they are. The community is one of the greatest things about skydiving and we want you to get to know some members of our family a little better. Join us in a blog series spotlighting some of our favorite staff members with a Q&A session.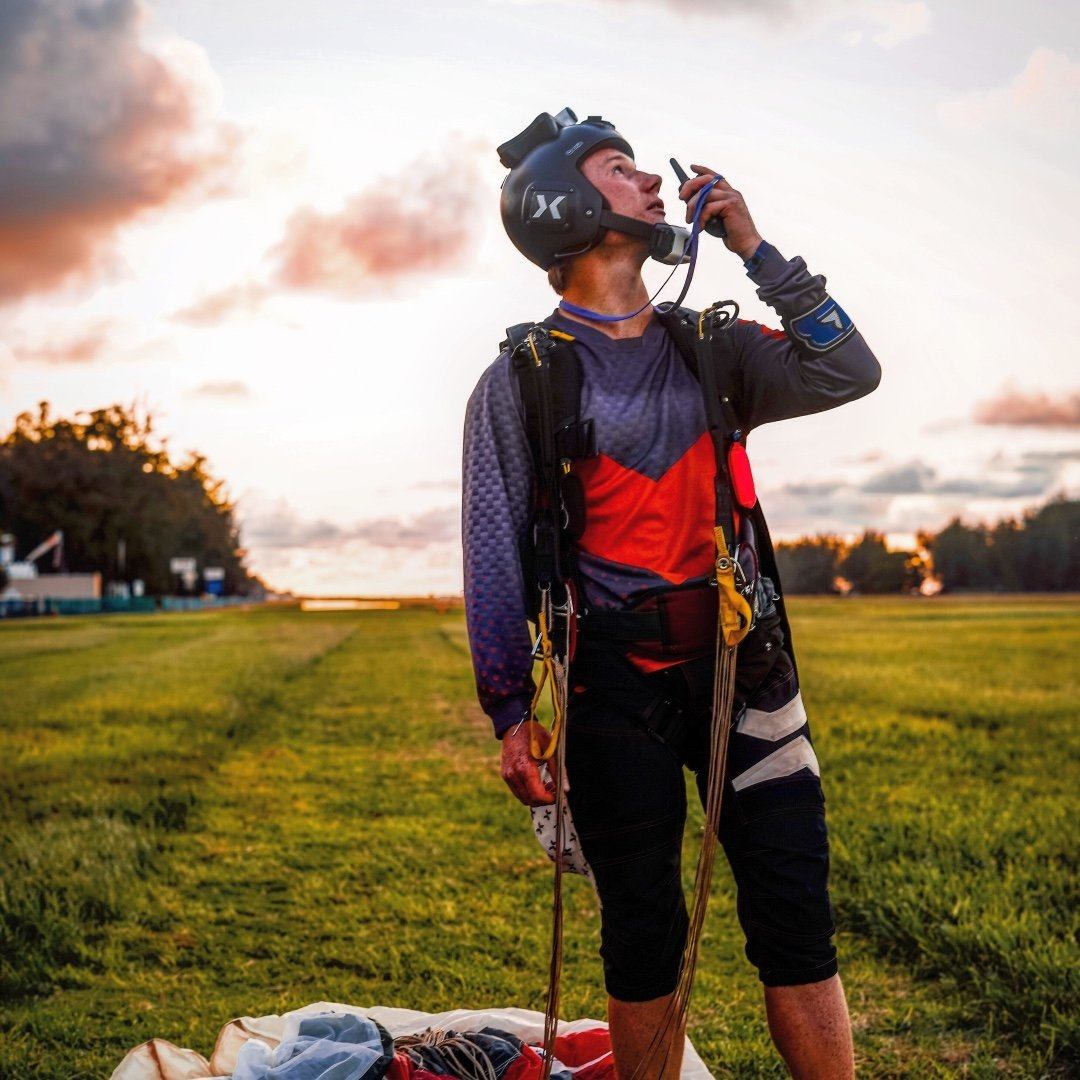 What we love about Austin AKA Lanky Boy
This guy genuinely cares about the work he does. He takes his job(s) seriously and works incredibly hard to be the best at everything he does, and it really shows. We also love that he's a dog lover. He can often be found snuggling with the nearest dog at the drop zone.
Years in the sport: 8
# of Jumps: 5500+
Ratings: Coach, Accelerated Free Fall Instructor & Tandem Instructor, A&P Mechanic Apprentice
Gear: I jump a Vector 300 container fitted with an OP 106 from Performance designs, a HK 60 from Fluid Wings, and a Cypress for an extra layer of safety. All of my jumpsuits, jerseys, swoop shorts, and other skydiving apparel comes from Kua Sky. For video Jumps, I use a Cookie Fuel. All other jumps I use a Tonfly speed, but looking to get into a Cookie G35. I have also had the same L&B altimeter for all 5,500 jumps. It has been through the laundry countless times, not to mention the pond. Never having any lasting issues, no matter how hard I try to drown it.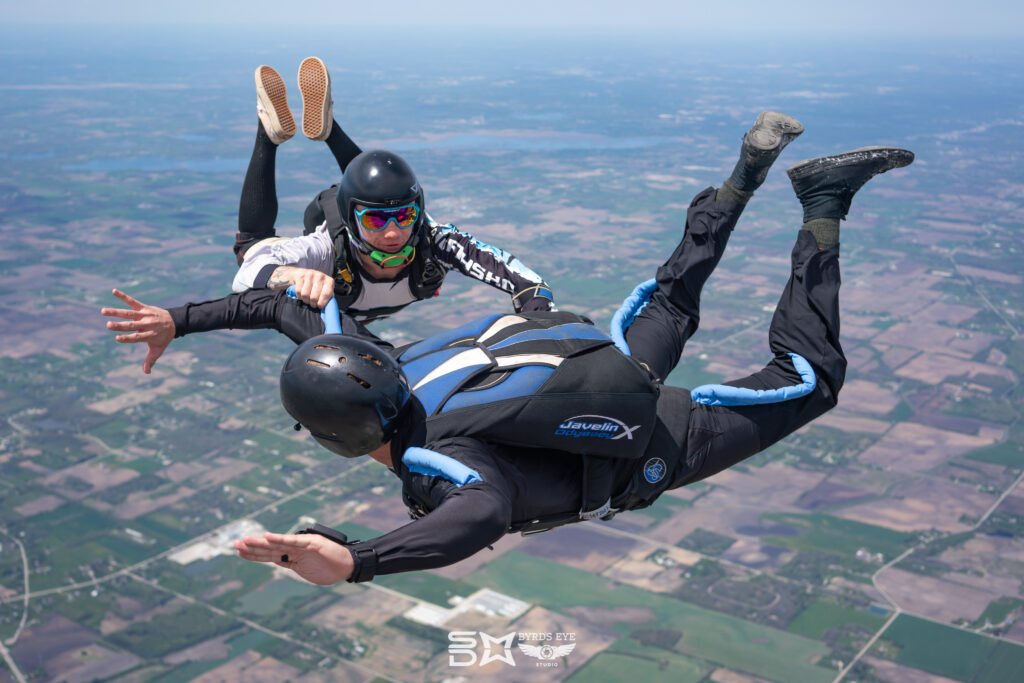 Q: What is your preferred discipline/type of jump?
A: By far my favorite part of every skydive is swooping, always has been. Something about flying parachutes speaks to my soul. I don't want to disregard freefall, I absolutely love it as well. Especially freeflying and angles. Although I have a long way to go to get as proficient as I'd like to be.
Q: How did you get into skydiving?
A: As kids my friend Jaime and I always talked about skydiving, so once we were 18 there was no hesitation. I immediately knew I wanted to be a skydiver, so I never did a tandem. Shooting straight into the AFF course was intense, but I wouldn't do it differently if I had the option to restart.
Q: What keeps you in skydiving?
A: Hands down the people. Every activity is going to have its own community surrounding it, each one having its own vibe. I have just found where I belong with the amazing group of people who also call skydiving their place.
Q: What are your goals in skydiving?
A: I have so many goals within skydiving. 5,500 jumps seems like a lot, and that I may have accomplished a lot. Not to say I haven't, but being a full-time instructor leaves little time for me to pursue my own goals. Anyhow, a few goals that stick out most would be, continuing in canopy piloting competitions, and spending more time with a freefly coach to get closer to the level of flyer I'd like to be. I would like to jump all over the world, and visit some really cool destination dropzones.
Q: What are your goals outside of skydiving?
 A: I am currently working on my A&P in hopes of becoming a full blown aircraft mechanic in the next few years. I also am going to start my pilots license in the next couple of years. The end goal is to be a full package, fully rated instructor, mechanic, and pilot.
Q: What do you enjoy doing outside of skydiving?
A: Anything outdoors and active, or driving my racecar.
Q: What was/is your profession before/outside of skydiving?
A: Before skydiving, I was a climbing coach.
Q: What is a favorite skydiving memory?
A: One of my favorite skydiving memories was my A license jump. I had the opportunity to do my last student jump out of a DC3. It's a memory that is way cooler now than it was in the moment, because I didn't realize how special that plane was in the moment.
Q: Who has supported or mentored you on your skydiving journey?
A: Moe Viletto, was a huge mentor for me. I always appreciated his mindset and dedication to advancing the sport in all aspects. Also, Chris and Wendy Derbak, owners of Kua Sky. They have been supporting my skydiving career since I was a baby swooper. They continue to support me to this day in all that I do, and have become like family.
Q: Favorite food?
A: Sushi!!!!!!!!!!!!!!!!
Q: Favorite book?
A:   Into the Wild
Q: Any hidden talents?
A: I used to be a very competitive gymnast and can still do a handstand longer than your grandma can stand without her walker.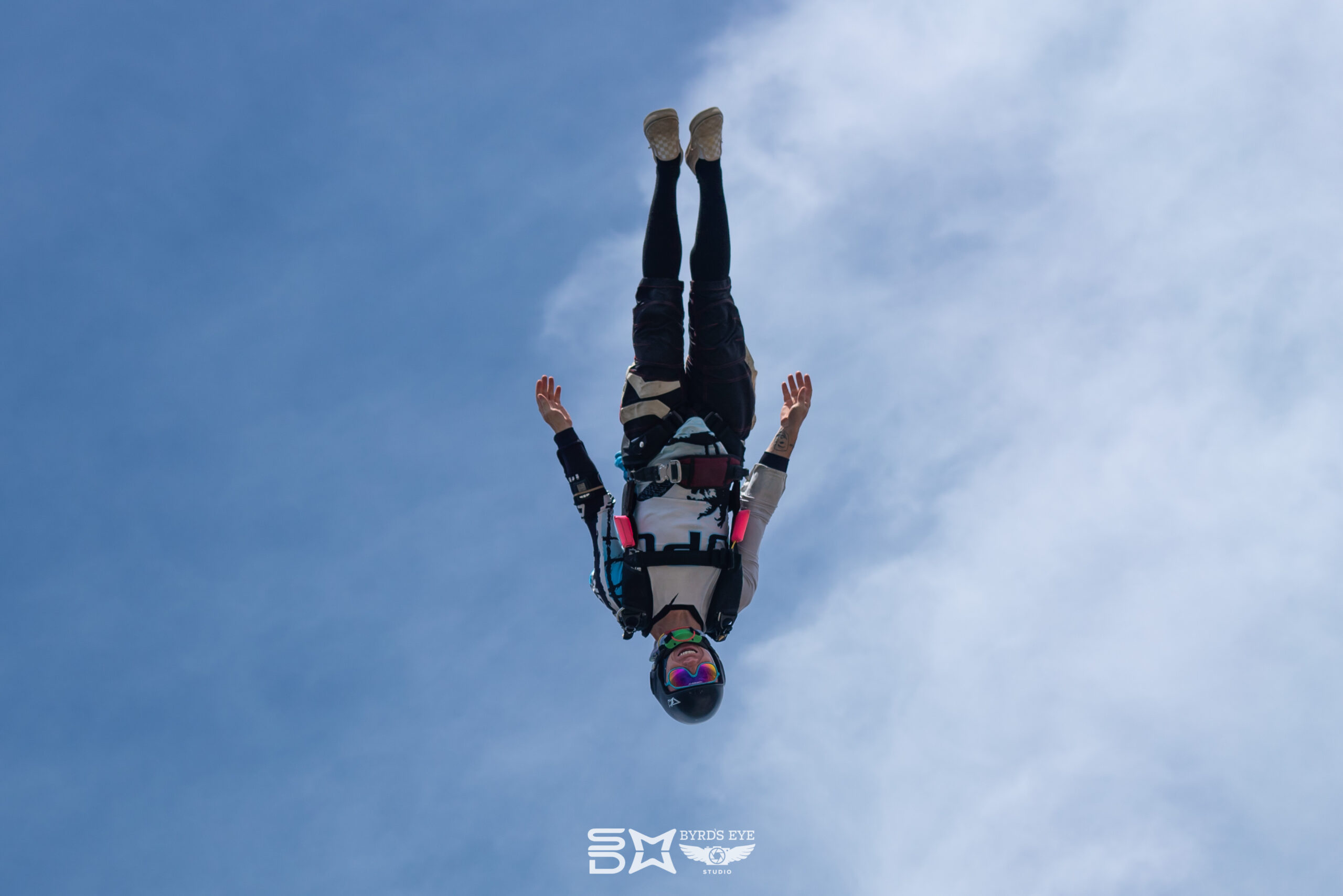 READY FOR THE THRILL OF A LIFETIME?
Book your ultimate aerial adventure today!