Skydiving vs Indoor Skydiving
Admittedly, we are a teeny bit biased. However, we stand firmly behind the fact that there is absolutely NOTHING like jumping from an airplane from 14,500 feet and accelerating to speeds over 120mph! Then, taking in the gorgeous views of Lake Michigan, Chicago and Milwaukee while you parachute gently back to our big, blue planet. We're not bragging, it's just a fact- there's nothing else like it and indoor skydiving is a pale and pathetic substitute. That being said, there are some "similarities" we can admit to and some good reasons to try them both.
WHY WOULD PEOPLE CHOOSE INDOOR SKYDIVING OVER REGULAR SKYDIVING?
Because they're boring. (Just kidding!) Though, if the idea of skydiving seems intimidating, you could use the indoor wind tunnel as a way to ease yourself into it. 
The number one reason someone might choose indoor skydiving over regular skydiving is age requirements. The United States Parachute Association requires all skydivers to be a least 18 years of age in order to jump. Indoor skydiving has a minimum age of just 3 years old! So, if you have kids under the age of 18, the wind tunnel is the way to go until they can do the real thing.
The indoor wind tunnel also has no restrictions when it comes to time of year or weather. They can operate rain or shine, year round. As an outdoor activity, skydiving has more challenges to accessibility.
Another reason to go to an indoor wind tunnel would be as a training tool for skydiving. It simulates the wind required to perform aerial maneuvers quite closely to those found in actual freefall.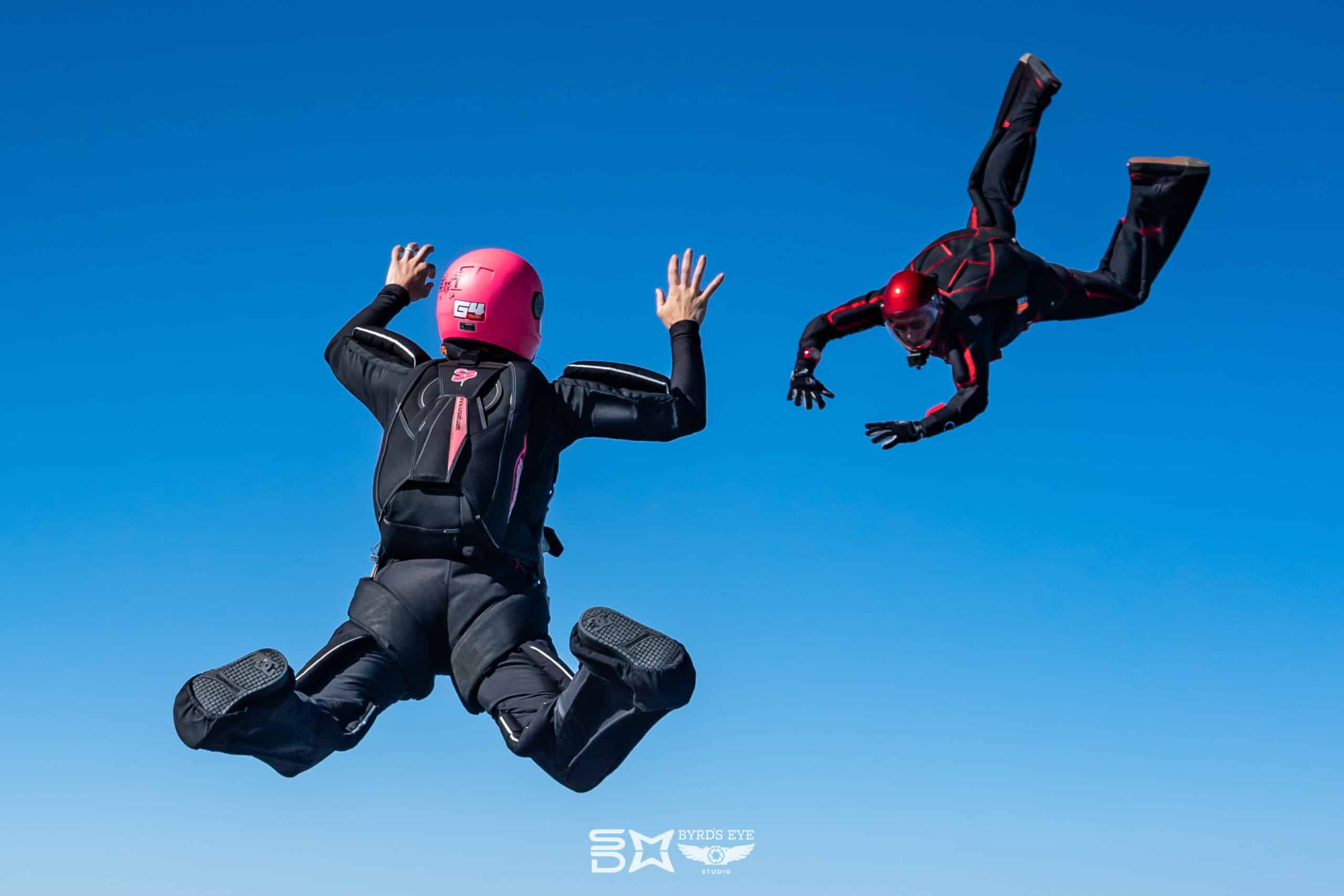 DO THEY FEEL THE SAME?
Yes and no. The air flowing over your body is remarkably similar. It's similar enough that professional skydivers often use the wind tunnel as a training tool. However, due to the size of the tunnel compared to the ENTIRE SKY, there are some movements and maneuvers that can't be practiced or replicated indoors. There also is no way to simulate the canopy portion of your skydiving experience in the wind tunnel. 
As far as how it MAKES YOU FEEL, there's no contest there. Skydiving is the thrill of a lifetime. Bringing yourself to the edge of that airplane door and looking down at the earth below, it's a moment you'll never forget. It's such a significant experience, in fact, that many people describe it as life-changing. There's something empowering about making yourself do something you are afraid of and conquering that fear. It makes you feel like you can do anything. Indoor skydiving just doesn't have that affect. It's like comparing gocarting to Formula 1 Racing. There's nothing like the real thing.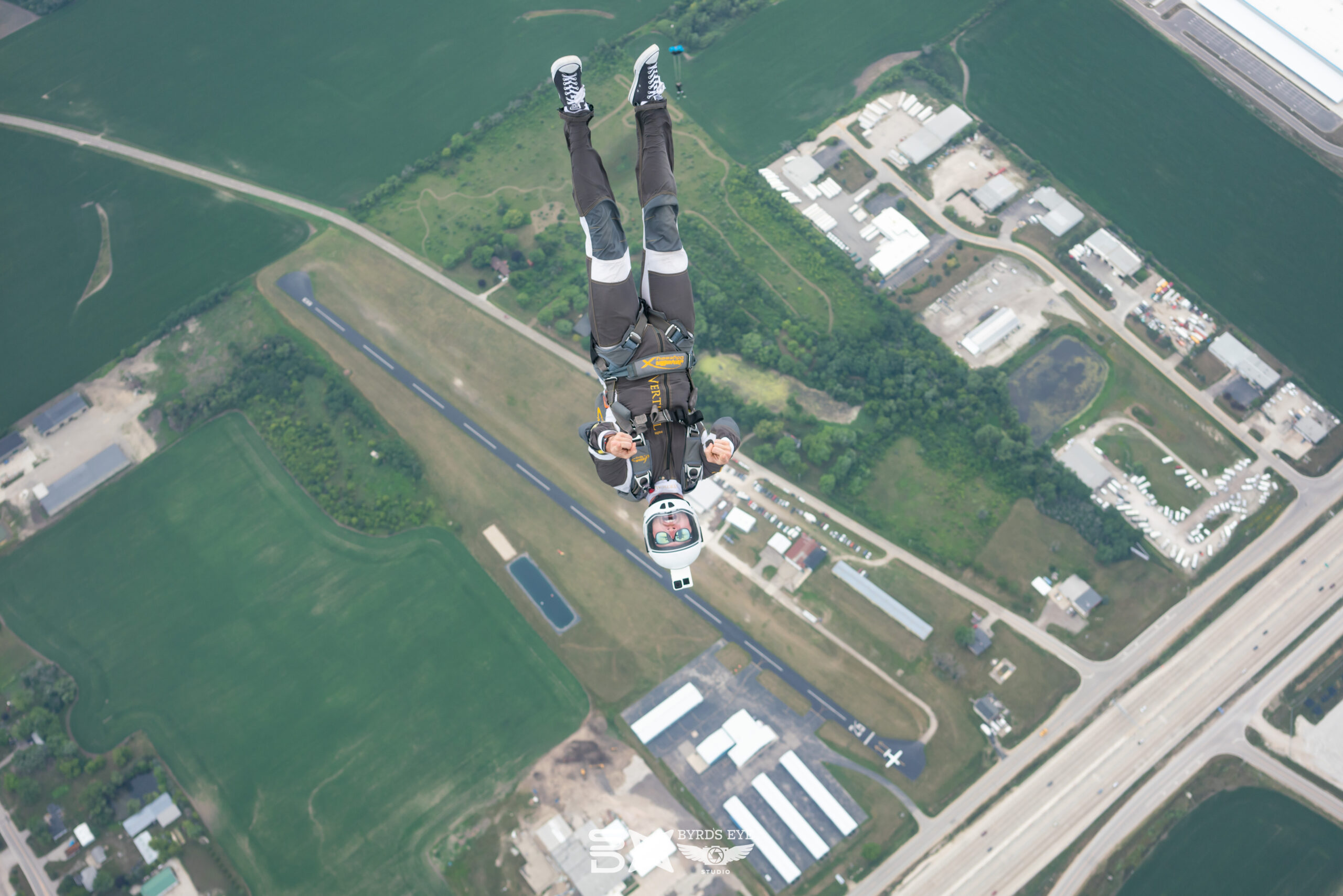 WHICH IS SAFER?
Safety in skydiving has come a long, long way and we are proud to have one of the best safety records in the business.  However, skydiving is an extreme sport and as such it comes with inherent risks. Same as horseback riding, playing football, riding a motorcycle or snowboarding. Indoor wind tunnels are obviously, not quite as extreme as jumping from an airplane but injuries can occur when indoor skydiving or regular skydiving. Is Skydiving Safe: 5 Things To Know Before You Jump
VIDEO, PHOTOS AND THE VIEW
Both operations offer video and picture options. You can take your experience home with you and share it with your friends and all of social media. However, you can't deny a picture of you in actual freefall is wayyyyy cooler than a photo of you in a wind tunnel. Skydive Midwest offers panoramic views of Chicago, Milwaukee and Lake Michigan. The inside of a wind tunnel has got nothing on baby blue skies, deep blue Lake Michigan and big, puffy white clouds. It's nothing short of breathtaking.
Take your experience home!
LOCATION
Skydive Midwest is conveniently located between Chicago and Milwaukee. It's super easy to get to, right off of I94. No rush-hour or city traffic to fight through to get to us. We also have nearly unlimited, on-sight parking. No parking garages or long walks to the building! Most wind tunnels in Illinois are located deeply in metropolitan areas with very little parking available and lots of heavy traffic. There is also no indoor wind tunnel in the entire state of Wisconsin. So, if you're a cheese-head, you're better off skydiving! 
WHICH IS BETTER IF YOU HAVE A DISABILITY?
You might be surprised to find that skydiving is more accessible than you think. We have special harnesses to accommodate many kinds of physical disabilities and challenges. Though you'll need to get the OK from a doctor first, we are able to accommodate a lot of special needs. Though, the indoor wind tunnel is probably even more accessible and easier to do with disabilities without the added challenges of getting into and out of an aircraft.
WHICH IS BETTER FOR A LARGE GROUP?
If your group/activity involves children, indoor skydiving is definitely the best choice. Most indoor wind tunnels have a small party room that can be rented out for small groups. However, our facilities are probably better equipped to accommodate large groups. We have an 80ft observation deck that can be rented out for private groups, tons of open space, volleyball courts, community grill and lots of picnic tables and seating where you can have front row seats to watch skydivers coming in to land. Starting in 2021 we also have a food vendor on-sight, making it easy to feed you and your friends.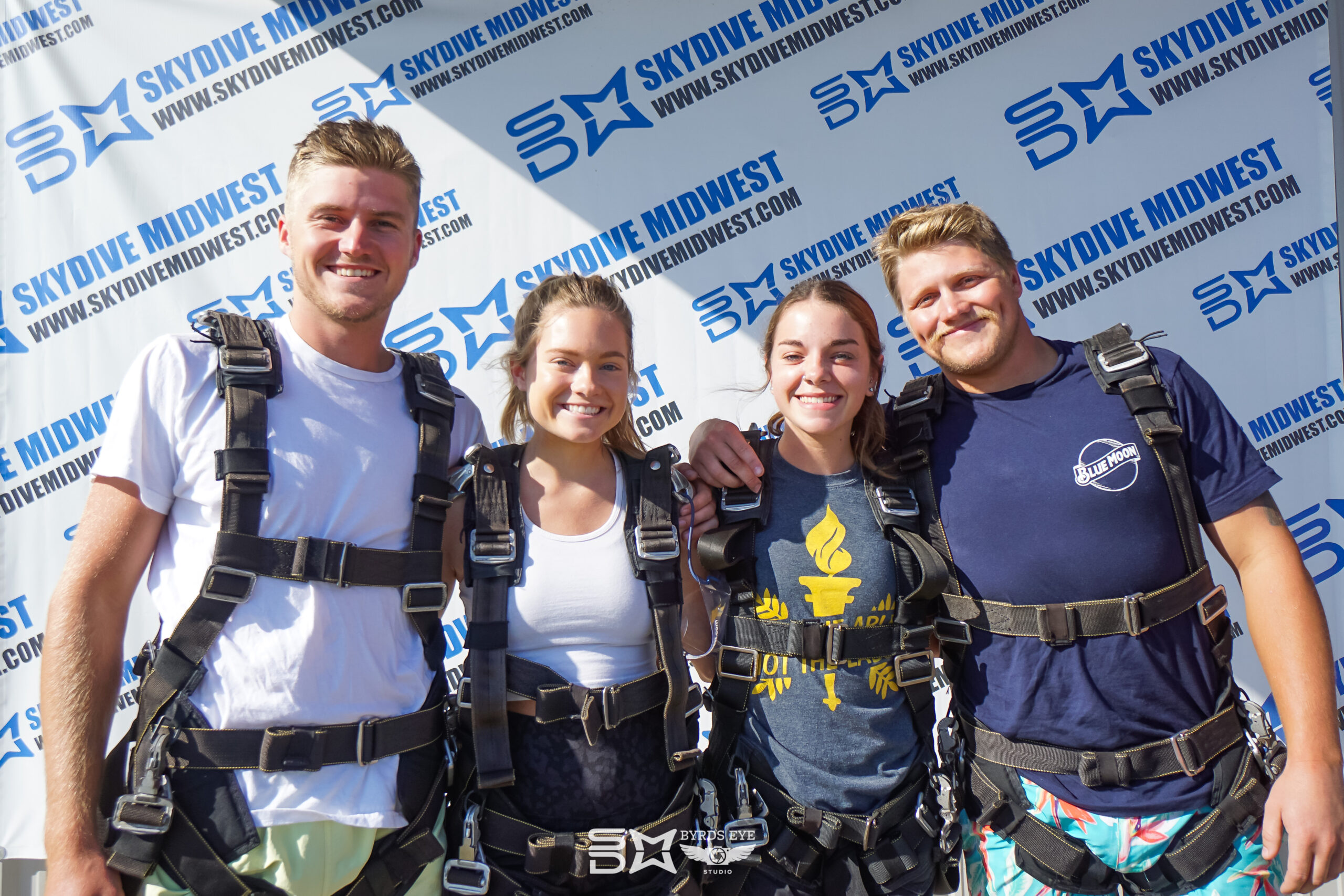 WHICH ONE IS CHEAPER? 
The overhead costs involved in real skydiving are much higher and therefore generally carries a higher price tag than the wind tunnel. However, you can get some great deals on skydiving by prepaying or jumping during the week instead of over the weekend or by bringing a large group and qualifying for a group rate. You can also follow us on Facebook and Instagram for exclusive deals and discounts.
THAT LITTLE SOMETHING EXTRA?
There's something connecting about skydiving. If you look beyond the tandem skydiving experience, you'll find that skydiving centers are so much more than a place where people jump out of airplanes. It's a community, a family, a home. After long days of skydiving, the pros and licensed jumpers (fun jumpers) hang out together. They cook on the grill, build a bonfire, play games, bond and share stories. It's a place where people feel like they belong, not matter what their background is. Not many businesses have a foundation built so solidly on community. Real skydiving, has this hands down over indoor skydiving. So, if you're looking for more than just an experience and you are in search of community, fun and friends, skydiving is the way to go. 
Skydive Midwest is family owned and operated. We are absolutely passionate about what we do. We love sharing the joy of skydiving with others and we especially LOVE the skydiving community. You won't find any corporate vibes or mentality here. Make no mistake, this is not just a revenue stream to us, it's how we find friends, belonging and fulfillment.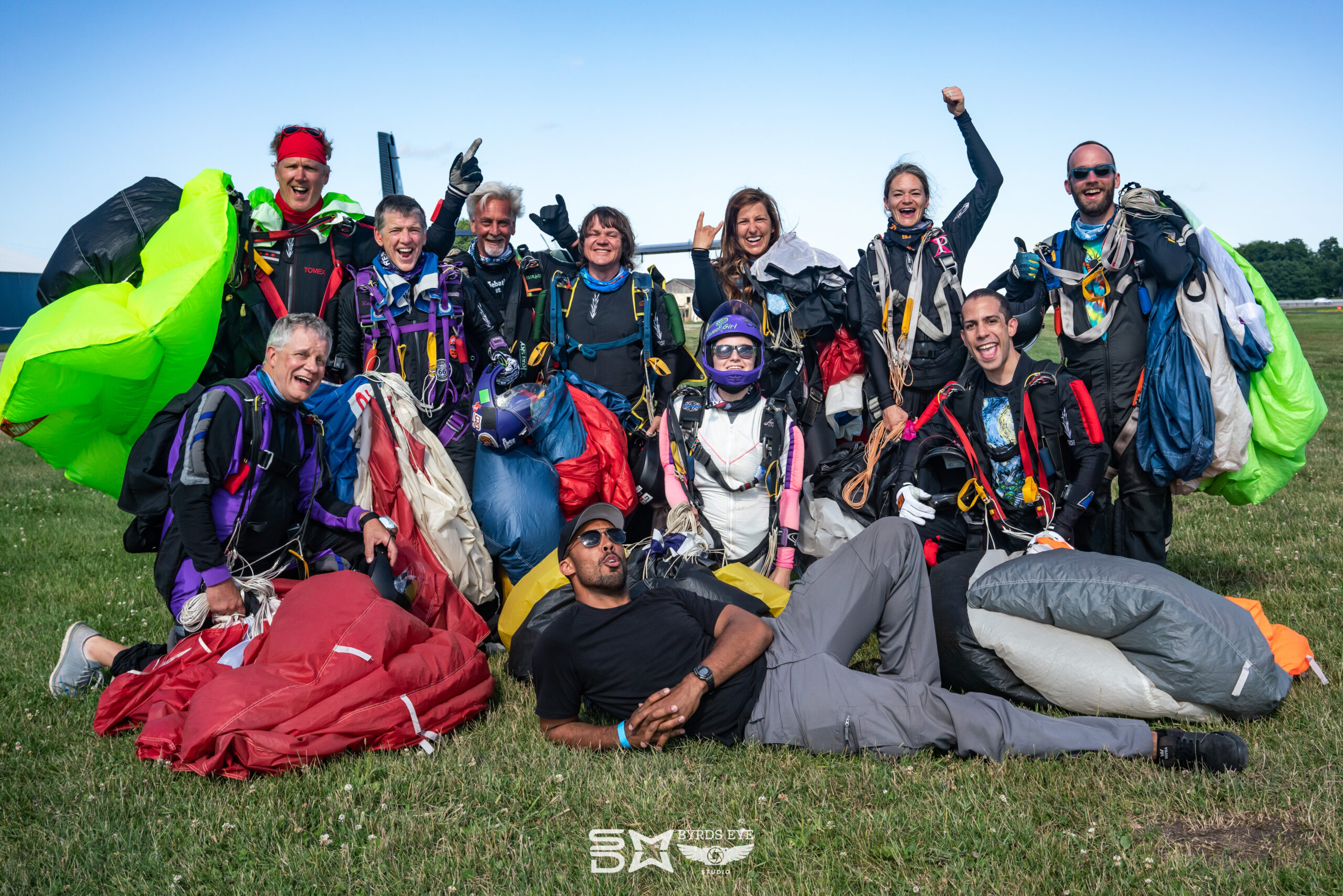 READY to get the party started?
Book your ultimate aerial adventure today!