| September | 2nd (Fri) | 3rd (Sat) | 4th (Sun) | 5th (Mon) | 6th (Tue) | 7th (Wed) |
| --- | --- | --- | --- | --- | --- | --- |
| Canopy Piloting | Registration | Competition | Competition | Competition | Competition | |
| Canopy Piloting - Freestyle | | | | Registration | Competition | Competition |
Skydive Midwest Skydiving Center INC. 
Skydive Midwest's main hangar is available to competitors for packing and indoor shelter.
Rigging services are available onsite in the rigging loft by Master Rigger, Kazu Oyama and Senior Rigger, Austin George. The loft is fully equipped to handle canopy, container and harness repairs.
The 14K kitchen offers breakfast, lunch and dinner on-sight at the dropzone. They have a license to sell beer and wine. The DZ supplies a dedicated beer fridge to byob.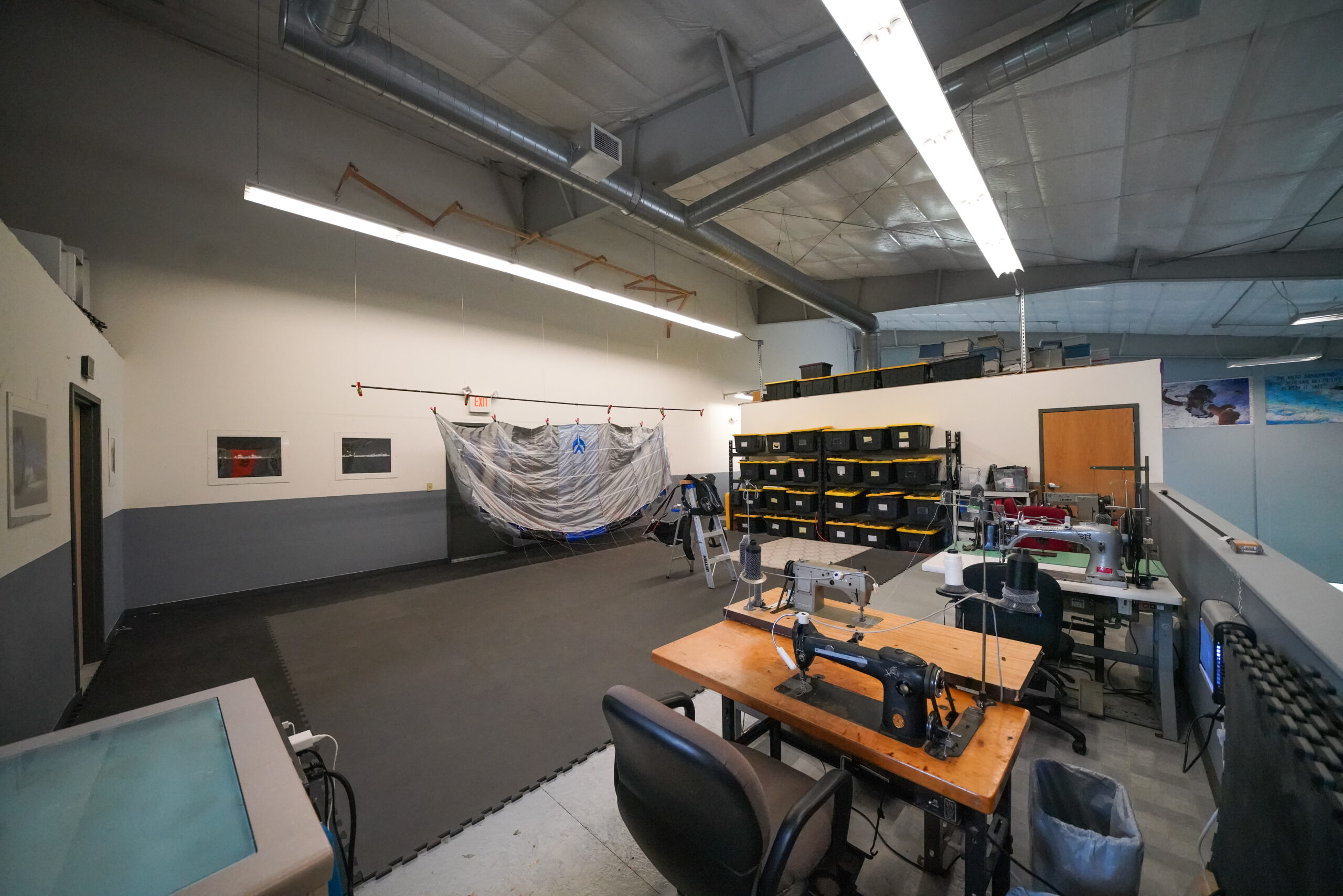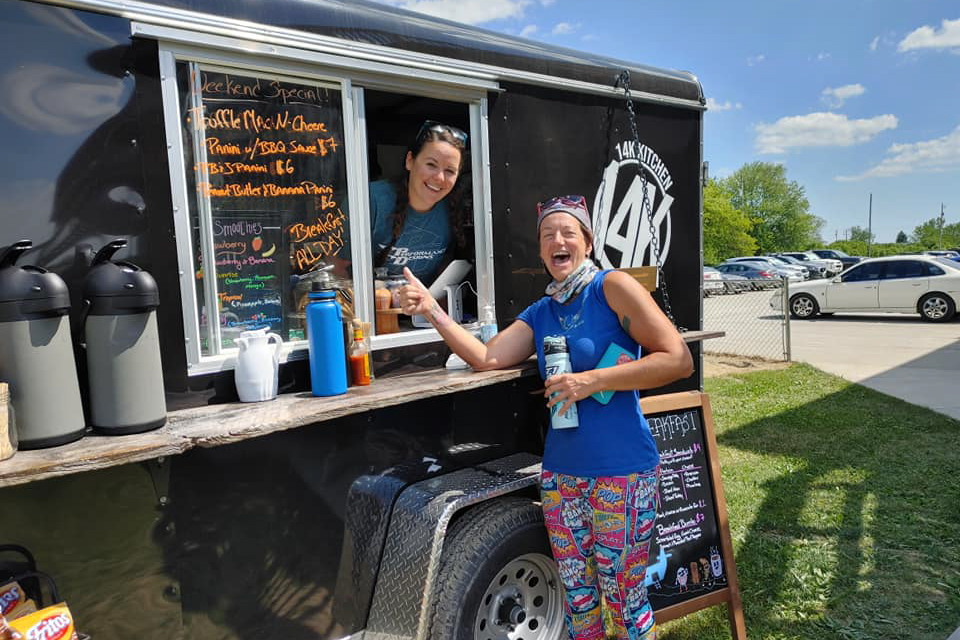 Spectators welcome! We have a great facility with the perfect elevated viewing angle for watching the competition. We have a grill, volleyball court, food truck, and plenty of picnic tables. Kick back, relax and enjoy the fun as the best canopy pilots from around the country compete at the 2022 USPA National Championship.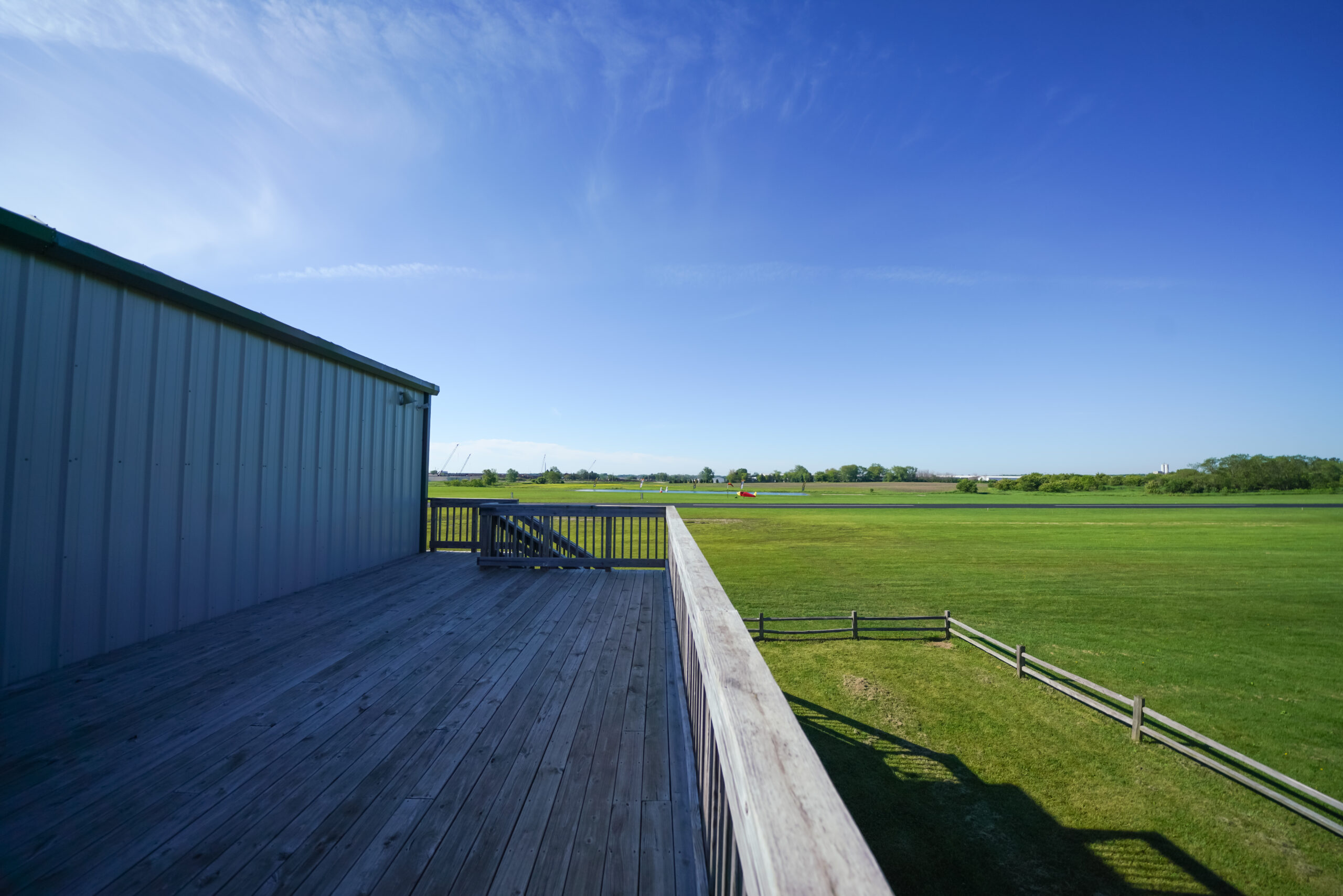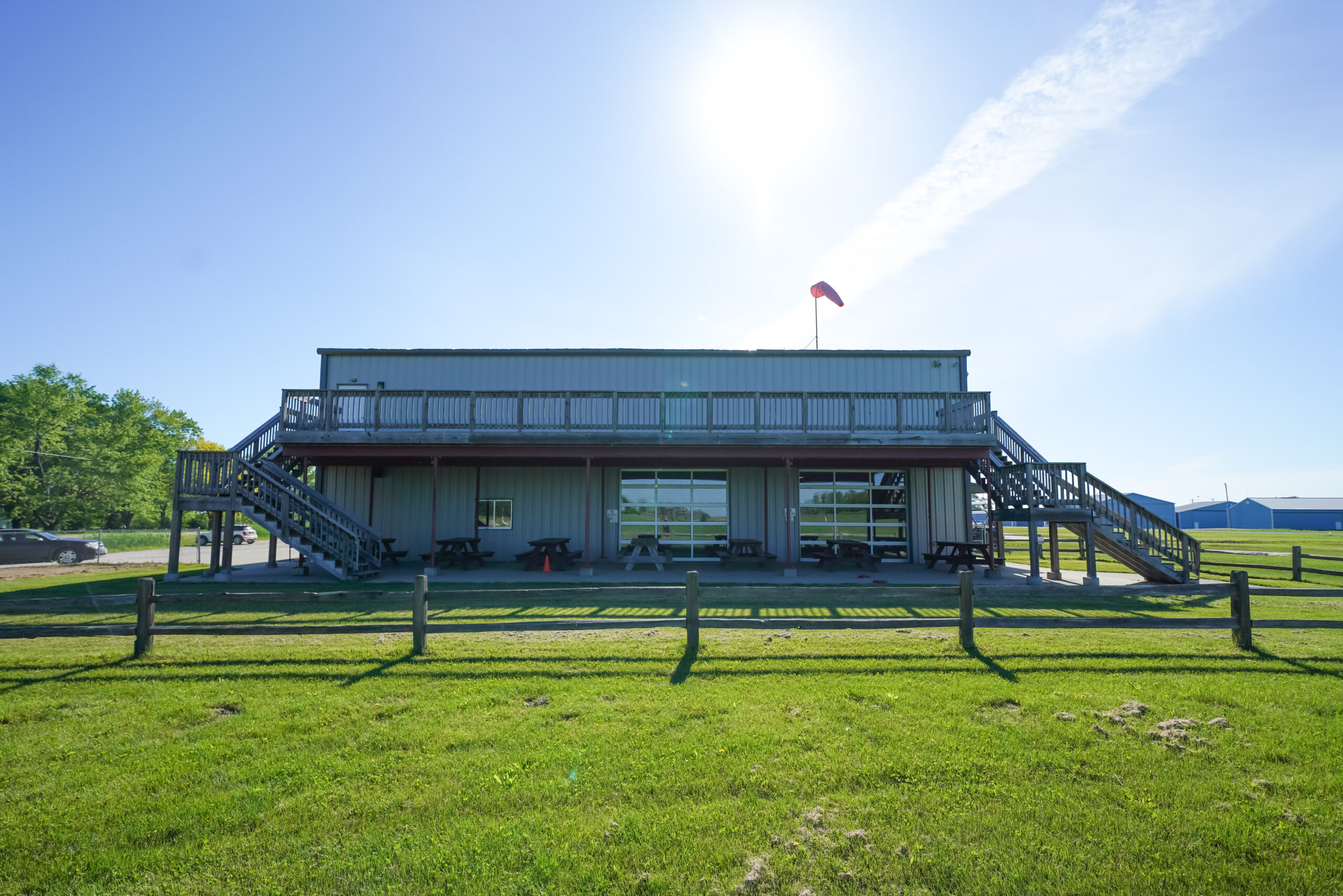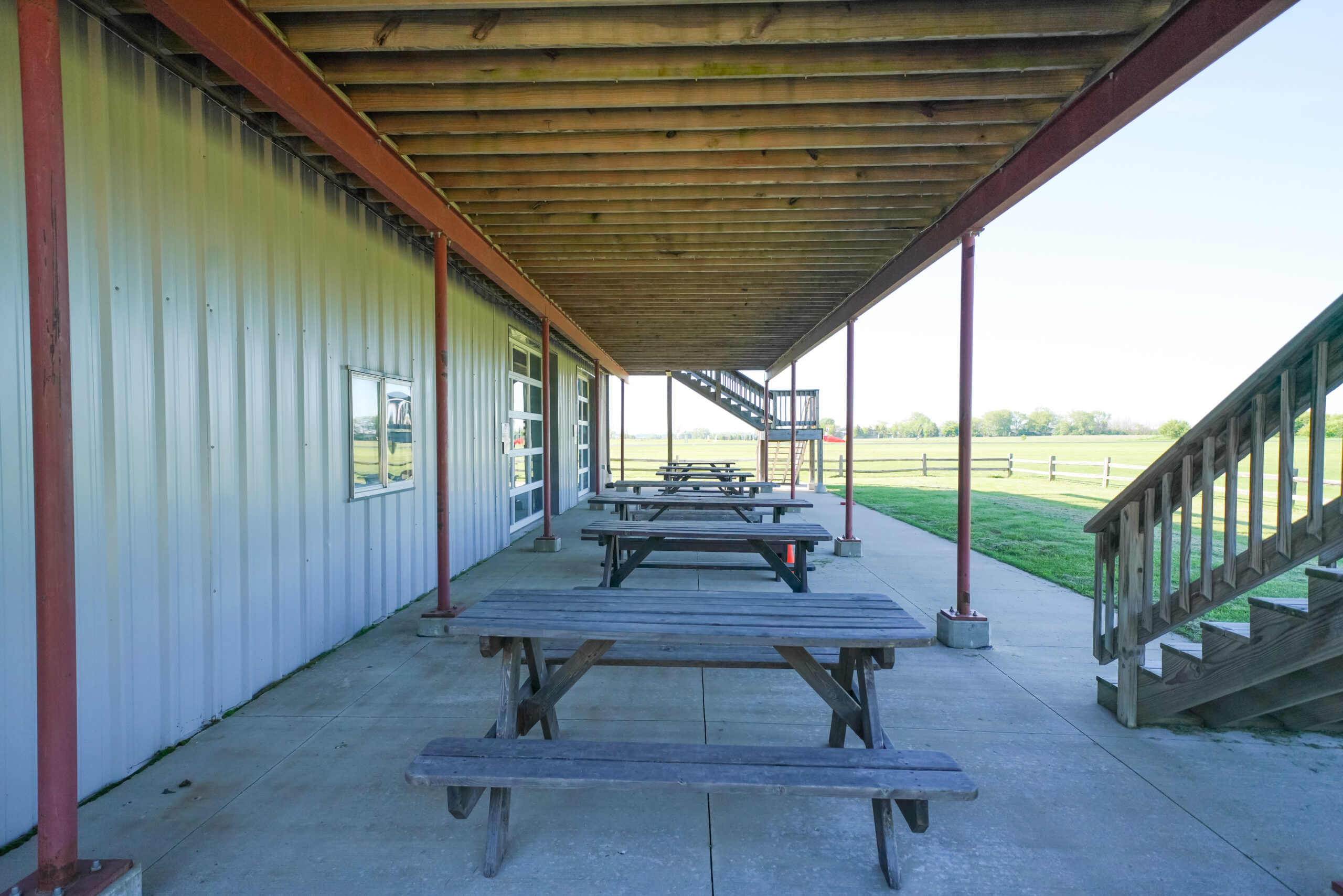 During the competition there will be some changes to our normal operating procedures. To ensure everyones safety we are separating the competition (south side) from the normal jump operations (north side). The red area of the aerial map designates the division of these two areas. To ensure everyones safety the red zone or "Operations Area" is a strict no go zone for everyone except designated event staff. We will have volunteers on site who can drive people back and forth between the two areas as necessary.
Parking is only allowed in the designate "Event Parking" zones on the north side of the runway.
There will be a dedicated plane for competition jumps along with a separate manifest from normal jump operations. Loading for competition jumps will take place on the East side of the competitor tent.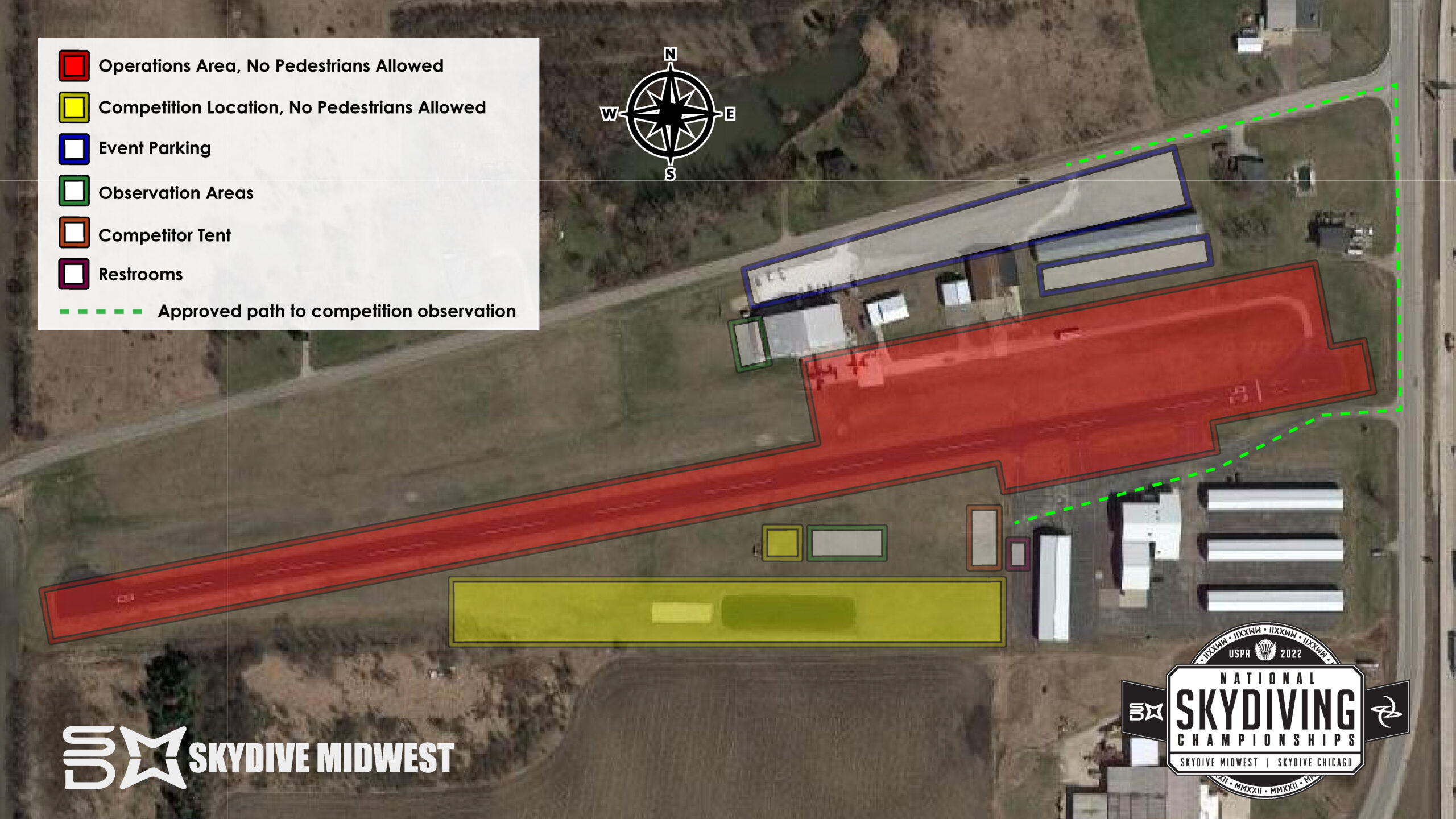 Chicago O'Hare and Milwaukee Mitchell are both convenient and close. O'Hare (54 miles- less than an hr. drive) typically has more direct flights. Mitchell (22 miles- less than a 30 min drive) has direct flights from Southwest and Delta and connecting flights from all major airlines.
All major rental car agencies are located at both airports. Prices vary. Uber and Lyft services are also available. Coach USA (web.coachusa.com) run a bus shuttle from O'Hare to a drop off location less than 1 mile from Skydive Midwest for $53 round trip.
Rental cars will provide transportation and / or a shuttle with designated times will be used to provide transportation for official staff.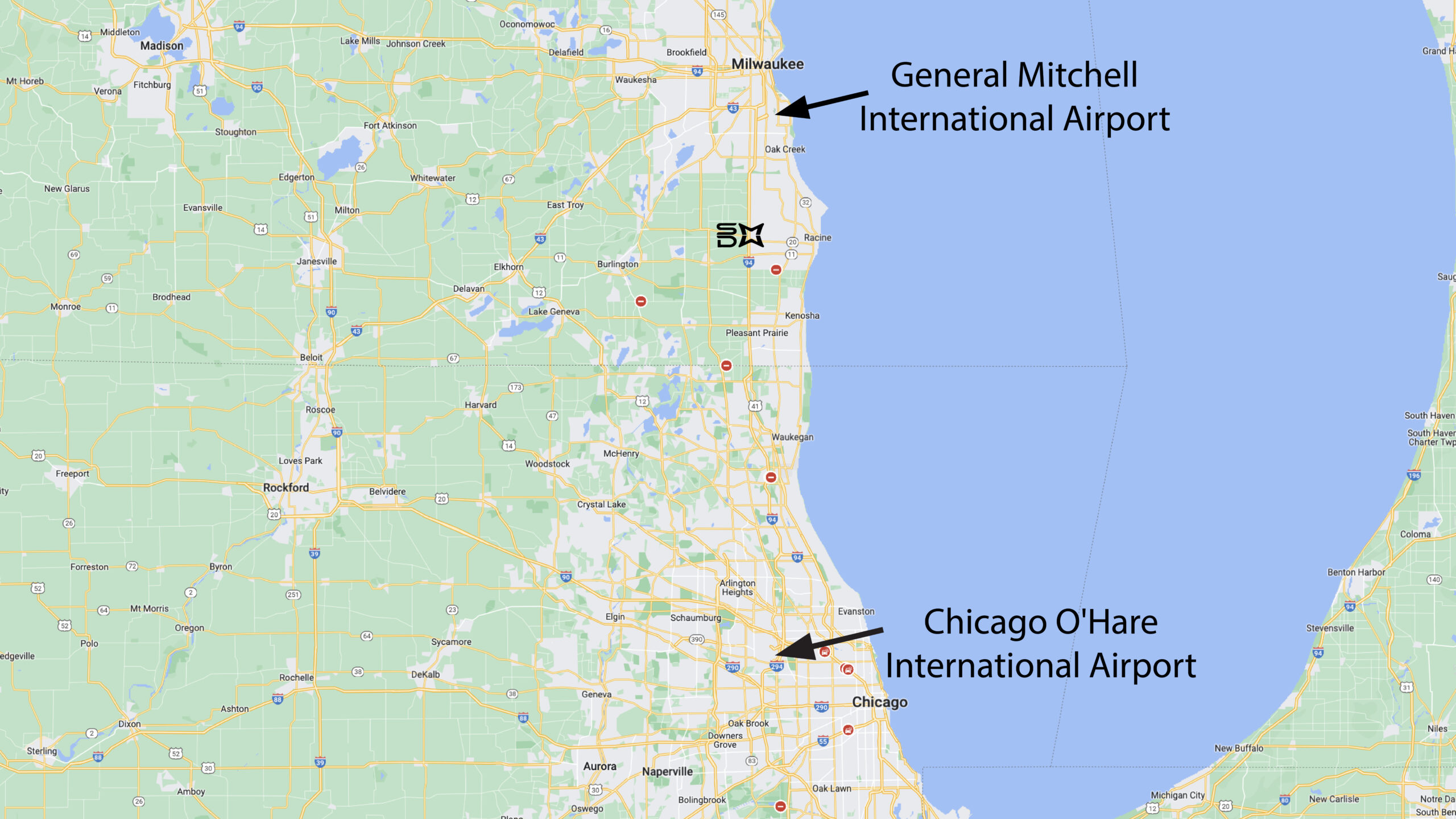 My Place Hotel - myplacehotels.com (262) 884 - 0489
Stay at My Place Hotel and recieve a 15% discount if you mention you are visiting "Skydive Midwest". We have a block of rooms reserved for CP Nationals as well. 
Day Inn by Wyndham - wyndhamhotels.com (262) 884 - 6840
Holiday Inn Express and Suits - ihg.com (262) 321 - 0015
Country Inn and Suites by Radisson - radissonhotels.com (262) 221 - 8015
Quality Inn - choicehotels.com (262) 886 - 0385
There are Air BNBs in the area available for rent.
Tent camping is available to all competitors. There is no charge for camping during CP Nationals.
There are 4 showers, 7 toilets and 3 urinals in the main hanger.
Planes and Competition Jump Specs
At least one De Havilland DHC-6 Twin Otter and one Quest Kodiak 100 will be based at Skydive Midwest for the duration of the event.
All CP jump runs will be conducted from an altitude of 6,000 Ft AGL
All events will be flown at 85-90 Kts IAS with 10 Lbs torque indicated on left engine.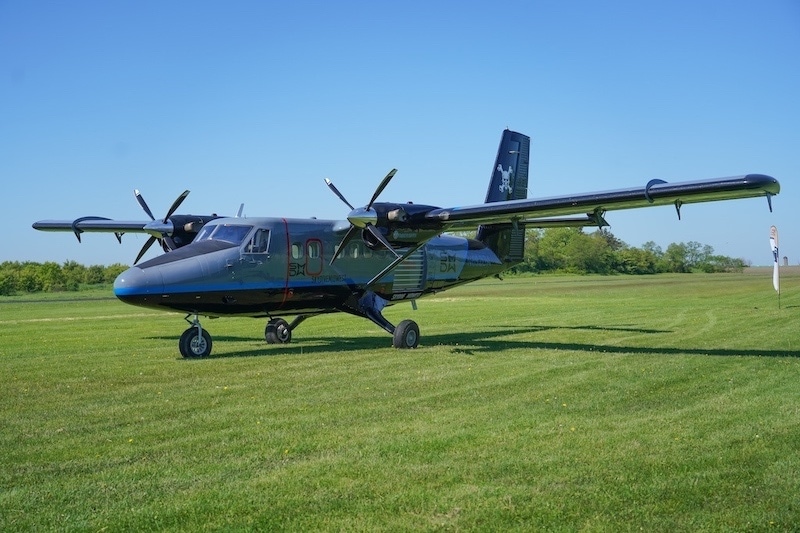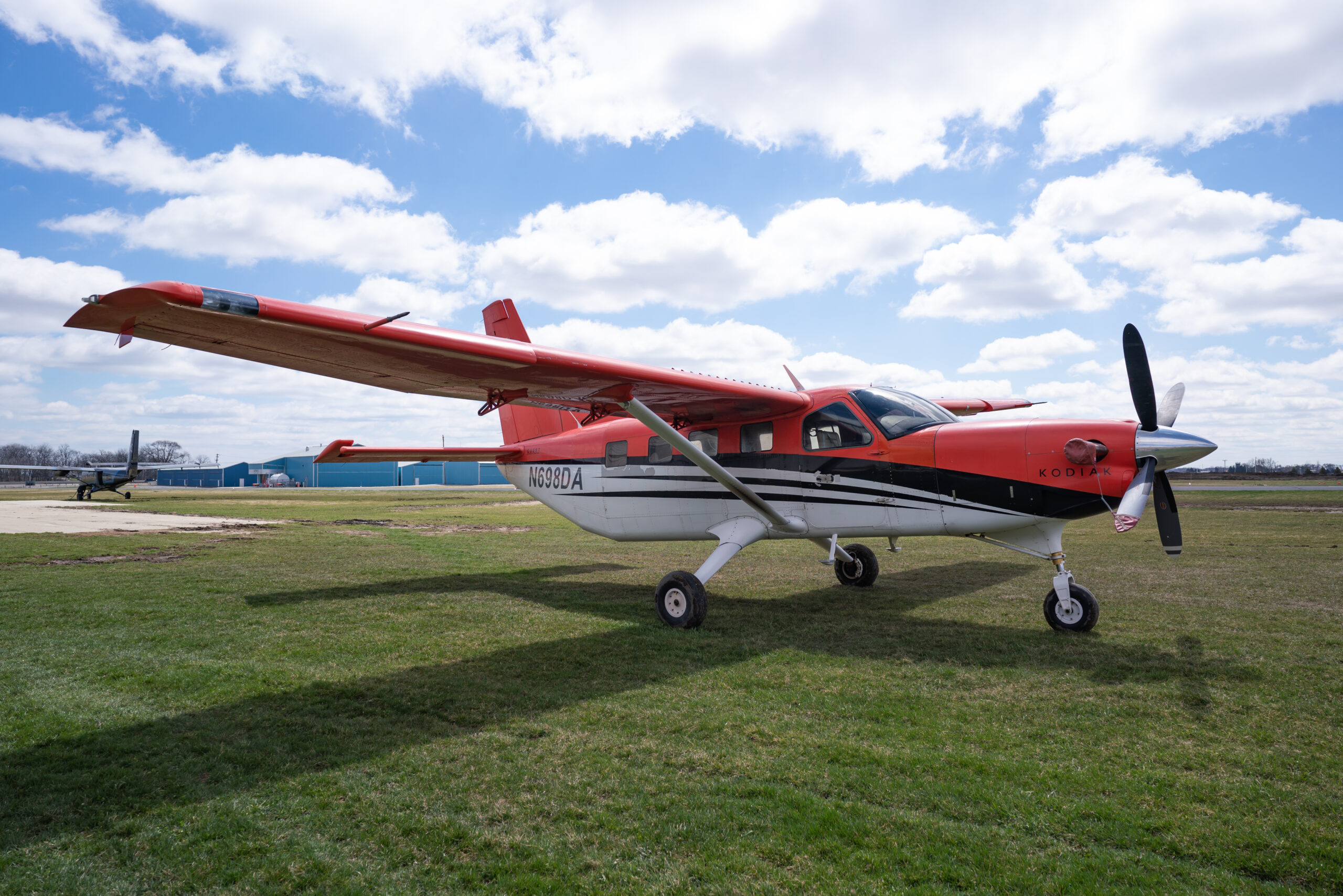 We believe our attitudes towards safety are the key to the continuation and survival of our amazing sport. It is up to us to be ambassadors and role models for new generations of skydivers; as such we take safety very seriously. We obey and enforce all BSR's and FAR's.
We have written policies in place at Skydive Midwest and we want you to know them. Not only so you can follow them but so you can help educate and hold one another accountable in following those policies.
Click here to register for 2022 USPA CP Nationals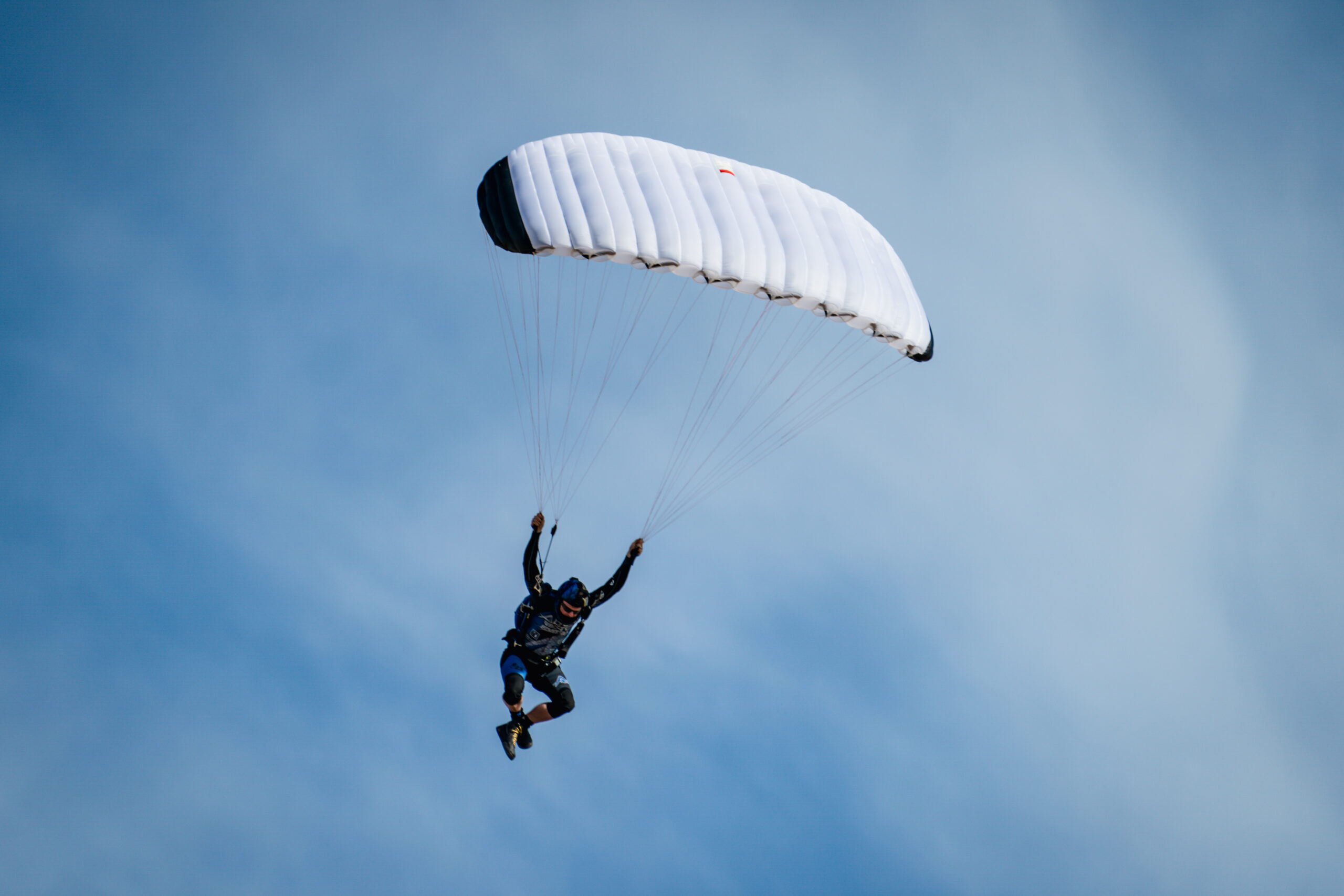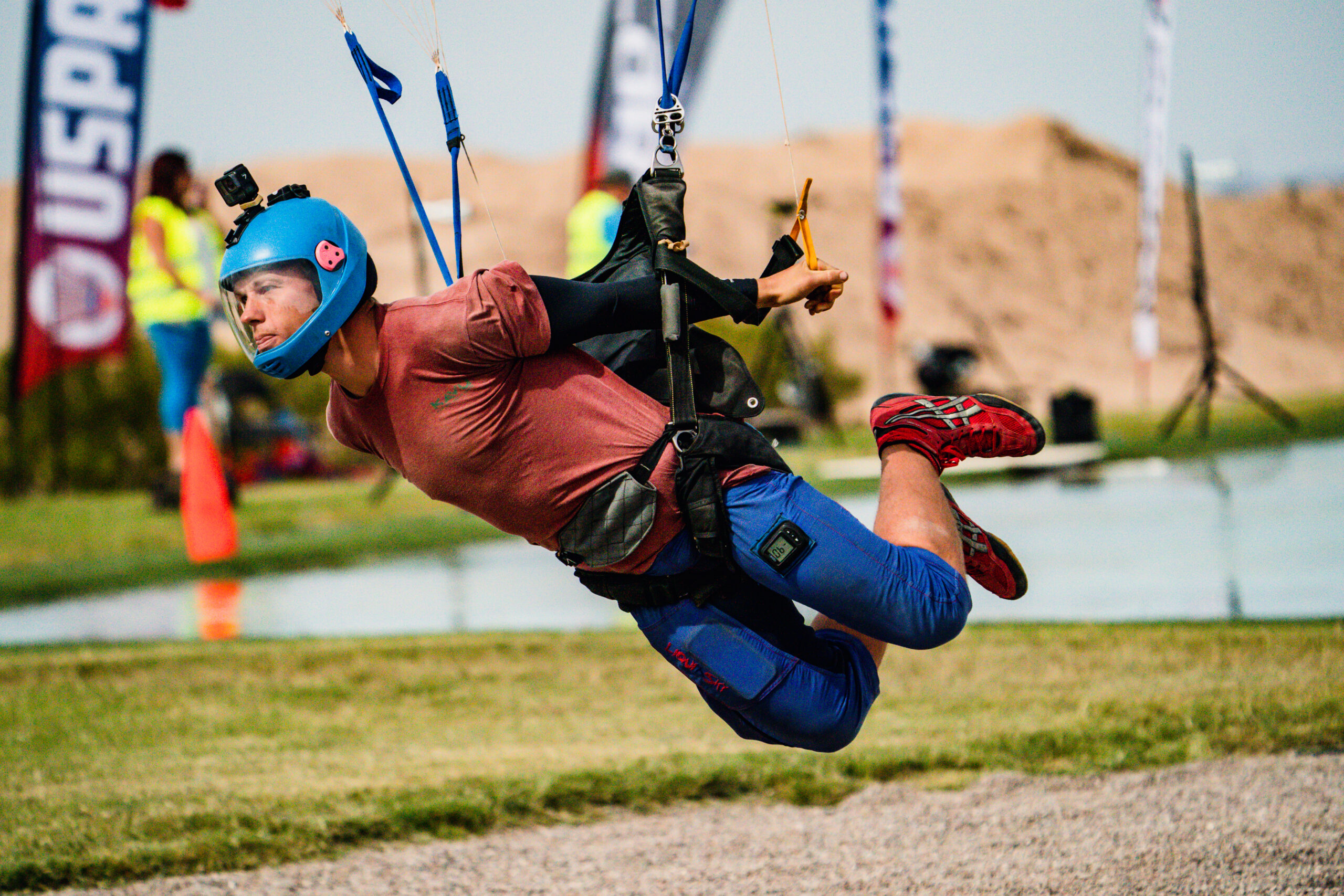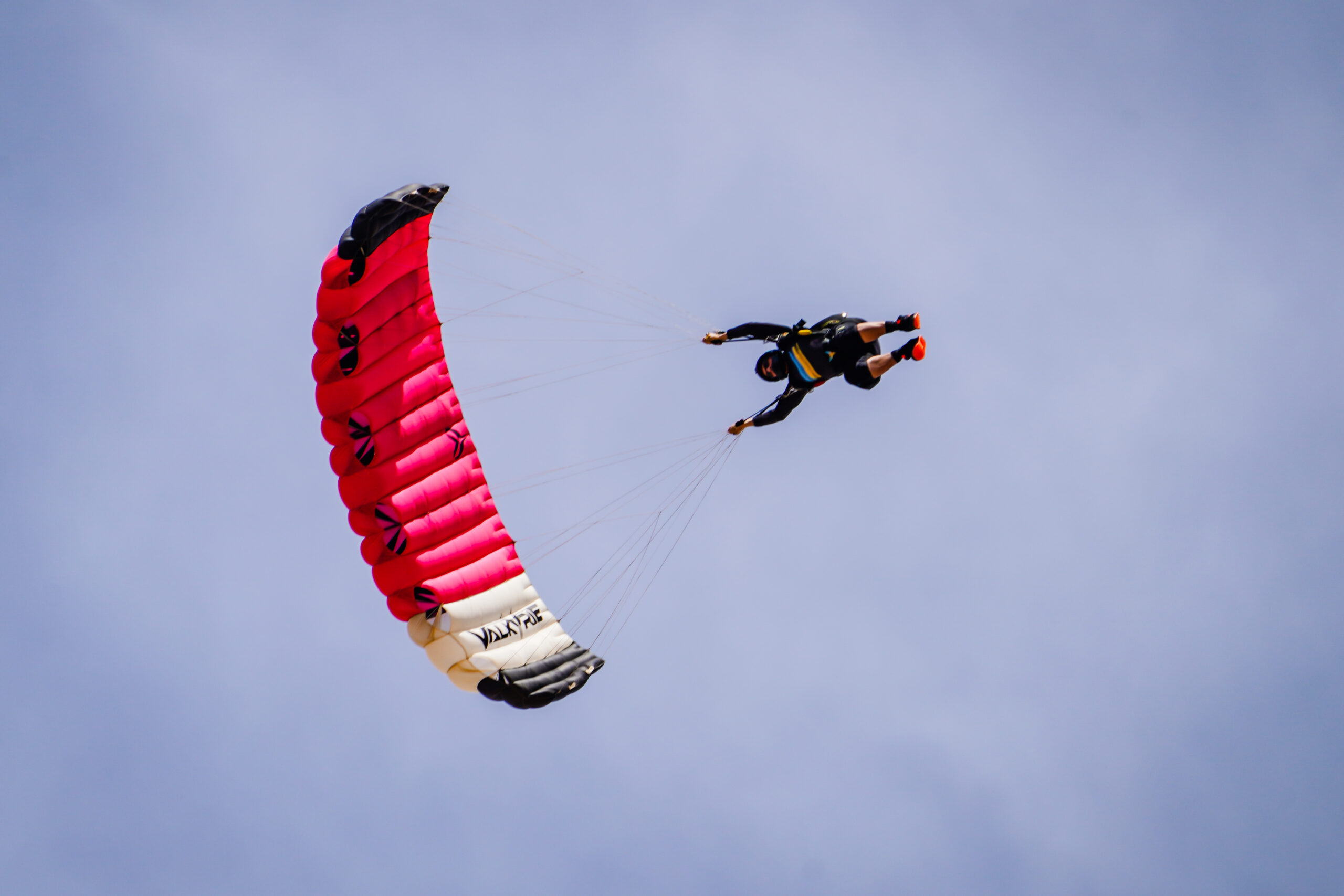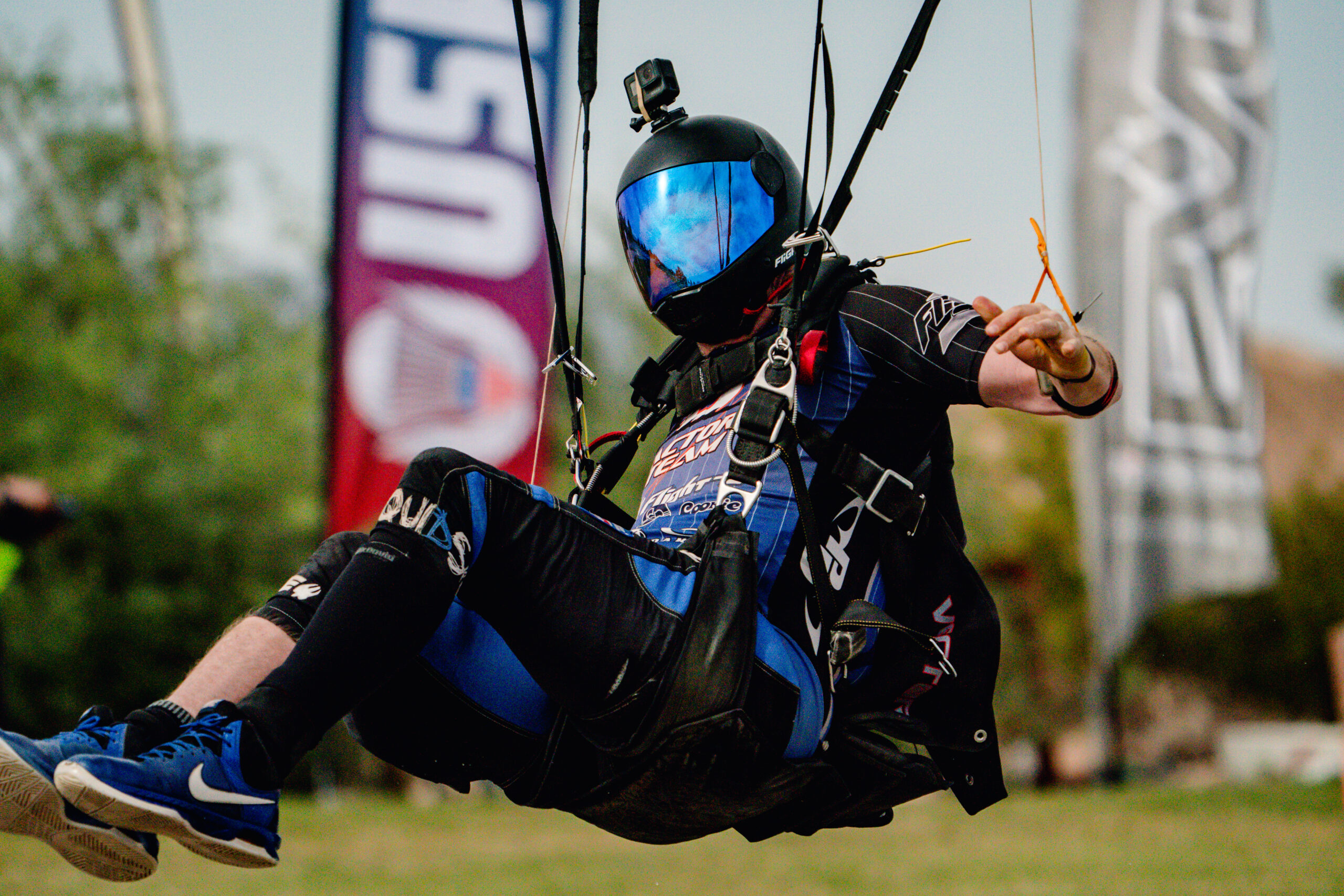 READY FOR THE THRILL OF A LIFETIME?
Book your ultimate aerial adventure today!